September is National Library Card Sign-up Month and to celebrate, local businesses will be offering special discounts and giveaways exclusive to library card holders. The Berkshire Athenaeum, Pittsfield's Public Library, has joined forces with Downtown Pittsfield, Inc. to coordinate these deals in over 30 businesses for the month of September 2018. We have listed participating venues and offers below. Simply show your library card to receive the offer.
In addition to getting these great deals, September is also about appreciating all that your local library has to offer. With your library card comes access to our Berkshire Athenaeum's large collection of books, DVDs, blu-rays, and CDs for children, young adults, and adults, as well as the ability to borrow from other regional libraries. Our local library also offers access to eBooks; digital audiobooks; online databases; genealogy resources; 3D Printing; free, high-speed wireless internet; and public computers for internet searching, online research, word processing, and other functions. Use your library card to secure museum passes which provide free or reduced general admission to local museums and enjoy the Athenaeum's summer reading program for both children and adults. You can even borrow a telescope with your library card! Our local library is constantly hosting events for children and adults such as Lego club, concerts, lectures, and much much more; visit their website for a full event listing.
If you don't have a library card, you can stop by the Athenaeum during normal business hours with a photo ID and proof of your current address to sign up for your free card. The Friends of the Berkshire Athenaeum are hosting a raffle during the month of September to encourage residents to obtain or renew their library card. If you sign up for a card, renew an expired card, or refer someone to get a card, you will be entered to win a Kindle Fire 8 HD. (Only one raffle ticket per person.)
Stop by these businesses with your library card during the month of September for the following deals. (Deals are subject to change and are at the discretion of the following businesses.):
The Beacon Cinema  – $1 off concessions
Berkshire Fitness and Wellness Center – 1/2 price Walk-in fee and 10% off memberships
Berkshire General Store – 15% off lunch
Berkshire Museum – 25% off general admission
Berkshire Paint and Sip – $5 off when you call directly to make reservation
BIGG Daddy's – 10% off your order of $10 or more
Brits R U.S. – Free bag of crisps if you spend $10 or more
Cafe Namaste – 10% off
Carr Hardware – 5% off with exclusions
Designer Consigner – 15% off excluding jewelry, sunglasses or white ticket items
Dory and Ginger – 10% off
Eat on North – 10% off lunch – food only
Flavours of Malaysia – Free dessert with meal
The Funky Phoenix – When you show your library card you get a raffle ticket to win a "re-purposed license plate wren house" from a drawing on the 30th… you get another ticket entered if you buy something. Every Sunday from 1:30 to 3 pm, there will be a "Creative Recycling Workshop", and if you show your library card, you will get a free 30-minute class. Times are 1:30-2, 2-2:30, or 2:30-3.
Garden Blossoms Florist – 10% off
The Garden – 10% off any one item
The Hair Studio – 10% off spa services
Hancock Shaker Village – Show your Berkshire Athenaeum library card and save $3 on one adult admission. Cannot be combined with other discounts or offers.
Hot Harry's – North St – Will offer BOGO coupons
House of India – 10% off
Intuitive Spirit Massage Therapy / Healing Arts – 15% off of a 90-minute Deep Massage
Leenie's Paninis and More – 10% off
The Marketplace Cafe – Pittsfield – 10% off – excluding gift cards
Methuselah Bar and Lounge – 15% off food
Mission Bar + Tapas – Free dessert with meal
Otto's Kitchen & Comfort – 10% off food
The Outlet at Pine Cone Hill – One time 50% off one item when you show a current library card in your name.
Popcorn Wagon – North St – 25 cents off one bag of popcorn
Radiance Yoga – $5 off 50 minute massage & 10% off 5 & 10 class cards.
RJ Stohr Diamonds & Fine Jewelry – Free watch battery installed
Steven Valenti's Clothing – 10% off any single item. Cannot be combined with other offers.
That's a Wrap Café – 15% off
Township Four – 10% off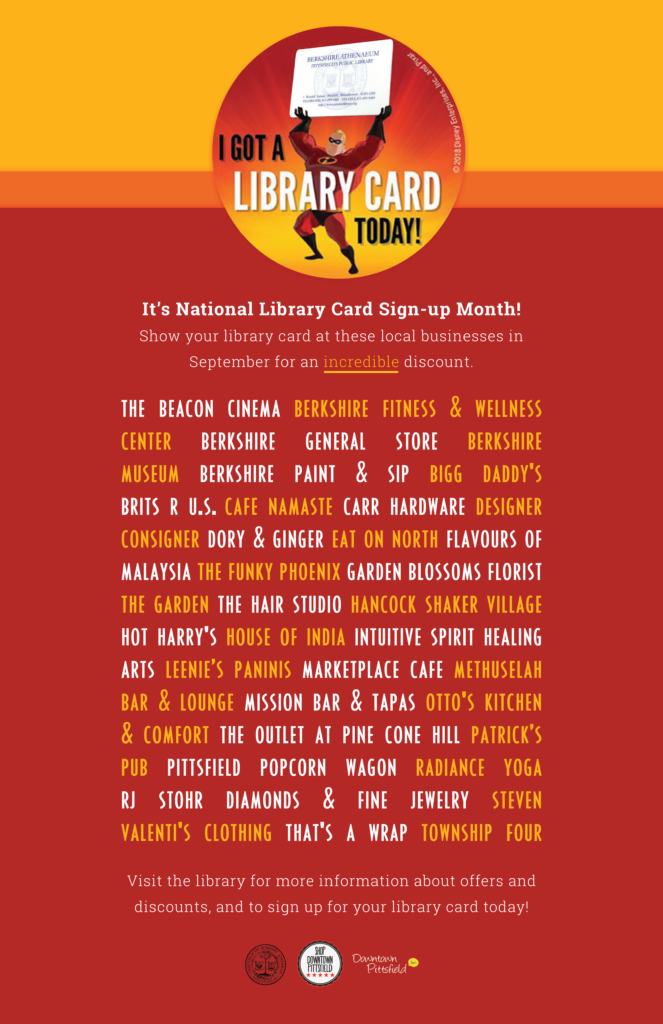 Kimberly Gritman, Downtown Pittsfield Marketing Coordinator
Featured images: Left and right courtesy of the Berkshire Athenaeum. Center image courtesy of STEPHANIE ZOLLSHAN (The Berkshire Eagle).