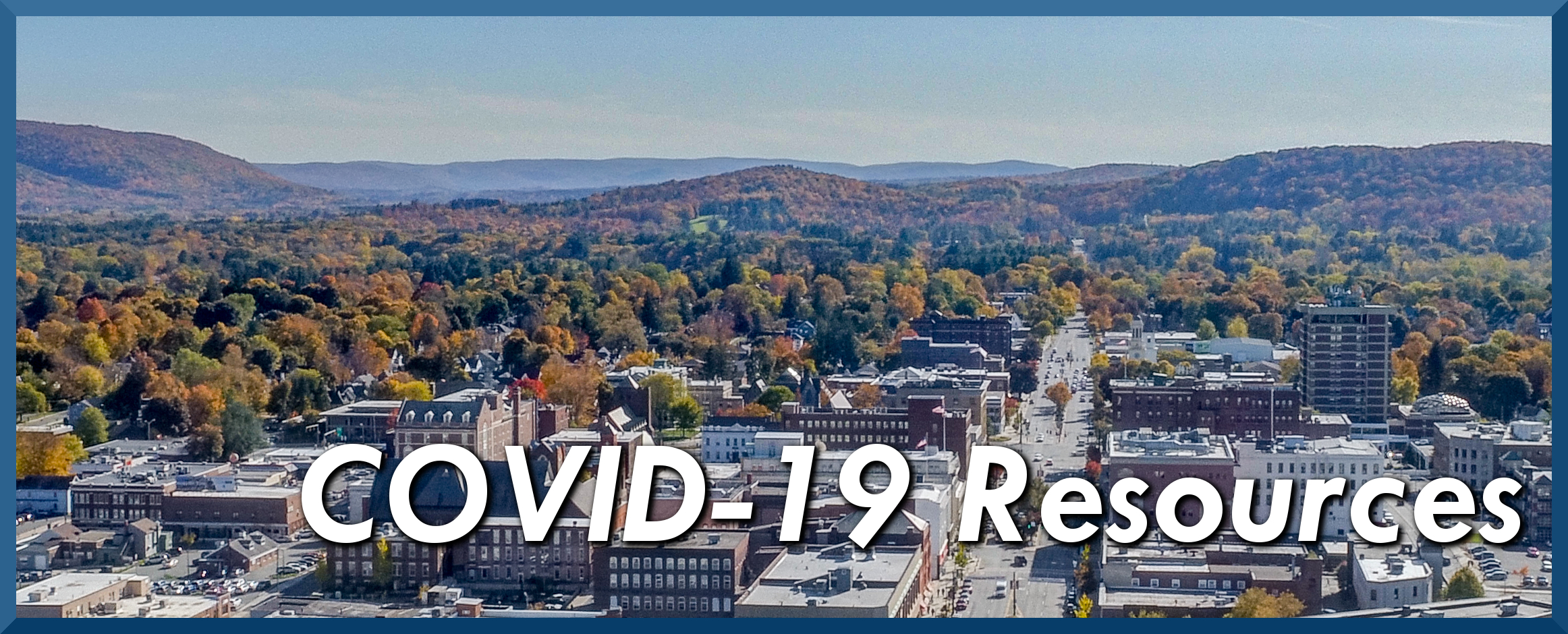 We've created a new COVID-19 TOOLKIT to promote masks and social distancing with images you can post to social media as well as 8.5" x 11" posters you can print. There is one for retailers and one for restaurants. We've also included our Heart of The Berkshires "masked" badge with a transparent background so you can create your own images!
You can download the graphics and posters from Dropbox by clicking here!
Important Links
Massachusetts will advance to Step 2 of Phase III on March 1; Phase IV planned to start March 22
On February 25, 2021, the Baker-Polito Administration announced that Massachusetts would advance to Step 2 of Phase III of the state's reopening plan on Monday, March 1, and also announced its plan to transition to Step 1 of Phase IV on Monday, March 22. With public health metrics continuing to trend in a positive direction, including drops in average daily COVID cases and hospitalizations, and vaccination rates continuing to increase, the Administration is taking steps to continue to reopen the Commonwealth's economy.
Phase III, Step 2:
On May 18, 2020, the Baker-Polito Administration released a four-phased plan to reopen the economy conditioned on sustained improvements in public health data. As of October, 2020, the reopening had proceeded to Step 2 of Phase III of the plan. On December 13, 2020, in response to an increase in new COVID-19 infections and hospitalizations following the Thanksgiving holiday, the Commonwealth returned to Step 1 of Phase III, reducing capacities across a broad range of sectors and tightening several other workplace restrictions.
Since the beginning of this year, key public health data, such as new cases and hospitalizations, have been closely monitored and a significant decline has been documented, allowing for a return to Step 2 of Phase III, effective March 1 for all cities and towns. This includes the following updates to businesses, activities and capacities:
Indoor performance venues such as concert halls, theaters, and other indoor performance spaces will be allowed to reopen at 50% capacity with no more than 500 persons
Indoor recreational activities with greater potential for contact (laser tag, roller skating, trampolines, obstacle courses) will be allowed to reopen at 50% capacity
Capacity limits across all sectors with capacity limits will be raised to 50% and exclude employees
Restaurants will no longer have a percent capacity limit and will be permitted to host musical performances; six-foot social distancing, limits of six people per table and 90 minute limits remain in place
Residents must continue to wear masks to prevent the spread of COVID-19, and are encouraged to avoid contact outside of their immediate households. The Travel Advisory and other public health orders remain in effect.
Gathering Changes and Phase IV Start
Provided public health metrics continue to improve, effective on March 22, all communities in Massachusetts will move into Step 1 of Phase IV of the state's reopening plan. This will open a range of previously closed business sectors under tight capacity restrictions that are expected to be adjusted over time if favorable trends in the public health data continue. Effective on the planned advancement to Step 1 of Phase IV, the following industries will be permitted to operate at a strict 12% capacity limit after submitting a plan to the Department of Public Health (DPH):
Indoor and outdoor stadiums
Arenas
Ballparks
Also effective on March 22, gathering limits for event venues and in public settings will increase to 100 people indoors and 150 people outdoors. Outdoor gatherings at private residences and in private backyards will remain at a maximum of 25 people, with indoor house gatherings remaining at 10 people.
For more information on Massachusetts reopening, click here!
Temporary capacity and gathering limits
The following capacity limits are effective as of at 5:00 am on Monday, February 8, 2021. Please see sector-specific protocols for further details.
Current Limits
All businesses in the list below, that were limited to 25% capacity, have returned to 40% capacity, as previously allowed in industry guidance effective in December 2020. Additionally, restaurants and close contact personal services will now be allowed to operate at a 40% capacity limit.
Arcades and Recreational Businesses
Driving and Flight Schools
Gyms/Health Clubs
Libraries
Museums
Retail
Offices
Places of Worship
Lodging (common areas)
Golf (indoor areas)
Movie theaters (no more than 50 people per theater)
Restaurants will now be limited to 40% of their seated capacity; employees will not count toward the limit
Close Contact Personal Services will now be limited to 40% capacity; employees will not count toward the limit

A limit of 5 people per 1000 sq. feet applies for smaller businesses without an available fire occupancy capacity

There continues to be no % capacity limits on manufacturing, construction, and laboratories.
Effective December 13, 2020 all communities in Massachusetts will roll back to Phase 3, Step 1 of Massachusetts' re-opening plan, including the following restrictions:
Outdoor gatherings at event venues will be limited to no more than 50 people
Indoor theaters and performance venues and higher contact indoor recreation businesses will be required to close to the public
Outdoor theaters and performance venues will be limited to 25% capacity, and no more than 50 people
In all communities, capacity will be reduced from 50% to 40% for the following sectors:
Arcades/Indoor and Outdoor Recreational Businesses
Driving and Flight Schools
Gyms/Health Clubs
Libraries
Museums
Retail
Offices
Places of Worship
Lodging (common areas)
Golf facilities
Movie Theaters (Maximum 50 people per theater)
This new capacity limit will not apply to sectors that do not currently have a percentage-based capacity limit, including restaurants, laboratories and close contact personal services.
The Administration also announced new guidelines for restaurants and other venues with seated dining, including:
Patrons must wear masks at all times except when eating and drinking
Restaurants must seat no more than six patrons per table
Restaurants must impose a 90-minute time limit on tables
Musical performances at restaurants will no longer be permitted
Food court seating must be closed in malls
Click here to read the full press release.
To view ALL press releases from Massachusetts Governor Charlie Baker, click here.
CDC (Centers for Disease Control and Prevention) Information on Coronavirus (COVID-19): click here.
World Health Organization Information on Coronavirus (COVID-19): click here.
Massachusetts Department of Public Health Details about the public health response to the COVID-19 pandemic in Massachusetts: click here.
Hotlines and Text Alerts:
Text "COVIDMA" to 888-777 to receive COVID-19 text message alerts straight to your phone and stay up to date with the latest news and updates from the Commonwealth.
Berkshire Health Systems (BHS) has established a toll-free hotline for questions regarding the novel coronavirus (COVID-19). It is available seven days a week from 8 am to 4:30 pm- call 855-BMC-LINK, or 855-262-5465
Massachusetts Emergency Management Agency (MEMA) Emergency Operations Center's Private Sector Hotline: 508-820-2094  (M–F, 8AM – 4PM)
Massachusetts Department of Public Health 24-hour emergency hotline: 617-983-6800
Small Business Owners' Guide to the CARES Act. Learn about the CARES (Coronavirus Aid, Relief, and Economic Security) Act and the programs and initiatives that will soon be available to small businesses through the SBA: click here.
Department of Labor – Families First Coronavirus Response Act. Employer Paid Leave Requirements. This page from the DOL explains the new requirements around employer paid leave in the FFCRA. For additional information, check out the Department of Labor's FFCRA Questions and Answers page.
Employer Unemployment FAQ: COVID-19. Frequently asked questions from employers, answered: click here.
OSHA COVID-19 Standards for Workplaces. This guidance is not a standard or regulation, and it creates no new legal obligations. It contains recommendations as well as descriptions of mandatory safety and health standards. To view, click here.
Interim Guidance for Businesses and Employers to Plan and Respond to Coronavirus Disease 2019 (COVID-19). The following interim guidance may help prevent workplace exposures to COVID-19, in non-healthcare settings: click here.
Massachusetts WorkShare Information for Employers. The WorkShare program is an alternative for employers faced with a cut in workforce. Employers can divide available work between affected employees instead of laying off workers. It allows employees to receive a part of their unemployment insurance (UI) benefits while working reduced hours. For more info, click here.
Apply for Pandemic Unemployment Assistance. Pandemic Unemployment Assistance (PUA) provides up to 39 weeks of unemployment benefits to individuals who are unable to work because of a COVID-19-related reason but are not eligible for regular or extended unemployment benefits. Eligible individuals include self-employed workers, independent contractors, gig economy workers, and those with limited work history. Applicants can learn more and apply at www.mass.gov/pua.
Mass.gov COVID-19 Resources and Guidance for Businesses:
Small Business Administration (SBA) Resources:
Paycheck Protection Program Loan Forgiveness Application is now available to be completed through your lender. For more info, click here.
The Empowerment Grant for Small Businesses. The State Treasurer's Office of Economic Empowerment (OEE) is proud to offer The Empowerment Grant for Small Businesses as an acknowledgement of the devastating economic impact that the COVID -19 pandemic has had on the Massachusetts small business community.
The Empowerment Grant Program aims to support the well-being and continuity of small businesses by providing access to capital and empowerment through engaging in OEE resources.
Grant resources will be focused on small business owners serving Massachusetts Gateway Cities. The State Treasurer's Office of Economic Empowerment encourages minority-owned, women-owned, veteran-owned, and/or immigrant-owned small businesses located in gateway communities to apply.
For more info, click here. Application deadline is May 29, 2020. Funding decisions will be made by June 12, 2020.
IRS Information: Coronavirus Tax Relief for Businesses and Tax-Exempt Entities
Filing and Payment Deadline Extended. The deadlines to FILE and PAY federal income taxes are extended to July 15, 2020. Click here to get answers to your questions on the filing and payment deadline.
Employee Retention Credit Available for Many Businesses Financially Impacted by COVID-19. The Employee Retention Credit is a refundable tax credit against certain employment taxes equal to 50% of the qualified wages an eligible employer pays to employees after March 12, 2020, and before January 1, 2021. You can get immediate access to the credit by reducing the employment tax deposits you are otherwise required to make. Also, if your employment tax deposits are not sufficient to cover the credit, you may get an advance payment from the IRS. Click here to get details on the retention credit.
Coronavirus-Related Paid Leave for Workers and Tax Credits for Small- and Mid-Size Businesses. The Families First Coronavirus Response Act (PDF) gives all American businesses with fewer than 500 employees funds to provide employees with paid leave, either for the employee's own health needs or to care for family members. Click here to get details on paid leave for employees.
Non-profit and Cultural Resources
COVID-19 Emergency Response Fund for Berkshire County. A coalition of philanthropy and business partners has joined together to create a COVID-19 Emergency Response Fund that will rapidly deploy resources to community-based (501c3) organizations at the frontlines of the coronavirus outbreak in Berkshire County.
Co-led by the Berkshire Taconic Community Foundation and the Berkshire United Way, COVID-19 Emergency Response Fund for Berkshire County has launched to provide flexible resources to 501c3 organizations in our region working with communities who are disproportionately impacted by the coronavirus and the economic consequences of this outbreak. Grants will help fund frontline human services organizations that have deep roots in the community and strong experience working with vulnerable populations. These operating grants are designed to address gaps in services and increase capacity of organizations to meet basic needs of individuals and families. For more info, click here.
Mass Cultural Council COVID-19 Relief Effort for Organizations: The Safe Harbors Program. The Safe Harbors Program seeks to provide broad assistance to Massachusetts arts and cultural nonprofit organizations in the form of webinars and online tools, empowering leaders to assess their organization's current financial situation, create an actionable roadmap for the future, and determine their eligibility and the appropriateness for accessing resources through various COVID-19 funds. To deliver on this work, the MCC is partnering with the Nonprofit Finance Fund to provide a powerful assortment of webinars and online resources, coupled with capacity-building coaching services, to assist leaders in preparing plans and making decisions. For more info, click here.
Fun, Learning, and Fitness from Home!
Activities and videos from our Downtown friends
Paint and Sip at Home!
While Berkshire Paint and Sip remains closed for public parties, Michelle the Painter continues to create online painting tutorials for you to follow along with. Over 30 Paint & Sip videos for ADULTS to choose from and now there are some for the kids too… COOKIES AND CANVAS!
Learn how to paint the adorable ostriches above using only 3 brushes and 6 colors: https://youtu.be/IcjRh75N0Ek
Paint and Sip at Home:
Click here to view all videos!
Each video provides step-by-step instructions for you to follow along with. A materials list is provided and you can print a picture of the completed painting to use as a personal reference if needed.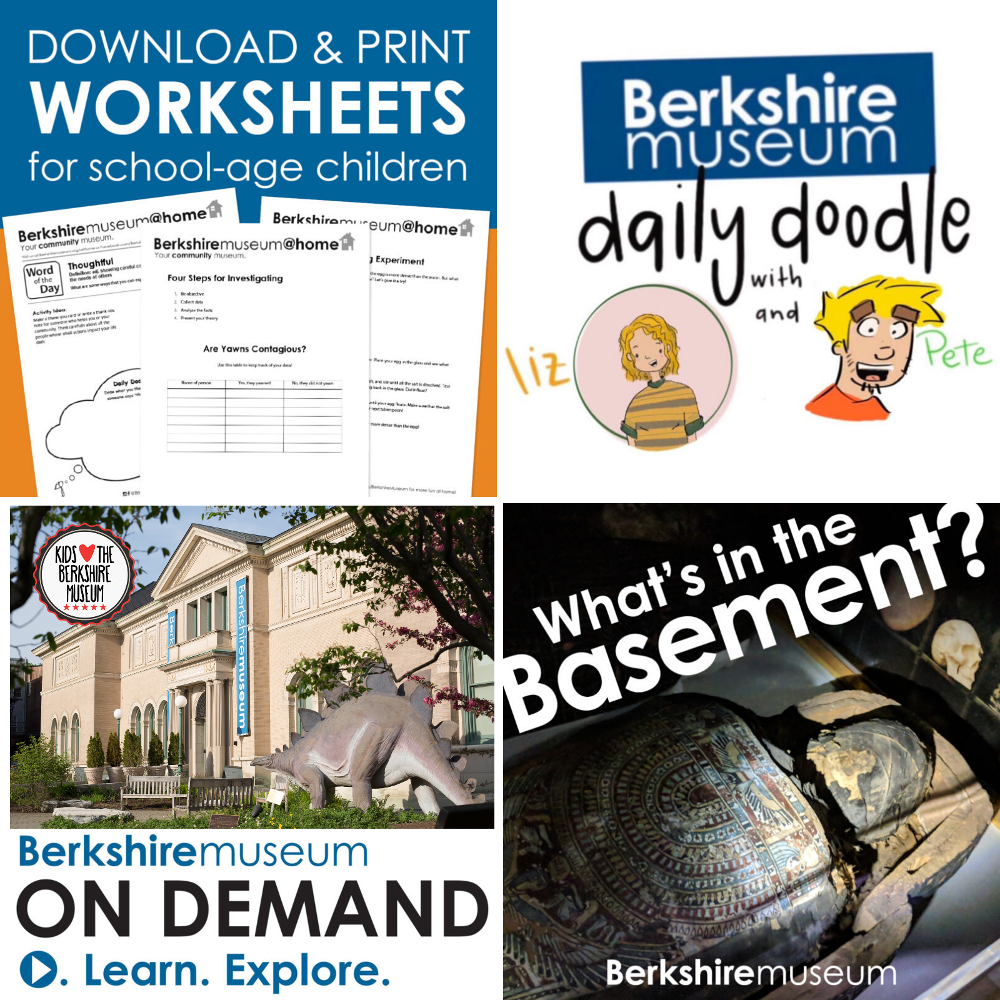 Berkshire Museum at Home!
The Museum has launched a new series of online experiences for our community including daily programs for early learners, downloadable worksheets and Daily Doodles inspired by the word of the day, a new podcast "What's in the Basement?" exploring the Museum's broad collection, and a series of written pieces centered on the featured exhibition She Shapes History. 
Programs and content are available at berkshiremuseum.org/athome, on YouTube, and on Facebook.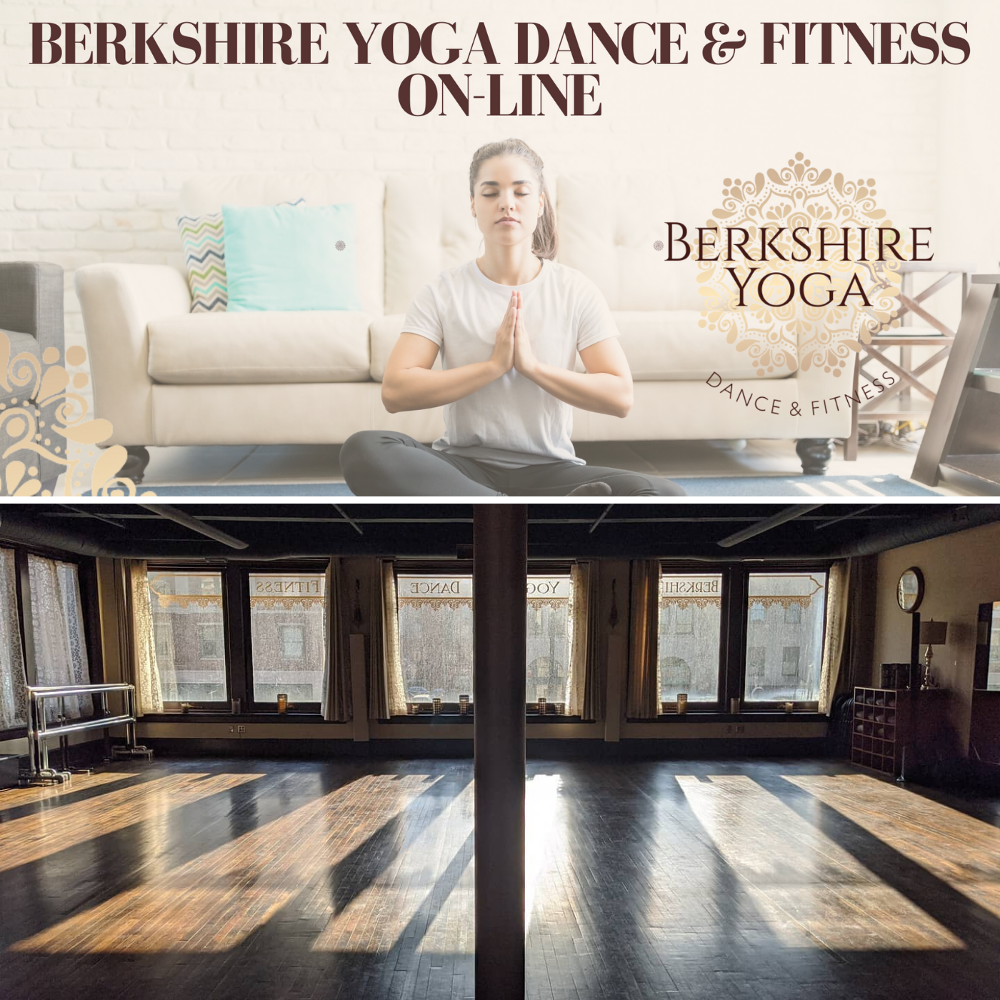 Berkshire Yoga Dance & Fitness is now Virtual!
Your on-going wellness is our number one priority – especially during these challenging times. In order to help keep you healthy, happy and peaceful, BYDF is now offering on-line classes for you via Facebook Live, YouTube, Zoom and Google Hangouts to enjoy at your leisure from the comfort and safety of your own home!
Click Here to View BYDF's Virtual Schedule
These classes are FREE of charge as a gift to the community during these challenging times. While donations are not expected or required, we very much appreciate any contribution you'd like to make to help support our teachers and studio: Click Here to Contribute to Instructors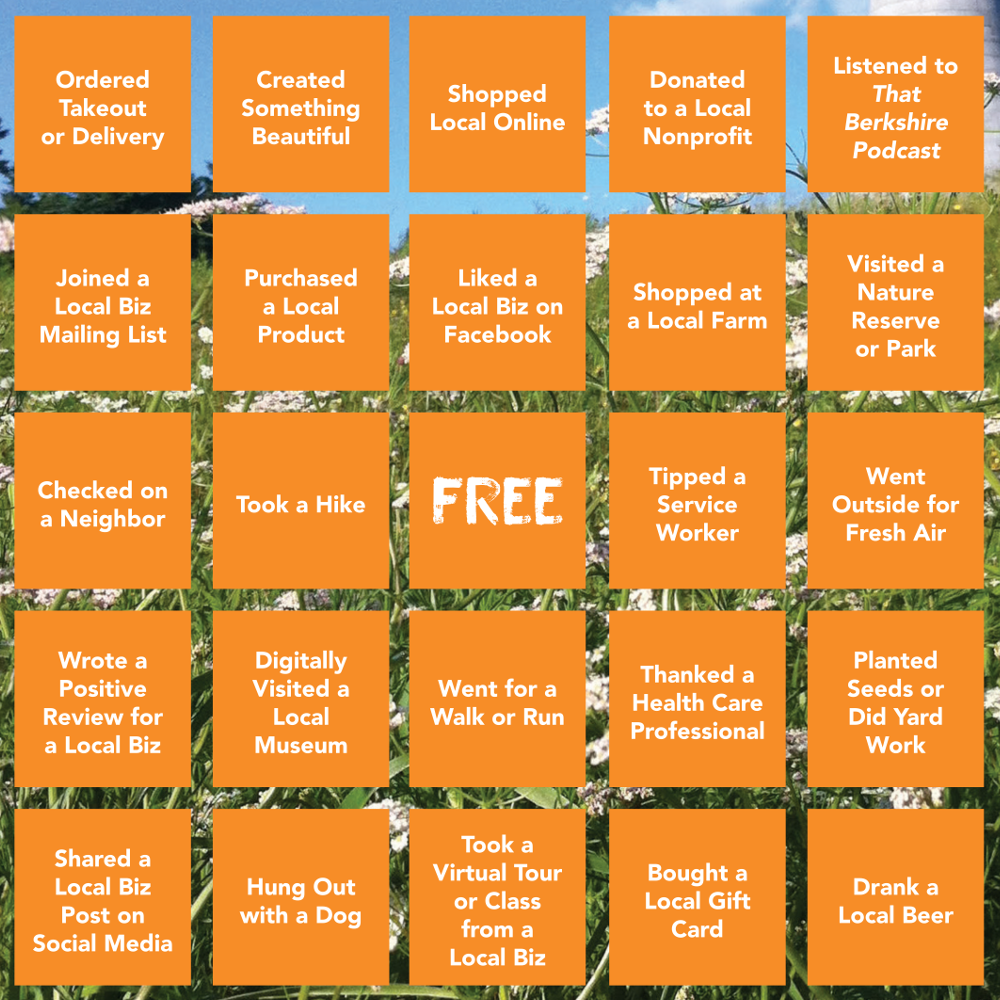 Berkshire BINGO!
1Berkshire created Berkshire BINGO as a way to have fun AND support local businesses from home!
Take pictures, screenshots or videos of you completing 5 in a row, then share on Facebook and tag 1Berkshire.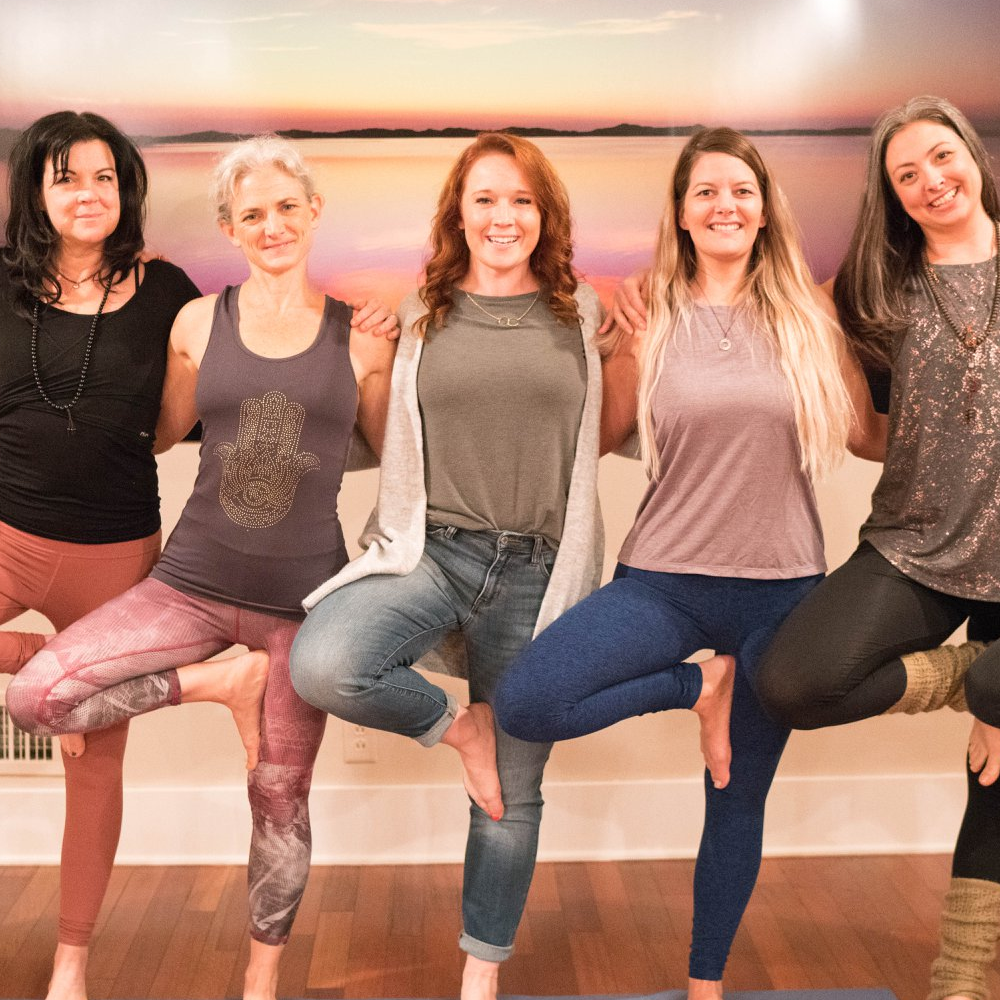 FREE & Low Cost Resources from Radiance Yoga!
*YouTube: Free On-Demand yoga, fitness and meditation classes. Click here!
*Remote Wellness Guide: Updated weekly with new exercise, mindfulness, and nutrition resources. Special sections for healthcare workers, families and professionals working from home. Click here!
Radiance Yoga Online (first 15 days are FREE): Just like Netflix, Radiance Yoga Online is a membership subscription with on-demand yoga, meditation, barre and fitness classes taught by your favorite Radiance Yoga teachers. Get ready to roll out your mat and choose your style of class, experience level, teacher and the amount of time you have to practice.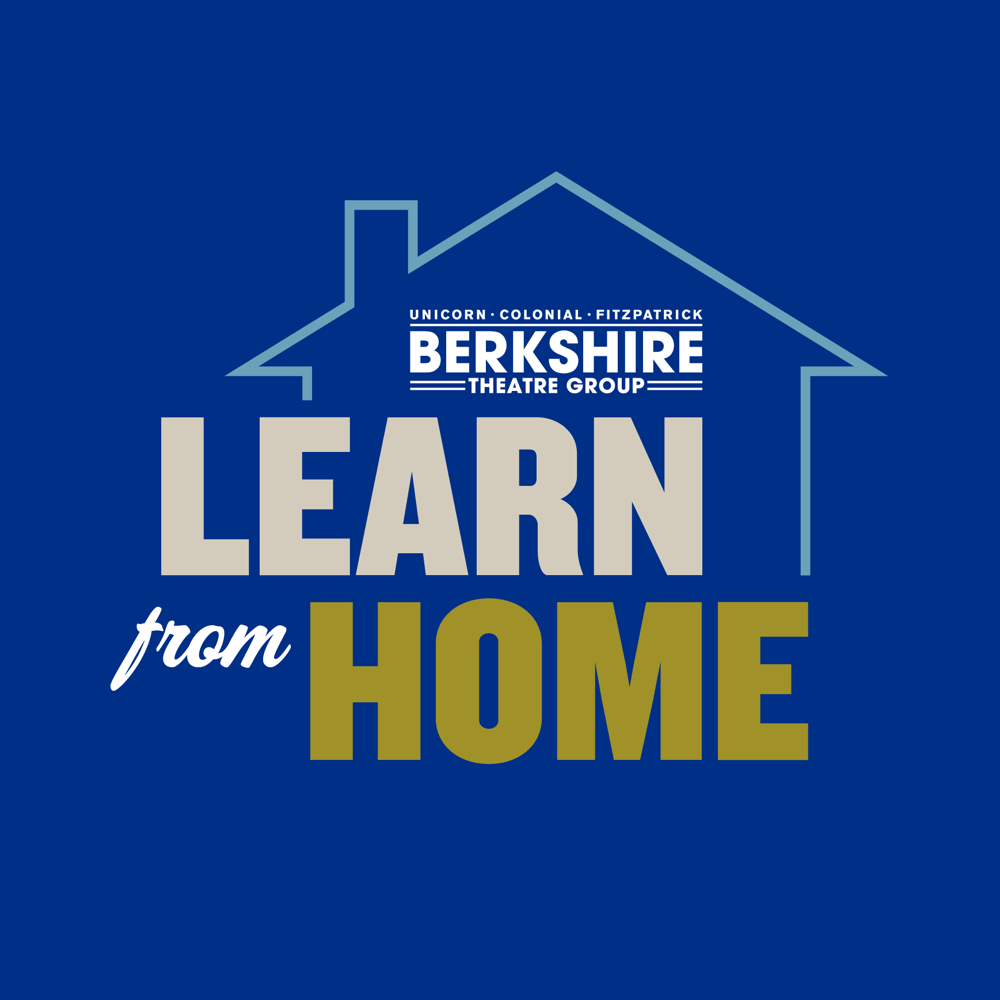 BTG's Learn from Home Series!
Berkshire Theatre Group is now offering live weekly online classes and talks, for all ages, on their Facebook page, presented by their incredible artists and alumni! All videos will be available on BTG's website, after the video is complete. A weekly schedule will be sent out via email from BTG (sign up here), and posted on social media.