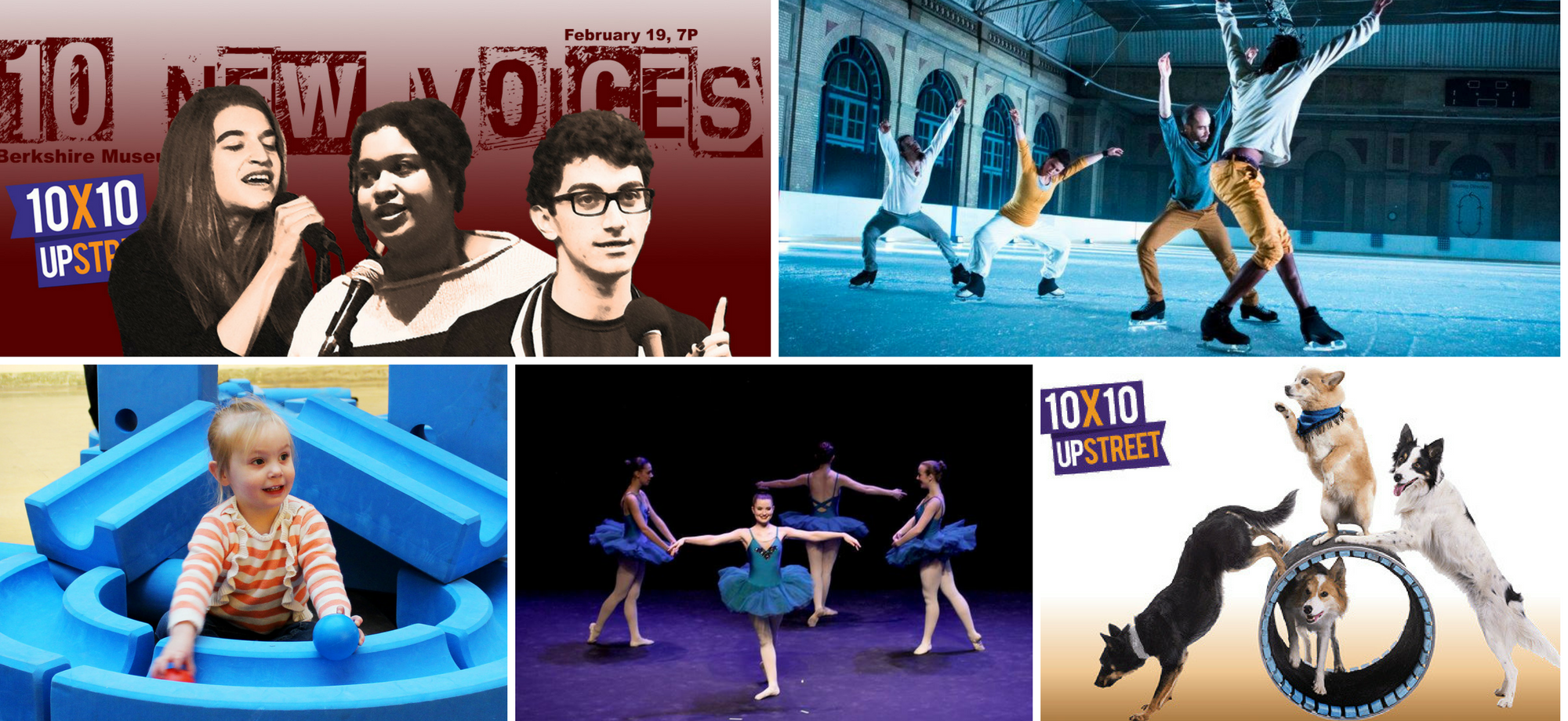 The City of Pittsfield's annual 10×10 Upstreet Arts Festival will take over downtown Pittsfield beginning on February 15th for the 7th consecutive year. This winter arts festival, a collaboration between the City of Pittsfield's Office of Cultural Development and Barrington Stage Company, has continued to grow every year since its inception in 2012, and this year features 66 events at 12 different venues with multiple events on the calendar every day through February 25th. There will be events and performances for both children and adults, including some free programming. With the festival coinciding with Pittsfield's school vacation week, there is no excuse not to attend at least one event!
The festival began in 2012 when Barrington Stage Company approached the Office of Cultural Development with an idea for a 10×10 new play festival. The first partnership was born, and exciting new partnerships are being made every year. "The 10×10 Upstreet Arts Festival is a great example of collaboration between art and cultural organizations from Pittsfield and beyond," stated Jen Glockner, the director of cultural development for the City of Pittsfield.  "Each year continues to bring new and exciting partners, increasing the breadth of the Festival." Attendance at last year's festival reached an astonishing 10,500 people.
One new partnership for 2018 is with the Berkshire United Way's Pittsfield Promise early childhood coalition. Pittsfield Promise's "10X THE FUN" will be a FREE family event at the Zion Lutheran Church, 74 1st Street, from 4 to 7 pm on Saturday, February 24th. The event will feature Olympic themed events such as decorating medals and a Javelin toss with pool noodles, and will also include arts and crafts, pin the carrot on the snow man, a reading nook, live music, and a bonfire at The Common right before the fireworks go off.
"10 Minutes of Fireworks" returns FREE to the First Street Common for the third straight year, thanks to sponsor Greylock Federal Credit Union. The fireworks will begin at 6 pm on Saturday, February 24th (or as soon as it is dark). The rain date is Sunday, February 25th at 6 pm. Free parking will be available all day across the street in the City Parking Lot.
Barrington Stage Company will host its 7th Annual 10X10 New Play Festival at its St. Germain Stage, 36 Linden Street, February 15th through March 4th. Enjoy 10 ten-minute plays by 10 playwrights, performed by 6 actors and directed by Julianne Boyd and Matthew Penn. Enjoy the best ten plays narrowed down from over 150 submissions for this year's festival!
"The Berkshire Museum is the place to be for the 10×10" says Glockner. "So many different organizations don't necessarily have 'homes' (in downtown Pittsfield) so they are hosting their events at the Berkshire Museum".
WordxWord will host "10 New Voices" on February 19th at 7 pm at the Berkshire Museum, 39 South Street. As part of this FREE event for 10×10, "WXW has invited 3 dynamic young poets – Don'Jea Smith, Grace Rossman and Sage – to curate a program of passionate, forward facing voices, to unapologetically share their truths in a fast paced, expectation-shattering spoken word event, with Don'Jea Smith, Steven Amash, Hannah Pimenta, Mikaela Serrano, Sage, Grace Rossman, Ashley Alafberg, and more to be announced."
Berkshires Jazz will present "10, by George" on Saturday, February 17th at 7:30 pm at the Berkshire Museum. "Ted Rosenthal and his trio will perform jazz interpretations of 'Rhapsody In Blue' and 9 other familiar compositions of George Gershwin. Ted Rosenthal is one of the leading jazz pianists of his generation, actively touring worldwide with his trio, as a soloist, and in various configurations. Winner of the 1988 Thelonious Monk International Jazz Piano Competition, he has performed with many jazz greats, including Gerry Mulligan, Art Farmer, Phil Woods, Bob Brookmeyer, and James Moody." Tickets for this event are $25 in advance and $30 at the door.
The Berkshire Art Association will host their "10×10 Real Art Party" at the Berkshire Museum on Thursday, February 22nd beginning at 6 pm. "Artists from the Berkshires and beyond are contributing 10×10 inch original works of art to be given away for just $25 each during the 10×10 RAP (Real Art Party). A $25 ARTtix guarantees the buyer to a work of art to take home the night of the party. ARTtix may be purchased at the Berkshire Museum admissions desk or by phone, through the night of the 10×10 RAP (or until tickets sell out). The doors open at 6 pm on the 22nd and the drawing begins at 7 pm sharp! Tickets will be chosen in a random order and the bearer will be able to choose any work of art that is still on the wall. Admission for the evening is free." "The best part of the RAP is to find the artist (of the piece you've chosen) if you don't know them, and say 'ohh this mine'," says Glockner. "I took a picture with the artist of one of my pieces…. It is the most energetic event, it's so fun, and I'm looking forward to it very much!" "The art show and party will benefit Berkshire County through BAA Fellowships for college art students, art field trip awards to Berkshire high school art departments, and free admission for art students to the Berkshire Museum."
The Berkshire Museum has also got vacation fun for the kids covered with their returning "Ten Days of Play". "Ten Days of Play" is "the perfect place for your kids to play, create, improvise, learn, and flex their creative muscles! Kids can innovate with the Imagination Playground and explore a Lego station courtesy of Pley, an architectural building set from Bilderhoos, and a Tegu magnetic block station. This year "Ten Days of Play" will expand throughout the Museum to include an early childhood center in Lab 102, dramatic forest play in Berkshire Backyard, and a Tinker Lab in the Feigenbaum Hall of Innovation!" Admission to "Ten Days of Play" is included with regular Museum admission, and runs Friday, February 16th through Sunday, February 25th, 11 am to 3 pm Mon-Sat and noon to 3 pm on Sunday. There will be a "Ten Days of Play" FREE Community Night on Friday, February 16th from 5:30 to 7:30 pm. Enjoy an "Instrument Petting Zoo with the Berkshire Music School" on February 19th from 1:30 to 3 pm, and on February 21st from 11 am to 3 pm, Hancock Shaker Village will take over the Feigenbaum Hall of Innovation for a day of play! "Join this special pop up where you can experience some of the Shaker Village's famous crafts and activities right here in the Museum galleries."
"Opera Notte" is making a return to The Whitney Center for the Arts, 42 Wendell Avenue, on Saturday, February 17th at 8 pm as part of the 10×10 Upstreet Arts Festival. This performance of "Opera Notte" (or "Opera Night") will feature "The Top Ten Most Beloved Operatic Arias of All Time" as performed by 9 professional opera singers and 1 local student with a promising operatic talent. The performers will be accompanied by Carlton Maaia II, and the evening will close with a short encore performance. In keeping with the 10×10 theme, tickets for this event will only be $10 and can be purchased online or at the door. Beer, wine, and light concessions will be available for purchase.
There will be another 10×10 Opera event with a City Chamber Opera performance on Saturday, February 24th at 3 pm at the Lichenstein Center for the Arts, 28 Renne Avenue. "In this Opera double bill, soprano Erin Nafziger performs the role of Elle in Poulenc's haunting La Voix humaine, and soprano Nellie Rustick performs the role of The Woman in Schoenburg's revolutionary Erwartung, in collaboration with pianist David Anderegg." This event is FREE and open to the public.
The Berkshire Athenaeum, 1 Wendell Avenue, will host two FREE exhibitions over the course of the 10×10 Festival. "The Berkshire Historical Society, in collaboration with the Berkshire Athenaeum, will present the history of Pittsfield divided into 10 time periods. Each panel will be filled with historic images and text highlighting significant 'Turning Points'." This visual journey through our city's history will be on view to the public during regular library hours from February 15th through the 25th.
IS183 Art School of the Berkshires will also present "I Colori Per La Pace: An exhibit of Berkshire County K-5 artists about PEACE" at the Berkshire Athenaeum from February 15th to March 13th. Over 500 Berkshire County K-5th grade artists will display their works about "PEACE". Following the show in Pittsfield, "artwork will be sent to Italy to be displayed in the largest exhibition of child art in the world, organized by the association 'I Colori Per La Pace'".
Jacob's Pillow will return for their second year with an exciting Pillow Pop-Up: "Le Patin Libre" at the Boys and Girls Club, 16 Melville Street. "Jacob's Pillow will present Montreal-based Le Patin Libre, pioneers of ice-skating, as a new artistic discipline that bring a 'fresh, ice-cool take on contemporary figure skating' (London Dance). The company presents their work 'Vertical Influences', which draws from the movement vocabularies of hip-hop, b-boying, dance theater, and ice-skating. Audience members sit on the ice with the performers as the group tries to collectively achieve a sense of harmony, realized through rhythmic footwork, moving air, and the tangible chill of the ice." This event will take place on Friday, February 16th at 8 pm. General admission is $25 with a $10 youth ticket available. "In conjunction with this event, Jacob's Pillow is hosting a playful workshop at the Boys and Girls Club on Thursday, February 15th at 6 pm. Accessible to both beginner and expert skaters (ages 12+), Le Patin Libre shares its passion for glide and the basis of its choreographic technique." Space is limited. To register call 413.243.9919 x 165. Tickets for this workshop are only $10.
Berkshire Theatre Group will host two events at the Colonial Theatre, 111 South Street, as part of the 10×10 Festival. "Mutts Gone Nuts" will take the stage on Saturday, February 17th at 2 pm and 5 pm. "Comedy duo, Scott and Joan Houghton have created a dog thrill show like no other, featuring nine amazing canine partners, all adopted from animal shelters and rescues. Expect the unexpected in this top-notch presentation that includes: high flying frisbee dogs, tightwire dogs, dancing dogs, magic dogs and of course—the one and only—Sammie the Talking Dog!" Tickets for "Mutts Gone Nuts" are $20 for adults and $10 for children.
"Billy Budd in the Breadbox", part of BTG PLAYS! on Tour, is being presented to the public at The Garage (located in the Colonial lobby) during 5 school vacation week performances. "History comes to life in this exciting new play about, Herman Melville, author of Moby Dick. Billy Budd in the Breadbox is based on the book, Billy Budd in the Breadbox, The Story of Herman Melville and Eleanor, by Jana Laiz. Told through the eyes of his granddaughter, Eleanor, the show follows the special relationship between grandfather and granddaughter. Eleanor discovers that her grandfather has a secret and is determined to figure out what it is. Along her journey, you'll go on an interactive and educational history lesson from Herman Melville himself. Hear his stories and learn about what inspired such writings at Moby Dick, Typee, Billy Budd and more. Based on a true discovery that brought the writings of Herman Melville back to life. The play features stories about local Berkshire history including Arrowhead, Mt. Greylock, and Monument Mountain." BTG's presentation is adapted by Travis G. Daly. Tickets are $10 for adults and $5 for children.
Join Methuselah Bar and Lounge, 391 North Street, for a FREE "Mastheads Lit Party" on February 15th, 6 to 8 pm. "The Mastheads has asked 10 local writers across disciplines—designers, urban planners, fiction writers, and poets—to each read one short work or excerpt by a historic Berkshire author, alongside one short piece of their own. Readers include Elizabeth Bevilacqua, Ezra Dan Feldman, Zack Finch, Tessa Kelly, Roberta Mcculloch-dews, Sika Sedzro, Karen Shepard, Aaron Thier, Ted Thomas, and Sarah Trudgeon, reading works by Du Bois, Millay, Melville, Thoreau, Catharine Sedgwick, Fanny Kemble, and more! Admission is free. Food, drinks, Mastheads readers and postcards, and books curated by The Bookstore will be available for purchase."
Join the Berkshire Running Center for a FREE "1-10 Mile Run" on February 17th and 24th at 8 am beginning at the Berkshire Running Center, 34 Depot Street. "Join Berkshire Running Center for a group run from any distance from 1 mile to 10 miles.  All levels are welcome." Call 413-344-4472 for more information.
Hotel on North is excited to welcome Gypsy Layne Cabaret & Co. back to Pittsfield, "making February red-hot with their return to the 10×10 Festival. The Berkshires' own homegrown cabaret & burlesque troupe is eager to share its vivacious artistry, unabashed body-positivity, and outrageous charms with the local community once more." Shows are Friday, February 23rd and Saturday, February 24th at Hotel on North, 297 North Street. Doors open at 6 pm, show starts at 7 pm. Tickets are $25 in advance and $30 at the door.
The new RE-FORMation Academy powered by The Funky Phoenix, 441 North Street, is hosting 10 Days of $10 Workshops at 10 am, plus afternoon and evening workshops. "Each 2 hour workshop will include re-purposed, recycled, and up-cycled fun and useful handmade projects (featuring the guidance of) 9 different local crafters and artists!" Numerous workshops available. Register now: reformationacad/events/
Additional events include "Berkshire International Film Festival: The Best of Fest 10 Shorts" in collaboration with the Beacon Cinema, 57 North Street. BIFF "presents a fantastic array of some of the best shorts from its annual Festival!" FREE showings on February 20th at 7 pm and February 25th at 2:30 pm. "Dance Ten" will showcase the talents of ten exciting Berkshire dance groups at the Barrington Stage Company Mainstage, 30 Union Street, on Sunday, February 25th at 3 pm. Performers will include Albany Berkshire Ballet, All Berkshire Dance Competition, Canterella Dance Academy, Dysfunk Crew, Funk Box Dance Studio, Olga Dunn School of Dance, Olga Dunn Dance Company, Breffny Irish Dancers from Terpsichore Dance Center, Terpsichore Dance Center, and Youth Alive. Tickets are $10 for adults and $5 for children 12 and under. View the ENTIRE 2018 10×10 Upstreet Arts Festival Brochure here: https://www.discoverpittsfield.com/wp-content/uploads/2018/01/10×10-brochure18_web-1.pdf
"Berkshire Gas is the lead sponsor of the 10×10 Upstreet Arts Festival.  Additional support is provided by Greylock Federal Credit Union, Massachusetts Cultural Council, The Berkshire Eagle, Berkshire Magazine and Lamar Advertising. For regular updates to the Festival, like the 10×10 Upstreet Festival on Facebook."
By Contributor Kimberly Cortes-Gritman
Kimberly is a Downtown Marketing Coordinator and Lead Coordinator of First Fridays Artswalk.
Some text courtesy of participating 10×10 venues and the Office of Cultural Development. Images courtesy of WordxWord, Jacob's Pillow, Berkshire Museum, The Office of Cultural Development, and Berkshire Theatre Group.