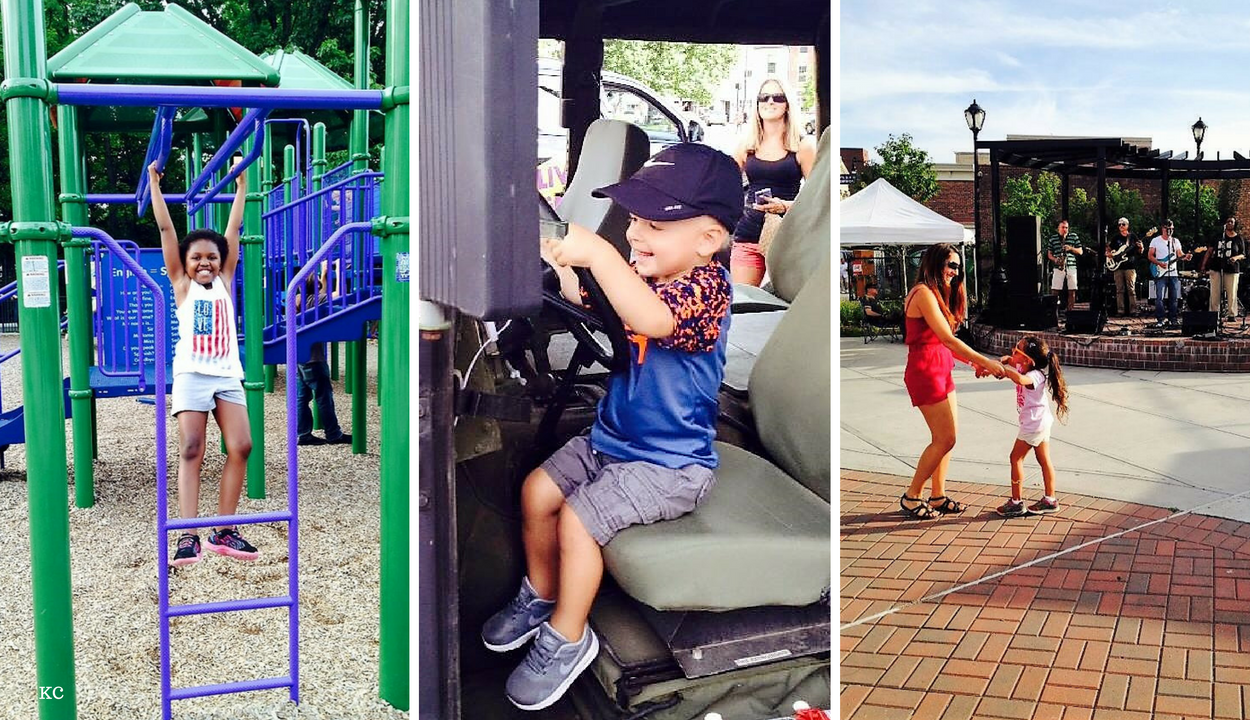 Downtown Pittsfield is full of fun opportunities for adults and kids. Even with the summer winding down, there are still many free and inexpensive activities for kids and their families in Downtown Pittsfield!
The Common on First Street is a public park just a moment's walk from North Street. Spend the day enjoying a beautifully renovated playground area and Splash Pad which operates 9 am to 7 pm, 7 days a week. Bring a picnic, or perhaps a sandwich from nearby Freddie's Place Olde Fashion Soda Shoppe or That's a Wrap Café, and sit in the Common's picnic area surrounded by their Sculpture Lawn. Don't forget a basketball if you want to shoot some hoops! Come on a Saturday through October 14th and enjoy the Downtown Pittsfield Farmers Market, 9 am to 1 pm. The season will culminate with the Harvest Festival on Saturday, October 14th, 2017.
Another free idea is to walk Pittsfield's Downtown Loop as a family. Our Downtown walking loop starts at the Colonial Theatre on South Street and continues North to Berkshire Medical Center where it reverses direction heading back to the Colonial. Look for Downtown Loop signage which will guide you throughout the 2-mile walk. Make it a challenge and see how fast you can walk the entire 2 miles or stroll leisurely and take in the Downtown sites along the way!
These Downtown sites include our Artscape pieces. Pick up an Artscape map or explore on your own the two dozen outdoor sculptures and paintboxes created by accomplished artists. How many Artscape pieces can you find?
Also, along our Downtown Loop, you will find over a dozen Artswalk venues. Enjoy free art shows in galleries and businesses along North and South Street featuring work by accomplished regional artists. Meet the artists on a free Guided Walking Tour on the First Friday of every month beginning at 5 pm at the Intermodal Center at BRTA, 1 Columbus Ave. If you can't make the tour, pick up an Artswalk map in local businesses along the Downtown Loop or view the map online. Shows will remain up for the month following Artswalk.*
On a summer evening, you can take the family to Clapp Park on West Housatonic Street, a short drive or walk from the Downtown, and enjoy a family-friendly movie outdoors and on the big screen for free! Friday, August 18th will be the last opportunity to see a movie this summer at Clapp Park. "Storks" will begin at dusk (around 8:30 pm)**. Bring a blanket or lawn chair and your favorite snacks and enjoy a fun night under the stars!
Another great outdoor activity is Pittsfield's 3rd Thursdays! Every Third Thursday, May through September, come rain or come shine, the section of North Street from West Street to Linden Street will be closed to vehicular traffic, and the street will be filled with live music and performances, a variety of local food, vendors, and community activities. The last 3rd Thursday of 2017 will be held on September 21st, 2017, 5 to 8 pm. The theme will be "Walk A Mile". All 3rd Thursdays are smoke-free.
What happens if it rains? Don't let a gloomy day discourage you, there are still plenty of fun activities! The Beacon Cinema is conveniently located at 57 North Street, and on Tuesdays they offer $6 movies! On Super Tuesdays you can see select movies for only $6 all day, and most 3D movies for only $9!
The Berkshire Athenaeum, Pittsfield's Public Library, 1 Wendell Ave, offers a comfy and exciting place for children and young adults to develop a love of reading. Every summer the Athenaeum offers a free Summer Reading Program for Children and Young Adults (this year there was even one for adults)! Although these programs are wrapping up August 18th, there is still other programming for the kids throughout the year. On Monday, August 21st at 2 pm, rain or shine, come by the Athenaeum to View the Solar Eclipse. During this free program, kids can create their own pinhole eclipse viewer. (They should bring a large cereal box to create the viewer.) Weather permitting, participants will head outside to experience the eclipse through their homemade pinhole viewers. The Athenaeum will provide 100 pairs of certified safe shades to participants for eclipse viewing.
The Berkshire Athenaeum also offers Museum passes year-round which provide free or reduced general admission to museums and other sites through funding by The Friends of the Berkshire Athenaeum. Library patrons must have a CWMARS library card. Visit their website for more information. Sites include Arrowhead, the Berkshire Museum, Hancock Shaker Village, and many more!
The Berkshire Museum, 39 South Street, "offers a unique array of exhibitions, activities, and attractions for visitors of all ages. From fine art and ancient objects to fossils; from an aquarium of native and exotic creatures to the Feigenbaum Hall of Innovation, The Berkshire Museum is your community museum: a place where everyone, from toddlers to elders, can learn, play, explore, innovate, be engaged and inspired."
Through September 4th, 2017, GUITAR: The Instrument That Rocked the World will cover "the science, sound, and cultural impact of the guitar in a family-friendly installation that contains more than 70 instruments, from the rare and antique to the popular and innovative, as well as performance videos, audio stations, hands-on activities, models, touchscreens, and photographs. Play the world's largest guitar, 43.5 feet long and 16 feet wide, certified by Guinness World Records!"***
The Berkshire Museum, a Smithsonian Affiliate, is open from 10 am to 5 pm Monday through Saturday, and noon to 5 pm on Sunday. Seasonal Admission through September 4th, 2017 is $16 for adults, $8 for children (ages 4-17), and free for Museum members and children age 3 and under.
Berkshire Children's Theater will present "The Little Mermaid" at the Berkshire Museum on Thursday, August 24th at 11 am and Saturday, August 26th at 11 am and 2 pm. This original musical based on the fairytale by Hans Christian Anderson will be performed by this community theater group of performers ages 5 to 19. Tickets to "The Little Mermaid" are available at the Berkshire Museum's front desk or by calling 413.443.7171 ext. 360. Tickets are $8 for adults, $6 for children; Museum members $5 adult, $3 child; and children ages 3 and under are free.
The Berkshire Carousel, 50 Center Street, provides year-round family entertainment with its hand-painted and hand-carved horses. Summer hours of operation are Monday through Friday, 11 am to 7 pm, and Sundays, noon to 6 pm.
Downtown Pittsfield is also home to multiple organizations designed for families and recreational activities. The Berkshire Family YMCA of Pittsfield, 292 North Street, features Central Berkshire County's largest indoor swimming pool (25 meters, 6 lanes) with adult lap lanes, family open swim times, and group and private swim lessons. There are group exercise classes, including Yoga and Zumba; cardio- and strength-training equipment; Racquetball Courts; and a Gymnasium/Basketball Court. Sign up for a membership or purchase a guest pass for the day!
The Gladys Allen Brigham Community Center, 165 East St, also offers an extensive swimming program which includes private and group swim lessons for all levels and ages and recreational swims open to all family members. The Boys and Girls Club of Pittsfield, 16 Melville St, also offers activities and programs for school aged children. Visit their website for membership rates.
Although their season has ended, it is also worth mentioning that our collegiate summer baseball team, The Pittsfield Suns, call historic Wahconah Park home each summer from early June to early August. General Admission seats are reasonable for families and there are many games that end in a fan-favorite: fireworks!
Each summer Barrington Stage Company's Youth Theatre, featuring actors ages 13 to 19, perform a professional 24 show run of one of America's favorite musicals. This year, local students completed a successful run of "Bye Bye Birdie".
Berkshire Theatre Group also hosts an Annual Community Theatre Production at The Colonial Theatre, 111 South Street, each summer. Acting and technical roles are open each year to third graders through adults. This year's production of "The Music Man" recently closed, but stay tuned for information about BTF's annual production of "A Christmas Carol" this winter.
Stay tuned to BSC's and BTF's websites for audition announcements for young actors and their 2018 season.
Contact contributor Kimberly Cortes-Gritman at intern2@downtownpittsfield.com
Kimberly is a Downtown Coordinator and Lead Coordinator of First Fridays Artswalk.
Photos by Kimberly Cortes-Gritman.
*There is no First Fridays Artswalk in January. Most shows will remain up for the entire month unless otherwise specified.
** Rain will cancel the movie at Clapp Park.
*** Information quoted from https://berkshiremuseum.org/