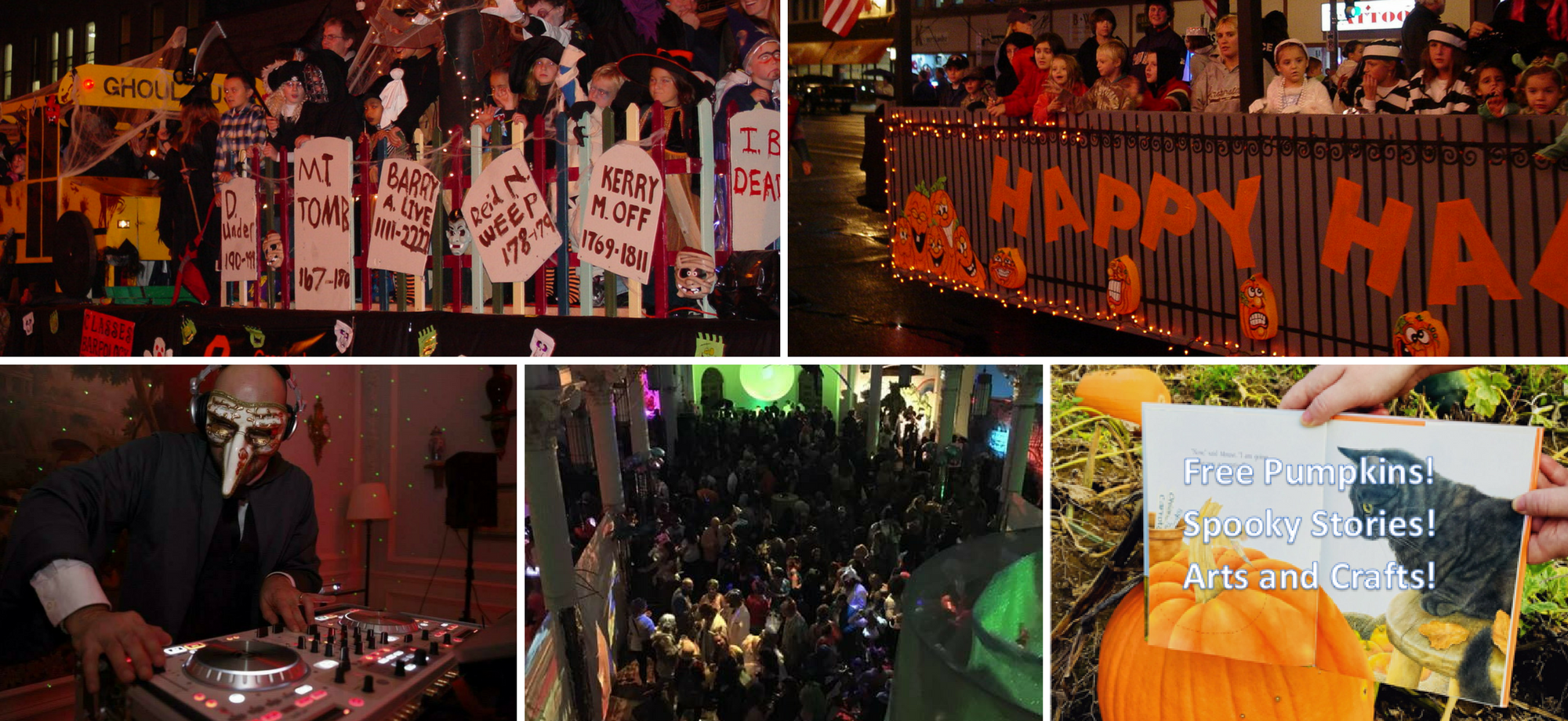 There are a variety of activities happening in and around Downtown Pittsfield this weekend to celebrate Halloween! Here we break down events for both children and adults.
Freaky Family Fun:
Friday, October 27th:
The City of Pittsfield's 73rd annual Halloween Parade
Friday, 10/27, 7 pm
Tyler Street, Pittsfield
Bring your lawn chairs and spend an evening amongst zombies, ghouls, goblins, and superheroes! Floats, marchers and live musicians will entertain young and old alike!
The Halloween Parade will begin at 7 pm on Tyler Street at the corner of Tyler and Smith Streets and end at Woodlawn Ave.
Saturday, October 28th:
Halloween at the Library
Berkshire Athenaeum, 1 Wendell Avenue.
Saturday, 10/28, 11 am to 2 pm
Stop by the library Saturday morning for Pumpkin Carving and Ghost Stories! Pumpkin carving will begin at 11 am. Pumpkins are provided courtesy of Taft Farms, and carving tools and stencils will be provided on a first come, first served basis. Pumpkins will be judged in a Jack-o-Lantern contest at 2 pm with prizes awarded to the best designs.
Be sure to stop by the Berkshire Athenaeum's Local History Department to learn about eerie events that have happened around Berkshire County. See the Library's display of hauntings, and take home a free map of the spookiest places!
Refreshments will be served, costumes are encouraged, and no registration is required!
"Seeds saved at the party will be included in the Athenaeum's new Seed Lending Library, which will open in February 2018. What is a Seed Lending Library, you ask. Seed Lending Library's make seeds available for patrons to "borrow." Patrons then plant the seeds in their garden, enjoy the fruits of their labor, and at harvest time collect seeds from some of their plants and return these seeds to the library for other patrons to checkout."
This event is sponsored by the Friends of the Berkshire Athenaeum and Alchemy Initiative.
Annual Harvest Craft Fair
Saturday, 10/28, 9 am to 3 pm
South Congregational Church, 110 South Street.
The South Congregational Church's Annual Harvest Craft Fair includes wares from local crafters and venders, crafts, bake sale, luncheon, raffle, and Chinese Auction.
Lights out! 
Berkshire Museum, 39 South Street.
Saturday, 10/28, 6 pm
"Explore the Museum's galleries with only a flashlight during this spooky, after-hours adventure. Complete the scavenger hunt to claim your prize and discover the darker side of "Morgan Bulkeley: Nature Culture Clash", Pahat (our resident mummy), and more!
Tickets for this special family event are just $5 per person – or $3 for Museum members – and are available on a first come, first served basis on the night of the event. Please plan to arrive early to guarantee your spot!"
Tuesday, October 31st:
City of Pittsfield's Trick-Or-Treat Night
Tuesday, 10/31, 5:30 to 7:30 pm
Trick-Or-Treat will be held Tuesday, October 31st from 5:30 to 7:30 pm in the City of Pittsfield. Please leave your lights on if you are participating in Trick-or-Treat!
If you still need to decorate, Carr Hardware has got you covered!
Ongoing.
Carr Hardware, 547 North Street.
Halloween Savings of 50% off on Spooky Lighting and Scary Décor!
Offer valid on store stock only, while supplies last. Savings off of regular prices.
Spine-chilling Adult Fun:
Friday, October 27th – Monday, October 30th:
78/52: Hitchcock's Shower Scene
Berkshire Museum, 39 South Street.
SHOWTIMES:
Friday, October 27, 7:00 pm
Saturday, October 28, 7:00 pm
Sunday, October 29, 7:00 pm
Monday, October 30, 1:30 pm
Monday, October 30, 7:00 pm
Join the Berkshire Museum for a documentary film screening appropriate for Halloween weekend! This 2017 film features an in-depth look at the iconic shower scene in Alfred Hitchcock's "Psycho" – composed of 78 setups and 52 cuts – and the screen murder that profoundly changed world cinema.
This film is Not Rated and runs 1 hr. 31 min. Tickets are $7.50 or $5 for Museum members.
 
Friday, October 27th – Sunday, October 29th:
Town Players of Pittsfield present Richard O'Brien's "THE ROCKY HORROR SHOW"
The Robert Boland Theatre at Berkshire Community College, 1350 West Street.
Friday, October 27th at 8PM
Saturday, October 28th at 8PM
Sunday, October 29th at 6PM
"Let's do the Time Warp again!! This deliberately kitschy rock 'n' roll sci-fi musical is more fun than ever! Just in time for Halloween, this audience favorite featuring a live cast and a live band is an experience you will not want to miss!"
Directed by Matthew T. Teichner with Musical Direction by Jeff Hunt and choreography by Alexandra Lindsay. Book, Music and Lyrics by Richard O'Brien.
Tickets available at www.townplayers.org or at the box office prior to the performance. Performances contain mature language, mature content, fog and atmospheric haze.
Ticket Prices:
$18 General Admission; $21 General Admission with Audience Props Bag*; $15 Seniors, Students, Groups 10+; $18 Seniors, Students, Groups 10+ with Audience Props Bag*
*Audience Props Bags will include: newspaper, water pistol, glow stick, rubber glove, noise maker, toilet paper, party hat, and playing cards. No outside props are allowed.
Saturday, October 28th:
Creatures Of The Deep
Saturday, 10/28, 8 pm
Shire City Sanctuary, 40 Melville Street.
 
Berkshire Shenanigans hosts a Halloween party under the deep sea! DJ BFG will spin the tunes all night long! There will be performances by Heart-Shaped Box and Berkshire Acro-yogis, Tarot Readings by Darlene Baisley, Projections by Drew Suto, and local favorite Ernie Jordan, owner of Grampie's Dog House, will be selling late night hot dogs!
Ages 21+. ID required. Cash Bar. Tickets are $30 in advance, available through Eventbrite, or $35 at the door, cash only.
Halloween Party at Mission!
Saturday, 10/28, 8 pm to 11 pm
Mission Bar + Tapas, 438 North Street.
Wear your superhero or super villain costume to Mission Bar + Tapas this Saturday for a chance to win prizes! Live band White Liger will entertain. No cover. Ages 21+.
Salsoween Fiesta & Costume Contest!
Saturday, 10/28, 9 pm to 1:30 am
Whitney Center for the Arts, 42 Wendell Avenue.
Berkshire Salsa presents the best Halloween Latin Party in the Berkshires! The night kicks off with a Bachata Lesson at 9 pm. DJ Redscare will crank the tunes from 10 pm to 1:30 am. Admission is $15.
There will be prizes for best costume and sexiest costume. The 1st Place prize will be 6 months of unlimited lessons at Berkshire Salsa Dance Studio… a $450 Value! The 2nd Place prize will be a free pass to Berkshire Salsa's Latin Nights for 6 Months!… a $240 Value!
Happy Haunting 2017!
Contact contributor Kimberly Cortes-Gritman at intern2@downtownpittsfield.com
Kimberly is a Downtown Coordinator and Lead Coordinator of First Fridays Artswalk.