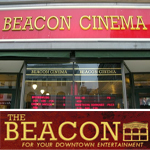 57 North Street; Pittsfield, MA 01201
413-358-4780
http://www.thebeaconcinema.com/
An independent theater delivering 21st century movie experience with 6 all-stadium theaters featuring Dolby Digital Cinema and Dolby 3D.  Enjoy wine and beer before or during the movie.  The all-digital cinemas offer a wide variety of alternative content ranging from sports to concerts to performing arts at downtown's Digital Entertainment Center.