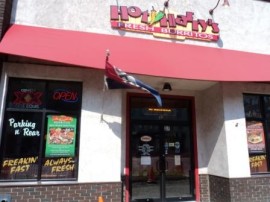 Try Hot Harry's for a quick burrito
Testimonial by Lesley Ann Beck, Berkshire Eagle Staff
Hot Harry's, with several local locations, is a good place to stop for a quick meal — especially for burrito fans.
Hot Harry's, which is very popular with Eagle newsroom folks, does a big take-out business, but it's a nice place to sit and eat, as well.
On a recent visit to the North Street restaurant for dinner, we tried the Thai chicken burrito and the spicy ranch salsa burrito. You order at the counter and watch as your dinner is assembled — from the steaming of the tortilla to adding the spicy meat mixtures, sauce and vegetables.
The Thai chicken burrito, a good value at $5.50, has cubes of adobo chicken, marinated in red chili sauce, a scoop of rice flavored with onion and peppers, lettuce and Thai-style peanut sauce. I could have requested additional vegetables as the burrito went together. The burritos are very large, making this lunch or dinner a good value, and the ingredients are fresh.
The spicy ranch salsa burrito, a special at $6.50, included the same spicy chicken with cheese, ranch dressing, salsa, lettuce and tomato.
Both burritos were tasty, not overly spicy, and more than filling. But the best part was the chips. At Hot Harry's, the burritos, tacos and rice bowls come with a side order of tortilla chips, fried on the premises, with four kinds of fresh salsa. The tomatillo is my favorite, light green with a sweet, mild flavor of onion and cilantro.
There are four meat choices — cilantro-lime steak, Yucatan-style chicken, chipotle barbecue pork and the spicy adobo chicken. For most of the burritos and tacos, you can select the meat you prefer. A regular burrito is $5.50; the super is $6.25. Other choices include barbecue, fajita, veggie, super veggie and Cajun catfish.
It was a good dinner, and the restaurant is spacious and comfortable. There's an attractive desert scene painted on one wall, complimenting the green and terra cotta color scheme, the wooden tables and booths and the ceramic tile floor. A refrigerator holds an assortment of cold drinks and beer is available.
The next day, I went to the Tyler Street location for lunch. I sampled the Yucatan-style chicken taco, at $1.95, and the Cajun catfish taco at $2.25. These are soft tacos, in steamed flour tortillas, with black beans, lettuce, tomato and cheese. The catfish was tasty, not too fishy, but it could have had a little more spice. The Yucatan chicken had a delicious smoky flavor. These soft tacos are filling and good, but messy.
Hot Harry's also offers salads, from $5.25 to $6.75, nachos and quesadillas. The rice bowls, filled with the flavorful rice and choice of meat, are a good lunch at $2.75 to $4.25. And breakfast is available from 8 to 11 a.m. at the North Street location.