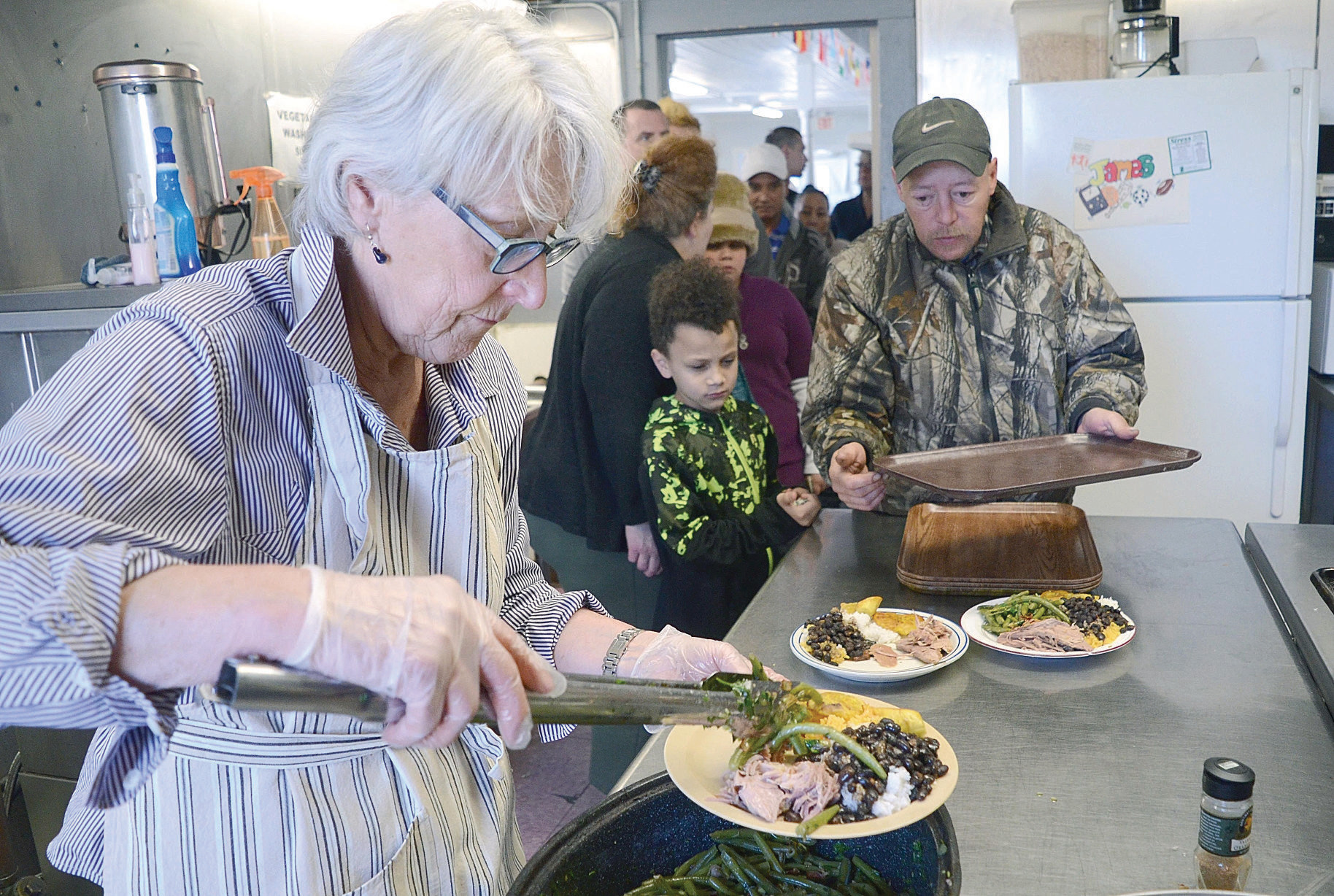 Monthly ethnic meals offer special way to draw community together
PITTSFIELD — The aroma from The Christian Center kitchen took Samantha Mathis back to south Florida.
"When I came in here, it smelled so good, the pork and the chicken," she said.
Mathis and her two children relocated to Pittsfield from Miami six years ago, leaving behind the fine Cuban cooking.
On Tuesday, the mother, son and daughter got to savor what they had been missing thanks to volunteers cooking up Cuban/Latin. The juicy, tender pork and mango/garlic baked chicken included side dishes of plantain chips, Spanish rice and fresh green beans with bacon, lime juice and cilantro.
The special gathering, complete with colorful decorations and music are part of the monthly ethnic dinners the center began last month to celebrate the community's cultural diversity.
What better way to break down any ethnic barriers than through food and music, says the center's executive director Ellen Merritt, especially given the renewed relations between the U.S. and the communist Caribbean island nation 90 miles from Key West, Fla.
"This is a great time to celebrate Cuba and who ever thought that heeling would happen?" Merritt said.
Imgard Arruda was among the volunteers who suggested the ethnic dinners as a way to show the center is engaging the community and does more than help those in need.
The all-inclusive concept took hold immediately during the inaugural dinner in March, with Polish food and entertainment at center stage.
"We had people in the kitchen from different backgrounds who never baked a cake before," Arruda said.
Cuba and Dominican Republic were among the nationalities represented in the kitchen, cooking and serving the meals to about 60 adults and children who packed the center at noontime.
Gino Antunez, his father born in Cuba, spent eight hours Monday preparing the pork before coming in Tuesday morning to help prepare the rest of the meal.
"When I was, 10, 11, 12, I would come here to stay off the streets. Now I am giving back because I love Pittsfield, " said Antunez who has worked at several local restaurants.
Antunez epitomizes the giving spirit at The Christian Center, according to its food manager, Karen Ryan.
"He's taken ownership of this [dinner.] He always wants to help," Ryan said. "Our clients always want to come in and cook."
Mexican native Alan Franco has noticed increased interest in cultures south of the border. Franco recently brought a salsa band to play Pittsfield before 170 people of various ethnicities. Soon, the self-employed digital marketing consultant plans to open a downtown salsa dance studio. Having taught it informally, Franco finds salsa dancing becoming popular among the locals.
"People who love the culture want to learn Latin dancing," he said. "Once they start dancing, they get hooked," he said.
Reach staff writer Dick Lindsay at 413-496-6233