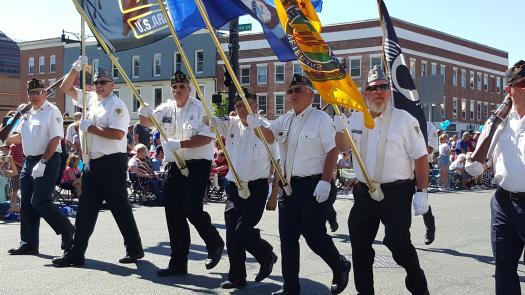 PITTSFIELD, Mass. — The Pittsfield Parade Committee announced that the 2017 Fourth of July Parade theme is "Celebrating Our Heroes."
"Most of the suggestions we received for this year's theme were based on the importance of patriotism and honoring our veterans," Pittsfield Parade Committee President Peter Marchetti said. "This theme is broad, because as we know, that in addition to veterans, heroes can also be police officers, firemen, EMTs, teachers and many others who serve and sacrifice for our communities. No doubt, the ideas for floats will be endless, focusing on the many kinds of heroes we honor, even including superheroes from comics."
Parade applications are now being accepted. Applications will be mailed to past attendees and for those who would like to participate for the first time, applications may be found online or by calling 413-447-7763.
The committee also has kicked off the fundraising drive for the 2017 parade. The committee is looking for corporate sponsors, small businesses and Berkshire County residents to help reach this year's goal of $85,000. Individual and corporate donation forms are also available on the website. Individuals may elect to donate online via Pay Pal.
Companies and individual donors may call the parade phone at 413-447-7763 for assistance. All donations will be printed in the program booklet and the Berkshire Eagle if received before June 1 deadline. Deadline for all participants is also May 15 and the advertising sponsorship deadline is June 1.
In addition, the Pittsfield 4th of July Parade Committee is looking for volunteers to help make the July 4th Parade bigger and better than ever. Planning meetings will be held at 7 p.m. on the following dates at the Polish Falcons, 32 Bel Air Ave: Jan. 18, Feb. 15, March 15, April 12, April 26, May 3, May 17, May 31, June 7, June 14 and June 28.