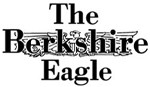 PHOTO GALLERY | 40 Under Forty
The List | View our special 40 Under Forty publication to see who made the cut
PITTSFIELD — Paloma Suarez has been in the U.S. for 10 years, the past five working at Community Health Programs in Great Barrington for the past five.
A native of Santiago, Dominican Republic, Suarez, 27, was one of the Berkshires professionals highlighted in the 2nd annual 40 under Forty celebration Thursday night at the Crowne Plaza Ballroom.
Her father, Andres Suarez, who traveled to the Berkshires for the event, said he was proud of his daughter.
With his daughter translating, the elder Suarez said his daughter is doing what all should be doing — helping the community.
"It is our obligation as citizens to give back to our community," he said. "This should be the work of everyone. We are all on this Earth to serve others."
The younger Suarez works as a senior nutritionist and breastfeeding coordinator for the Berkshire South Women, Infants and Children Program at CHP. More importantly, her bilingual abilities allow her to volunteer as a translator and serves as an essential line of communication between many local Latino families and English speaking neighbors and agencies.
After the awards ceremony, she said she felt good about the recognition.
"I'm very proud and happy, and pleased that I am able to play a role in helping families improve their lives," Suarez said.
After she was present her award, she was invited to the podium where she translated for her father what the master of ceremony, Craig Smith, vice president of institutional advancement at Berkshire Community College, had just said about her work and her efforts.
Another of the 40 was Jessica Sweeney, executive director of Roots Teen Center in North Adams. She is also the volunteer director of the Common Folk Artists Collective. She has worked with the Northern Berkshire Community Coalition, and volunteers in a number of other roles in the local arts community.
She recognized that many lifelong residents of the community are not moved to get involved in the creative culture that has blossomed in north County.
"We're trying to create a bridge for culture from the past into the future," she said.
The 40 Under Forty program honors a younger generation of Berkshirites who have found professional opportunities in the county and endeavor to make a difference in the community through their efforts.
"Tonight's celebration allows us to focus on what is good and special in the Berkshires," said keynote speaker Ellen Kennedy, president of Berkshire Community College. "You always hear about the missing generation of Berkshire County. But they're not missing. They're right here."
Smith explained that there were 120 people nominated for the honor.
"It is hard to explain how difficult it was to only select 40 winners out of such a deep pool," he said. "So I am tremendously confident that we will be gathering here in a year for the 3rd annual 40 Under Forty."