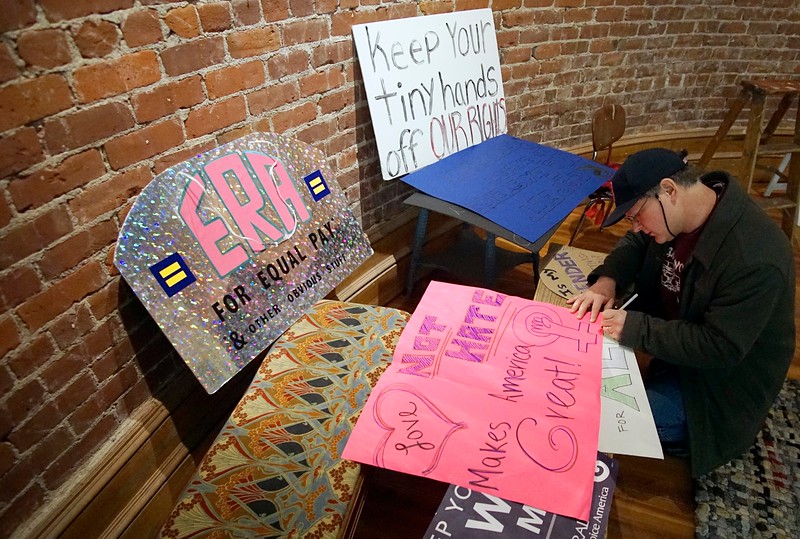 Excerpt from the Berkshire Eagle by Carrie Saldo
PITTSFIELD — Inspirational. Funny. Obscene. Defiant: The tone of the many of the signs foisted in the air at Women's March events held Saturday. Following a national trend, Berkshire County residents' signs will have a second life. They'll be included in an art exhibit that opens next month.
The Shire City Sanctuary will include the march signs in Viva La Resistance!, an exhibit set to open February 3rd at 5 p.m. during First Fridays Artswalk.
"Shire City Sanctuary is trying to be a community space," Board President Joseph Method explained Tuesday night.
Method said Crispina French, who started Shire City, came up with the idea for the exhibit. French is traveling outside of the country and could not be reached for comment.The Melville Street space was open to collect signs Tuesday night.
Paul Johansen dropped off a half-dozen signs he and his family of four carried in D.C. Saturday.
"ERA for equal pay and other obvious stuff," read the sign he created.
He said he felt compelled to continue the work his mother began years ago. Elaine Mange, an Amherst resident had worked with the League of Women Voters for an equal rights amendment.
"And here it's 2017 and we don't have one," Johansen said.
Johansen said the Women's March was the fourth he had attended in support of women's rights, adding he had marched in 1989, 1992, and 2004.
About 6:45 p.m., Johansen was the only person who had dropped off signs. Several people had committed to attending through a Facebook RSVP. But Method said bad weather may have kept people away. He said Shire City would accept signs Thursday from 6 to 9 p.m. and possibly at alternative times if contacted through its Facebook page.
Saturday, an Eagle reporter traveled on a bus that departed Pittsfield for the march. At least 300 people from the Berkshires attended the event that drew an estimated 500,000 people. A sister event held at the Colonial Theatre in Pittsfield was attended by about 1,700 people. Signs abounded at both events and reflected the varied perspectives of march participants. Some were highly artistic and included detailed drawings and meticulous handwriting. Others, like those with messages scrawled on worn pieces of cardboard, were D.I.Y. to the extreme.
"Not My President," read bold, black, handwritten letters on a neon pink poster board created by Mary Beth "Bubsy" McDonough who traveled to D.C.
"Our rights are not up for grabs. Neither are we," was a printed sign popular among a group that departed from Pittsfield for D.C.
A massive stack of signs was collected following the Colonial event and is expected to be donated to the Shire City exhibit. Event volunteer organizer Kristen van Ginhoven explained people left signs behind so they could be recycled. But Van Ginhoven said she hopes people won't mind that the signs make a stop before that.
"We don't really have a way of getting in touch with all attendees so [we are] hoping people will be pleased that we are paying them forward for art rather than recycling them," she said.
Museums and libraries from across the country are collecting and preserving some march signs.
Washington's Smithsonian National Museum of American History and the Newberry Library in Chicago are among the venues that have announced it will preserve signs.
Pictures and posts on Twitter revealed some signs were laid in front of Trump properties around the world and the White House, which is where one Dalton resident left hers.
"You know, as a parting gift," said Darcie Sosa who marched in D.C.
One sign seen many times in D.C. satirized the popular "Hope" image from President Barack Obama's 2008 campaign. The 2017 version depicted a coiffed President Donald Trump and read "Nope."
Staffer Carrie Saldo can be reached at 496-6221 and @carriesaldo.