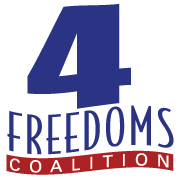 Excerpt from the Berkshire Eagle by Patricia LeBoeuf, pleboeuf@berkshireeagle.com
PITTSFIELD: After less than a week in office, President Donald Trump has signed executive orders that signal a sweeping shift on national immigration policy, which he has been promising since he was on the campaign trail.
He has called for "… the immediate construction of a border wall with Mexico and aggressive efforts to find and deport unauthorized immigrants. He planned additional actions to cut back on legal immigration, including barring Syrian refugees from entering the United States," according to a story in The New York Times.
Response has been swift.
"These orders … tear at the fabric of our communities," said Sherwood Guernsey, a co-leader of the Four Freedoms Coalition. "Every immigrant is living in fear right now. Fear of mass deportation, fear of raids, and that is not a condition that is good for our communities."
The coalition will hold a Stand Out for Immigrants event at Park Square at 1 p.m.
The stand out aims to show support for the local immigrant community and oppose these recent actions by the Trump Administration, Guernsey said.
"The most important thing is that we are showing [immigrants] that they're not alone," he said. "Such things as more walls and more detention facilities only serve to divide people. It is not what this nation is [about], and it is not what will make this nation great."
The coalition was formed in December in response to threats to the four freedoms identified by former President Franklin Delano Roosevelt in 1941 — freedom of speech and expression, freedom of religion, freedom from want and freedom from fear.
The group held a march and rally in downtown Pittsfield on Jan. 7 to oppose bigotry, hate and prejudice which drew a crowd of up to 2,000 people. The effort earned support from more than 150 community organizations, businesses and elected officials.
Trump signed executive orders on Wednesday to withhold federal funding from municipalities that don't cooperate with federal immigration officials, increase the number of additional immigration officers by 10,000, immediately construct a southern border wall with Mexico, and construct facilities to detain immigrants at or near the Mexican border.
"I kept really thinking [this] wasn't going to happen at all," said Hilary Greene, director of the Berkshire Immigrant Center. "It was just rhetoric. But it wasn't."
The Berkshire Immigrant Center is one of over 150 community partners with the Four Freedoms Coalition. Although the center is not specifically participating in the event Saturday, Greene said she supports the event's mission and is hopeful some of the center's board members will be able to attend.
"It's just so important that our country hears that not everybody supports what [Trump is] about," Greene said. "If we're silent and we condone it … that's not what our democracy is. We need to stand up and fight for what's right and what's just."
The event on Saturday is an attempt to speak out against threats to undermine these four freedoms, which emerged continuously during the election process, Guernsey said.
"Our opposition to these orders that target immigrants is not a Republican-Democrat position, it's not a left or right position, it really is a right or wrong position," he said.