Webinar: "How to Rank Higher on Google": Quick Wins
June 3, 2020 @ 9:00 am

-

10:00 am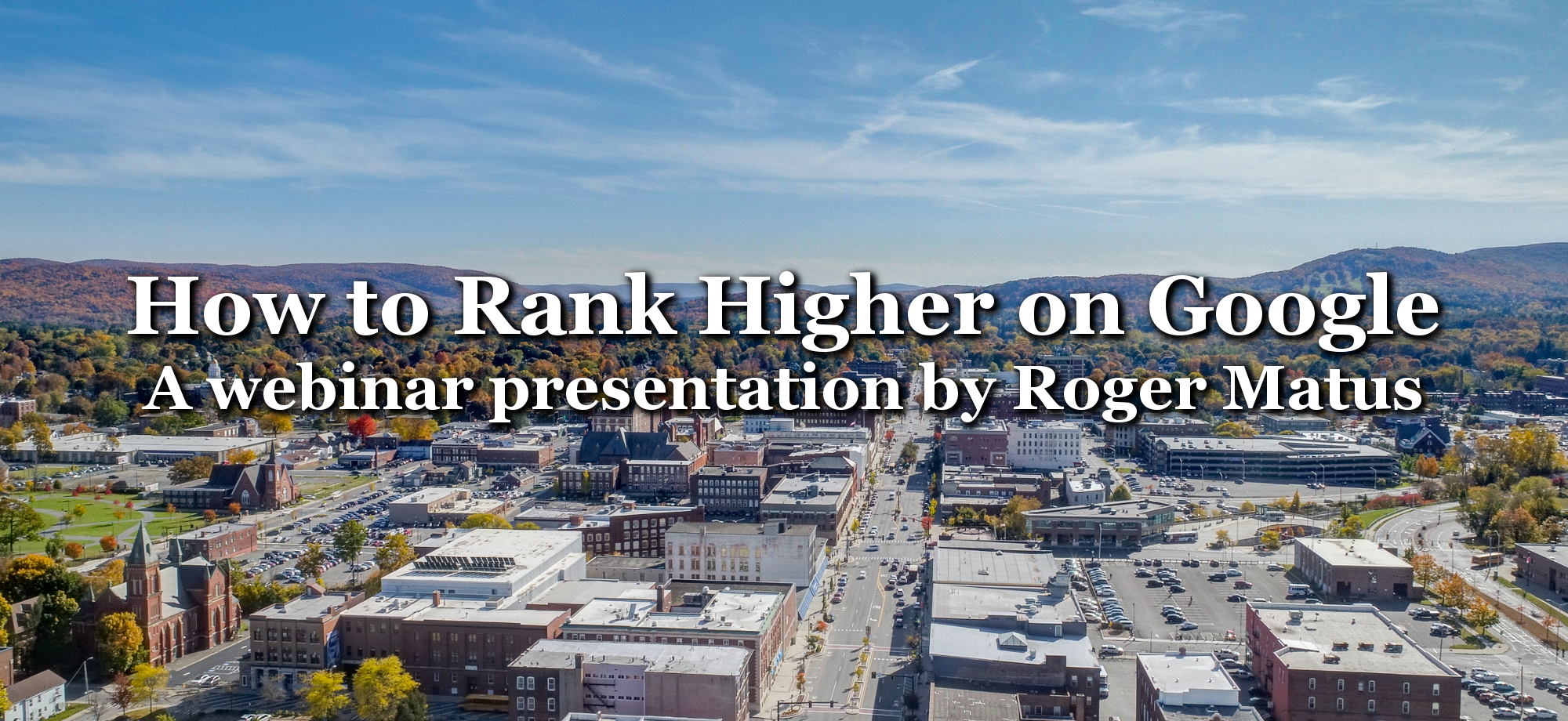 Webinar: "How to Rank Higher on Google"
Wednesday, June 3 at 9 am:  Quick Wins
Wednesday, June 10 at 9 am:  Big Wins
A webinar presentation by Roger Matus via Zoom.
Downtown Pittsfield, Inc. (DPI) will host a free two-part webinar, "How to Rank Higher on Google", on Wednesday, June 3 at 9 am and Wednesday, June 10 at 9 am. Join Downtown Pittsfield, Inc. and instructor Roger Matus for this free presentation open to everyone via Zoom. You do not have to attend both sessions.
The "new normal" will dramatically change how people connect, shop, and interact even after businesses reopen. It will be more important than ever to rank higher on Google, to make it easy for customers to find what they need, and to support them with social media.
Learn concrete steps that you can implement at a low cost to improve your web presence and search engine results, and thrive in the upcoming business environment. There will also be plenty of time for questions and talking about your specific concerns during the webinar.
To register for Quick Wins on Wednesday, June 3 at 9 am, visit https://tinyurl.com/GoogleQuickWins
To register for Big Wins on Wednesday, June 10 at 9 am, visit https://tinyurl.com/GoogleBigWins
The webinar will be led by Pittsfield's own Roger Matus, an expert in developing market strategies and in executing digital marketing programs for clients in Boston and the Berkshires. Local clients include Berkshire Yoga Dance and Fitness, the Pittsfield Cooperative Bank, the City of Pittsfield, the Pittsfield Economic Revitalization Corporation, Integrated Eco Strategy in North Adams, Global-Z International, and the William Stanley Business Park.
According to Forbes.com, "In the coming months, businesses are going to become more reliant than ever on their digital strategy. Without wanting to sound too alarmist, in many cases, it will be the deciding factor in whether they make it through the tough times ahead."
Don't miss this important FREE opportunity! Register now!
To register for Quick Wins on Wednesday, June 3 at 9 am, visit https://tinyurl.com/GoogleQuickWins
To register for Big Wins on Wednesday, June 10 at 9 am, visit https://tinyurl.com/GoogleBigWins