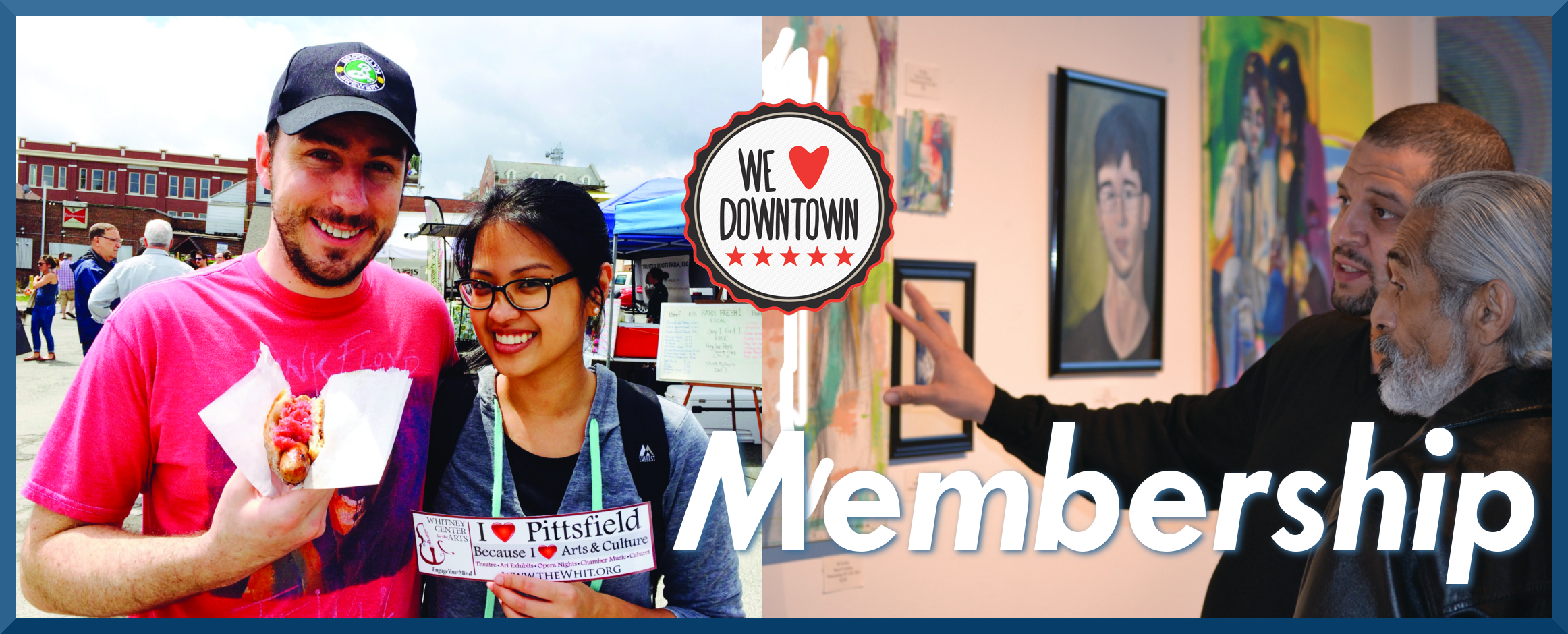 Images courtesy of Downtown Pittsfield Farmers Market and Berkshire Art Association.
Become a Member and Work Together to Achieve Downtown Goals!
Downtown Pittsfield, Inc. (DPI) is a nonprofit membership association of downtown businesses, property owners, cultural, religious, nonprofit organizations, and individuals joining forces to increase economic activity through promoting downtown as a great place to do business, obtain professional services, shop, dine, work, live, attend events, and enjoy recreational activities.
Our Members:
Business owners whose success is aided by a vital business environment
Retailers and restaurateurs who recognize a healthy business community will increase sales and traffic; and cooperative programming provides opportunities to develop new customers
Corporate executives who understand that a prosperous downtown will attract and retain a quality workforce
Professionals who share our vision for downtown
Residents who take pride in downtown and understand that coming together as a community makes a difference in shaping the future of the place they call home
Cultural and not-for-profit organizations who know that a thriving downtown improves the economic environment in which they operate and seek community support
Visitors who understand the importance of a clean, safe and friendly business district for the benefit of all
Several annual membership levels allow businesses of all sizes to get involved:
Downtown Supporter – View Membership Application pdf
Businesses, restaurants, retailers, manufacturers, educational institutions – rate based on full-time equivalent employees
[ 1 – 3 employees: $165 ] [ 4 – 9 employees: $275 ] [ 10+: $525 ]
Downtown Partner – View Membership Application pdf
Not-for-profit, cultural, religious organizations [ $115 ]
Downtown Individual – View Membership Application pdf
Membership for an individual [ $50 ]
Please email us or call 413.443.6501 to discuss becoming a member.
Your membership support allows us to:
Implement the Downtown Pittsfield Strategic Plan
Provide stakeholder input to the City of Pittsfield on critical improvements to downtown infrastructure such as roadways and public spaces
Advocate to the City of Pittsfield and other stakeholders for downtown related issues (i.e. public safety, quality of life, commercial/residential development, etc.) to support our shared goal of a clean, safe, friendly and vibrant downtown
Continue successful efforts like the Ambassador Program that promote cleanliness and hospitality while offering valuable work experience
Promote redevelopment and economic growth through marketing, strategic planning, and coalition building
Increase foot traffic into businesses while also encouraging collaboration between businesses and artists through First Fridays Artswalk
Participate on the City of Pittsfield's Artscape Committee, Tourism Commission, and other relevant committees supporting citywide or neighborhood initiatives
Provide property owners' support through research and materials for recruiting commercial tenants
Distribute 8,000 copies of the annual comprehensive guide, LOVE PITTSFIELD Downtown & Beyond, within a 50-mile radius and along I-91, through Berkshire Brochure Display and CTM Media Group brochure racks
Maintain DowntownPittsfield.com – the one-stop-shop for all downtown Pittsfield related information
Manage Downtown Pittsfield's Facebook and Instagram pages
Create promotions for gathering email addresses and increasing followers and engagement on social media pages
Offer downtown Pittsfield as another exciting option for those interested in visiting the Berkshires through advertising with 1Berkshire, Berkshires Map, Discovery Map of the Berkshires, and Facebook.
Host events in downtown Pittsfield such as the Downtown Pittsfield Cleanup, Downtown Trick or Treat, Trick or Eat, Downtown Pittsfield Restaurant Week, and the Festive Frolic
Provide educational and networking opportunities for our members and the community
Assist businesses with grant applications
Offer a great e-gift card solution that supports downtown businesses
As a DPI member, we know you understand the value of working together to achieve downtown goals. We invite you to make the most of your investment in downtown by attending special events and meetings, joining a strategic plan task force, networking with your business neighbors, or reaching out to the DPI office or any of the dedicated volunteer members of our Board of Directors. We look forward to working with you!