Whether theatre, music, visual arts, or outdoor fun is your preference, Pittsfield has something for all ages this July!
Barrington Stage Company
The Cake
By Bekah Brunstetter
Directed by Jennifer Chambers
Now through July 15th on the St. Germain Stage at the Sydelle and Lee Blatt Performing Arts Center (36 Linden Street)
Faith, family and frosting collide in this touching and timely new comic drama starring Debra Jo Rupp (winner of LA Stage Alliance Ovation and Drama Critics Circle Awards for her performance) and written by Bekah Brunstetter, writer/producer for NBC's This Is Us. Della makes cakes, not judgment calls — those she leaves to her husband, Tim. But when her best friend's daughter comes home to North Carolina to get married, Della's life gets turned upside down when she realizes there's not just one bride, but two. She can't really make a cake for such a wedding, can she? For the first time in her life Della has to think for herself, forcing her to re-examine some her deeply-held beliefs, as well as her own marriage. *Contains adult content.
Ticket information: https://barringtonstageco.org/season-shows/the-cake
The Royal Family of Broadway
A Production of the Musical Theatre Lab
Musical Theatre Lab Producers Sydelle and Lee Blatt
Now through July 7th on the Boyd-Quinson Mainstage (30 Union Street)
Book by Rachel Sheinkin
Music & Lyrics by William Finn
Based on the original play by George S. Kaufman & Edna Ferber and an original adaptation by Richard Greenberg
Choreographed by Joshua Bergasse
Directed by John Rando
A brilliant musical comedy, The Royal Family of Broadway is a masterful love letter to the Great White Way. Set in the 1920's and loosely based on the legendary Barrymores, it centers around the Cavendish family of actors: an aging imperious grande dame, a Broadway star looking for love, a self-centered boozy leading man who has fled to Hollywood, and a promising ingénue – each having to make pivotal choices in their lives. A brand new musical from the creators of The 25th Annual Putnam County Spelling Bee and the team that brought you On the Town and The Pirates of Penzance.
Ticket information: https://barringtonstageco.org/season-shows/royal-family-of-broadway
A Doll's House, Part 2
By Lucas Hnath
Directed by Joe Calarco
July 12th through July 28th on the Boyd-Quinson Mainstage (30 Union Street)
In the final scene of Ibsen's 1879 ground-breaking masterwork, Nora Helmer makes the shocking decision to leave her husband and children and begin a life on her own. A Doll's House, Part 2 dares to wonder what Ibsen's Nora has been up to since she slammed the door. Called "the best play of the year" by The New York Times, this uproarious comedy explores the emotional chaos that results when Nora returns 15 years later to the family she left behind. "An explosively funny new play," says The Hollywood Reporter…delivers "huge rolling laughs, one after the other, for 90 ceaselessly entertaining minutes."
*Contains strong language.
Ticket information: https://barringtonstageco.org/season-shows/dolls-house-2
Roald Dahl's James And The Giant Peach
Words and Music by Benj Pasek & Justin PaulBook by Timothy Allen McDonald
Based on the book James and the Giant Peach by Roald Dahl
Choreographed by Steven Dean Moore
Directed by Sarah Jane Schostack
July 26th through August 12th at the Berkshire Museum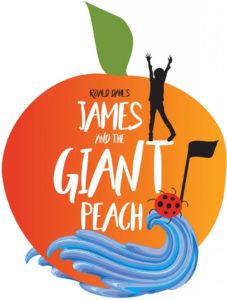 Roald Dahl's James and the Giant Peach is a brand new take on this "masterpeach" of a tale. Featuring a wickedly tuneful score and a witty and charming book, this is an adventurous musical about courage and self-discovery.
When James is sent by his conniving aunts to chop down their old fruit tree, he discovers a magic potion that grows a tremendous peach, rolls into the ocean and launches a journey of enormous proportions. James befriends a collection of singing insects that ride the giant piece of fruit across the ocean, facing hunger, sharks and plenty of disagreements along the way. Written by the Academy and Tony Award-winning team that created the music for Dear Evan Hansen, LaLa Land, and Christmas Story.
Ticket information: https://barringtonstageco.org/james-giant-peach
The Berkshire Athenaeum, Pittsfield's Public Library (1 Wendell Avenue)
Ongoing: Youth Summer Reading Program!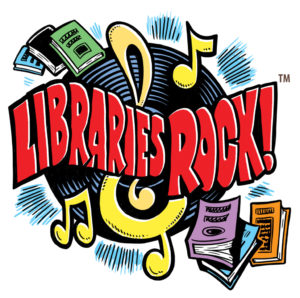 Beginning June 29th, visit the Children's Library and pick up your BragTag® and Chain when you register for our "Libraries Rock!" Summer Reading Program! Collect Brag Beads for every 15 minutes you read. Read longer and collect rarer beads. Reading includes: audio-books, reading aloud, being read to, even reading the back of your cereal box!
Receive a ticket for our end of summer Pick -a -Prize raffle for every weekly check in and event attended! Prizes will be drawn during the End of Summer Celebration on 8/17!
Call the Children's Library for more information or to register: 413 499 9480 x111
For all events, visit: the Berkshire Athenaeum's website.
Weekly Lego Club in the Children's Library!
Thursdays: July 5th, 12th, 19th, & 26th, 3 to 5 pm
Lego Club gets an overhaul for summer reading!
Put together a team or work independently to compete in our weekly challenge!
Lego Club is open to children of all ages and no registration is required. Children under 10 years old may not be left unattended in the Library.
Tuesdays on The Terrace, July: The Mastheads
Join us at 6 pm on Tuesdays for special discussions with The Mastheads! 
The lineup includes:
July 3: Meredith McGill
On each of the first four Tuesdays in July, The Mastheads will host a literary lecture on the lovely outdoor terrace of the Berkshire Athenaeum. For our first lecture, Professor Meredith McGill of Rutgers University will discuss the work of Berkshire writers and activists Catherine Maria Sedgwick and Fanny Kemble.
July 10: Neil Roberts
In partnership with the NAACP-Berkshire County Branch, and in celebration of the 150th birthday of Berkshire County native W. E. B. Du Bois, Professor Neil Roberts of Williams University will give a talk on Du Bois's writings and Berkshire legacy.
July 17: Dolores Hayden
For our third Tuesday on the Terrace at the Berkshire Athenaeum, author, scholar, and poet Dolores Hayden will join us for a talk on urbanism and design.
July 24: Jaswinder Bolina
At our final Tuesday on the Terrace, award-winning poet and professor Jaswinder Bolina will give a poetry reading and a discussion of his work as the founder of Write the Power, an online social justice community.
Space is limited so please reserve a spot today at the Reference Desk (413-499-9480 ext 202) or by using the following link for each performance you are attending: http://www.eventkeeper.com/mars/xpages/P/PITTSFLD/EKP.cfm?zeeOrg=PITTSFLD
Rolie Polie Guacamole
Friday, July 27th, 11 am
Join this award-winning "kindie" band from Brooklyn, NY for a high energy, interactive show that's a mix of funk, rock and folk music mashed into original tunes about natural living, eating healthy and staying active! Appropriate for all ages!
Museum Passes
The Berkshire Athenaeum also offers Museum passes year-round which provide free or reduced general admission to museums and other sites through funding by The Friends of the Berkshire Athenaeum. Library patrons must have a CWMARS library card. Visit their website for more information. Sites include Arrowhead, the Berkshire Museum, Hancock Shaker Village, and many more!
Berkshire Museum (39 South Street)
Art of the Hills: A Juried Exhibition of Berkshire-Based Artists
On view now through September 3rd, 2018
Art of the Hills continues a long Berkshire Museum tradition of exhibiting the work of accomplished local artists. Celebrating the rich, creative culture of the region, Art of the Hills highlights the works of both emerging and established Berkshire-based artists working in all styles and genres. Forty-two works of art by 36 artists were chosen by juror/curator Ryan Seslow through a blind jurying process; the exhibition includes painting, drawing, mixed media, printmaking, photography, and sculpture.
Artists living within a 60-mile radius of the Museum were invited to submit their recent work, and in total, 230 artists submitted their work for consideration, numbering 627 individual works of art evaluated.
The artists chosen to exhibit their work in this summer's Art of the Hillsare Tracy Baker-White, Madeline Bohrer, Michael Boroniec, Michael Bufis, William Casper, John Clarke, Laurie May Coyle, Laura Didyk, Julia Dixon, Helen Evans Febbo, Jacob Fossum, Joe Goodwin, Robert Hill, Patricia Hogan, Crystalle Lacouture, JD Logan, John MacDonald, Ben Mancino, Jesse Tobin McCauley, Scott R. McClintock, Sean McCusker, Robert Morgan, Lynne O'Connell, Bruce Panock, Bryan Powers, James Singelis, Anne W. Smith, Nelena Soro, Ilene Spiewak, Paula Stern, Rose Tannenbaum, Barbara Shea Tracy, Joseph Tracy, Margot Trout, Katherine Ryan Waiveris, and Rachael Warnock. Art of the Hills is generously sponsored by Berkshire Magazine.
Pop-Up Play Day
July 14th and 21st, 10 am to 12 pm
Pop-Up Play Day – where children can build and rebuild with the big, blue blocks of Imagination Playground™, the innovative play equipment that encourages creativity and collaboration, and colorful Bilderhoos architectural building components. Imagination Playground™ is generously provided by Dr Pepper Snapple (DPS) and national non-profit KaBOOM! Included with regular museum admission.
Creative Healing Workshop with the Funky Phoenix
Mondays, July 2nd to August 27th, 11 am to 1 pm
Join Tina Cardot from The Funky Phoenix and learn how you can turn junk into amazing art! If you were a fan of our Tinker Lab during Ten Days of Play, this is another opportunity to deconstruct objects and recombine them into a product of your imagination! Included with regular museum admission. 
Little Cinema
Located inside the Berkshire Museum, the Little Cinema has been presenting the best in independent and foreign films for over 60 years. Click here for cinema schedule.
Tickets: $7.50 General Admission | $5.00 Museum Members (unless otherwise noted)
To order tickets in advance, call 413.443.7171 x 360.
Berkshire Theatre Group at The Colonial Theatre (111 South Street)
$5 Comedy Garage: Jamie Loftus
with Special Guests, Nell Shanahan and Ryan Shanahan
at the Garage (in the Colonial Lobby)
Thursday, July 19th at 7:30 pm
Tickets: $5
*Please note, to avoid a $6 order fee, please call the Box Office at 413-997-4444 or purchase your tickets in person at The Colonial, 111 South Street, Pittsfield, MA.*
Jamie is a writer, standup, animator and actor originally from Boston, and now based in LA. On stage, Jamie has featured for comics such as for Maria Bamford, Kumail Nanjiani, Todd Glass, and Chris Hardwick.
The Comedy Garage is hosted by Madelyn Gardner. After the show, head down the street to Methuselah Bar & Lounge and show your Comedy Garage ticket for a $5 beverage.
Ticket information: https://www.berkshiretheatregroup.org/on-our-stages/comedy/812-5-comedy-garage-jamie-loftus
Tarzan
July 26th through August 16th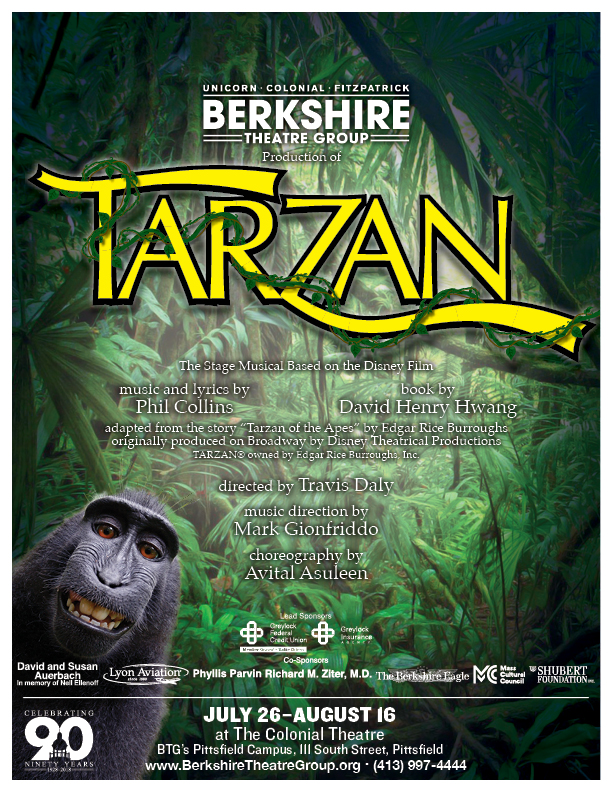 Book by David Henry Hwang
Music and lyrics by Phil Collins
Based on the story, Tarzan of the Apes by Edgar Rice Burroughs
and the Disney film, Tarzan 
Directed by Travis Daly
Music direction by Mark Gionfriddo
Choreography by Avital Asuleen
Tickets: Adult A: $45; Adult B: $35 • Child A: $30; Child B: $25
Golden Circle Tickets: Adult: $55 • Child: $40
Featuring hit music by rock legend, Phil Collins, such as the Academy Award-winning "You'll Be in My Heart," as well as "Two Worlds," Tarzan swings and sings onto the Colonial stage. A magical and memorable theatrical experience for the whole family, Tarzan follows the story of an orphaned boy, raised by gorillas in the jungle. Struggling to find balance between his human instinct and animalistic education, Tarzan's life is altered forever when he encounters his first human, the curious and wonderful, Jane. Directed by Travis Daly (The Music Man, Beauty and the Beast, Mary Poppins), with music direction by Mark Gionfriddo (The Music Man, Beauty and the Beast, Mary Poppins) and choreography by Avital Asuleen (The Music Man), this adored musical features over 100 talented Berkshire youth.
Ticket information: https://www.berkshiretheatregroup.org/on-our-stages/theatre/789-tarzan
Domingo Brunch every Sunday at Dottie's Coffee Lounge! (444 North Street)
Domingo Brunch with Lesley Barth and Emily Frembgen!
Sunday, July 1st, 10 am to 12 pm
Lesley Barth is a NYC folk singer/songwriter.  Praised for her clever lyrics and craftswoman approach to songwriting, Barth performs frequently to large and intimate crowds in the NYC and regional songwriter scenes.
Emily Frembgen is a Brooklyn-based singer and songwriter. Her songs are evocative, subtle and always well crafted.
"Emily Frembgen's gentle, poetic songs have blood trickling out of them." -Steven Douglas Daly
Domingo Brunch with Duo Eamon!
Sunday, July 8th, 10 am to 12 pm
Western Mass favorites, Cassandra Cleghorn and Jeffrey Levine are Duo Eamon, performing uplifting tunes for fiddle and guitar in the instrumental dance tradition of Ireland, New England & Québec. Known for their pure fiddle tone and unique guitar voicings, Duo Eamon has been playing together every day since 2008. The interplay between these two consummate musicians is intimate, inviting and energizing. Toe-tapping grooves and lilting melodies.
Domingo Brunch with Redshift!
Sunday, July 15th, 10 am to 12 pm
Welcome back jazz favorites Redshift, with Darryl Kniffen on drums, Lonny Jarrett on guitar, Mitch Zimmer on bass and Zev Jarrett on sax.
Domingo Brunch with Jazz Duo Rob Fisch and Mike Dimin!
Sunday, July 22nd, 10 am to 12 pm
Rob (piano, trumpet) and Mike (bass) have been performing together and with other groups around the Berkshires and NY's Capital District for over 25 years.
They will be performing jazz standards dating back to the 1920s through generations of well known selections and genres including blues, swing, bebop, straight ahead, jazz-rock and contemporary jazz.
Domingo Brunch with the Jeff Link Trio!
Sunday, July 29th, 10 am to 12 pm
It's always a treat to welcome back the Jeff Link Trio: a soulful mix of jazz and R&B. Bassist Jeff Link, Aaron Dean on Sax and Kirk Scott on Guitar.
Robbins-Zust Family Marionette Company!
Saturdays at Dottie's from 11 to 11:30 am! Free and open to all!
Meet up at Dottie's every Saturday morning beginning July 7th as the Robbins-Zust Family Marionette Company presents their classic fairy-tale puppet shows!
July 7th: Jack and the Beanstalk
July 14: Three Little Pigs
July 21st: Firebird
July 28th: Rumpelstiltskin
Downtown Pittsfield Farmers Market (The Common, First Street)
Every Saturday 9 am to 1 pm
Through October. Rain or shine.
Come stock up on local meats, eggs, cheese, vegetables, baked goods, coffee, art, and more! Come meet your neighbors and build a stronger, healthier community!
www.farmersmarketpittsfield.org
Drum Corps Show – Precision & Pageantry
Saturday, July 7th, 7 pm at Wahconah Park
Gate Opens at 5 pm with music by the Eagles Band from 6:30 to 7 pm.
DCA Corps – Sunrisers, Ct Hurricanes
Exhibition Corps – Tri Valley Brass, Tappan Zee Bridgemen, Saints Brigade
Tickets: General Admission – $15 in advance. $20 day of show.
Box Seats – $20 in advance. $25 day of show.
Tickets can be purchased online at www.pittsfieldparade.com or in person at Wahconah Park (if ticket booth is closed visit the trailer to purchase tickets).
First Fridays Artswalk, Artscape, and Downtown Loop
Walk Pittsfield's Downtown Loop as a family! Our Downtown walking loop starts at the Colonial Theatre on South Street and continues North to Berkshire Medical Center where it reverses direction heading back to the Colonial. Look for Downtown Loop signage which will guide you throughout the 2-mile walk. Make it a challenge and see how fast you can walk the entire 2 miles or stroll leisurely and take in the Downtown sites along the way!
These Downtown sites include our Artscape pieces. Pick up an Artscape map or explore on your own the two dozen outdoor sculptures and paintboxes created by accomplished artists. How many Artscape pieces can you find?
Also, along our Downtown Loop, you will find over a dozen Artswalk venues. Enjoy free art shows in galleries and businesses along North and South Street featuring work by accomplished regional artists. Meet the artists on a free Guided Walking Tour on the First Friday of July beginning at 5 pm at the Intermodal Center at BRTA, 1 Columbus Ave. If you can't make the tour, pick up an Artswalk map in local businesses along the Downtown Loop or view the map online. Shows will remain up for the month following Artswalk.
Hotel on North (297 North Street)
Grahm Sturz – Live on North
Friday, July 6th, 8 to 11 pm
Performing "Inspired and Uplifting Originals and Covers across Genres and Decades…" – The Folk Times
Lady Di and the Dukes – Live on North
Friday, July 13th, 8 to 11 pm
Lady Di and the Dukes bring their eclectic mix of classic acoustic rock, blues and country to Live on North.
Randy Cormier – Live on North
Friday, July 20th, 8 to 11 pm
Randy Cormier has been playing music for almost 30 years. With a song list of over 1,000 songs and plenty of his own if needed, there is a great chance he will know a song request.
Lady Di and the Dukes – Live on North
Friday, July 27th, 8 to 11 pm
Lady Di and the Dukes bring their eclectic mix of classic acoustic rock, blues and country to Live on North.
Methuselah Bar and Lounge (391 North Street)
Celebrate Friday The 13th w/ Mr413!
Friday, July 13th, 9 pm to 12 am
Come out for a night of dancing @ Methuselah Bar and Lounge with a special mix from Mr 413!
Drink specials and the best bartenders around for the night!
Dress to impress!
Mission Bar + Tapas (438 North Street)
Every Monday from 7 to 10 pm
Pittsfield's bassist Andy Wrba has scheduled an amazing rotating Jazz Ensemble with local musicians and bands for your liking!
Thursdays from 8 to 11 pm
Chris Merenda's and Rob Sanzone's Picky Bastards grace the window with great covers and classic bluegrass tunes!
First Wednesdays from 7 to 9 pm – Spanish Guitar w/ Ben Schmolze
Fri/Sat, 8 pm – Schedule Varies (check Facebook for up-to-date events)
Pittsfield's 4th of July Parade!
Wednesday, July 4th, 10 am
The parade kicks off at 10 am sharp on Wednesday, July 4th, rain or shine! Beginning at the intersection of South and East/West Housantonic Streets, heading north up South Street on the southbound lane, straight through Park Square, and continuing up the southbound lane of North Street to Wahconah Street before ending at Wahconah Park.
Parking is available at
Fenn Street/First Street lot
Crowne Plaza parking garage on West Street
Eagle Street lot
McKay Street lot/garage
Summer Street garage
NO parking is allowed at Wahconah Park, along the parade route or the staging area.
Independence Day 5K Run
 
A 5K road race on the course of, and immediately preceding, Pittsfield's Annual 4th of July Parade. This race is sponsored by Berkshire Health Systems.
For more information, click here!
Pittsfield Suns at Wahconah Park (105 Wahconah Street)
Wahconah Park is an atmospheric minor league ballpark, recently added to the National Register of Historic Places. One of the last remaining ballparks in the United States with a wooden grandstand, it was constructed in 1919 and seats 4,500. Wahconah Park's classic and intimate design offers fans a ballpark experience that harkens back to the early decades of attending a ballgame. The stadium is currently home to the Pittsfield Suns of the Futures Collegiate Baseball League of New England.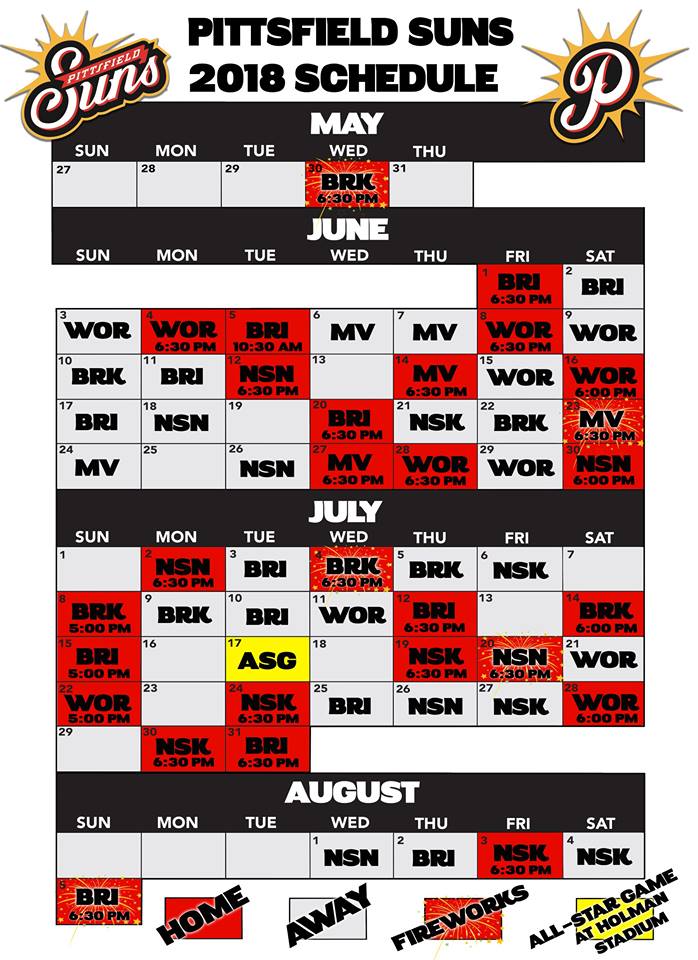 Go Outdoors!
There are so many places in Pittsfield to spend quality time outdoors! Lakes, parks, and so much more!
Follow the link to learn more: https://downtownpittsfield.com/2018/04/outdoor-pittsfield/
Outdoor movies at Clapp Park (233 West Housatonic Street)
Family friendly movies are shown at Clapp Park on select Friday nights during the summer and begin at dusk (around 8:30 pm). Rain cancels the movie.
July 13th: Storks
July 20th: The Lego Batman Movie
July 27th: Zootopia
August 3rd: Muppets Most Wanted
Rainbow Restaurant (109 First Street)
Every Wednesday, 7:30 pm – GRUPPO MONDO
Often talked about as the "Best Jazz in the Berkshires", Gruppo Mondo gives a night of spectacular Jazz Fusion with special guests.
Every Friday, 7:30 pm – BLUE LIGHT TRIO
This Berkshire County based trio will play classic Jazz favorites along with some fresh original Jazz.
Saturday, July 7th, 7 pm – David Bartley
Saturday, July 14th, 7 pm – Redshift: Lonny Jarret
Saturday, July 21st, 7 pm – Kyle Murray TRIO 
Saturday, July 28th, 7 pm – Robert Putnam
Shire City Sessions
At Hotel on North (297 North Street)
Shire City Sessions with Joelle Lurie!
Thursday, July 5th from 5 to 6:30 pm 
Joelle Lurie is a 2016/17 Lincoln Center Kids Resident Artist, NPR Featured Artist, Jazz Vocalist, Singer/Songwriter, Voiceover Artist and Educator. She has been called "A chameleon," by NPR, with her ability to seamlessly shift her voice from one musical genre to another with ease.
Drew Angus returns to Shire City Sessions!
Thursday, July 19th from 5 to 6:30 pm 
A promising young voice in songwriting, Drew Angus is just the kind of new blood that makes pop music so enduring. With indelible hooks, and savvy craftsmanship, and city informed lyrics, he brings a certain verve to his work that has resonated with audiences and fellow performers alike. His work ethic and effortless appeal have led him down some pretty amazing paths. He has appeared on Saturday Night Live with Jimmy Fallon, he was a finalist on the Farewell Season of American Idol, has had the opportunity to share the stage with Nile Rogers, Harry Styles, Will Evans (Barefoot Truth), Anders Osborne, Marc Broussard, Nakia from Season 1 of the Voice, and is a 2017 USA Songwriting Contest finalist with his song "Brother."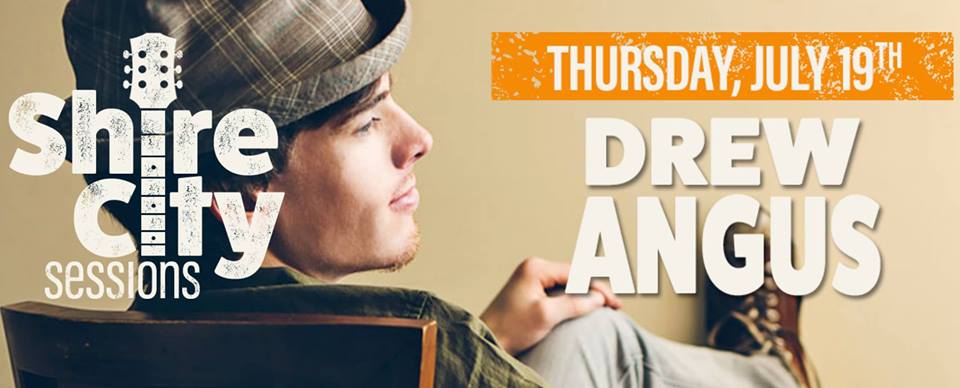 These are FREE concerts at Hotel on North!  Please arrive early as seating is limited.
Third Thursday Celebrates World Culture, July 19th, 5 to 8 pm
Upstreet Pittsfield's award-winning street festival, Third Thursdays, returns on Thursday, July 19th to celebrate world culture. Third Thursdays are family friendly and open to all. North Street will be closed to vehicular traffic from West Street to Linden Street and will be filled with music, performance, food and community activities!
The Jacob's Pillow Dance Zone will feature a headline Pillow Pop-Up Performance by Calpulli Mexican Dance Company, along with regional dance groups.
5:30 | Youth Alive
6:00 | Pillow Pop-Up | Calpulli Mexican Dance Company
6:30 | "Fishtrap" performed by Pittsfield Moves!
7:00 | Berkshire Salsa
The Dance Zone is located near the corner of Bradford and North Streets in front of St. Joseph Church.
The Berkshire Museum will have a family-friendly activity on the Museum's front lawn (at 39 South Street) and special extended hours from 5 to 8 pm on Thursday, July 19th! All Berkshire county residents are invited to visit the Museum free of charge during Third Thursday!
Whitney Center for the Arts (42 Wendell Ave.)
Fuddy Meers
July 7th through the 15th
The Whitney Center for the Arts presents Fuddy Meers by David Lindsay-Abaire, a fully staged comedy, directed by Patrick Toole, July 7-15th.
Fuddy Meers tells the story of an amnesiac, Claire, who awakens each morning as a blank slate. Each day, her husband and teenage son must remind her of the facts of her life. One morning Claire is abducted, following which oddball, bizarre mayhem ensues.
Patrick Toole is making his theater directorial debut with Fuddy Meers. A film director, an actor, and an educator, Patrick Toole is co-creator of the Whitdiots Improv Troupe and Emergent Ensemble Theater Company, and is creator of New Myths Film and Theater Company.
There will be six performances: Saturday, July 7th at 8 pm; Sunday, July 8th at 7:30 pm; Thursday, July 12th at 7:30 pm; Friday, July 13th at 8 pm; Saturday, July 14th at 8 pm and Sunday, July 15th at 7:30 pm. Tickets are $18 General Admission or $15* for students, seniors and groups*. Tickets may be purchased online at www.thewhit.org or reserved by calling 413-443-0279. * Please call 413-443-0279 for discounted rates.
Diana Alvarez and Pamela Means LIVE IN CONCERT!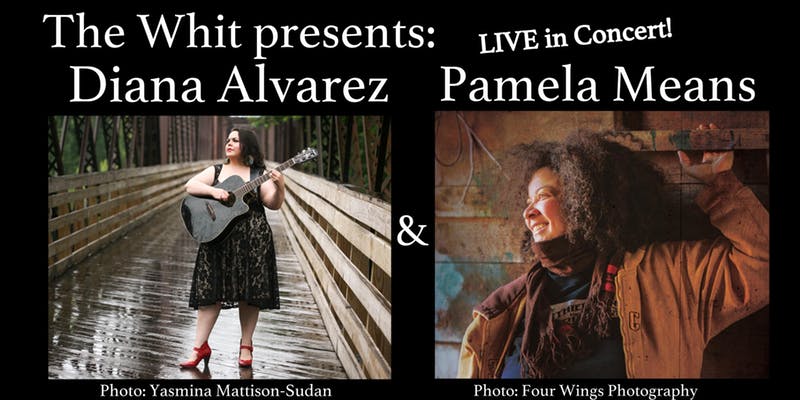 This Whit is proud to present a trio of female performers Live in Concert on Friday, July 20th at 8 pm!
Diana Alvarez is a Xicana singer-songwriter, poet, documentary filmmaker, and scholar whose voice has been described as "soulful and natural" by Natalie Merchant.
http://diana-alvarez.com
Pamela Means is a multi-talented performer, singer, songwriter, composer, and producer whose multiple honors include being named Falcon Ridge Folk Festival's #1 Most Wanted New Artist and Wisconsin Folk Artist of the year. Curve Magazine calls Means "one of the fiercest guitar players and politically-rooted singer-songwriters in the music industry today."
Poet/Playwright Nicole M. Young is the recipient of the 2009 James Baldwin Memorial Playwriting Award from the Five Colleges Multicultural Theater Committee and has since been produced in Michigan and New York City.
https://www.nicolemyoung.com
Princess Songs & Tea Party
Tuesday, July 24th, 1 pm
Enjoy tea and treats while the Princesses delight you in song! After the show, get your photo taken with a Princess!
Only $10 per person – all inclusive!!
*Parents/Guardians must take photos. Princess, backdrop & props provided.
Adults and Children are required to buy tickets for this event. Infants under the age of 12 months do not require a ticket.
Tickets available at thewhit.org
Text courtesy of featured venues.
Header Images (left to right): Debra Jo Rupp in The Cake at Barrington Stage Company. Photo by Carolyn Brown. – Robbins-Zust Family Marionette Company at Dottie's Coffee Lounge. Photo by Kimberly Gritman. – Pittsfield Suns Baseball Game.