With only beautiful warm weather on the horizon, summer fun in downtown Pittsfield has come into full swing! Here we highlight events for the month of June in downtown Pittsfield!
Barrington Stage Company
Typhoid Mary
By Mark St. Germain
Directed by Matthew Penn
Now through June 16th on the St. Germain Stage at the Sydelle and Lee Blatt Performing Arts Center (36 Linden Street)
This is the true story of Mary Mallon, known better as Typhoid Mary. As one of the most infamous women in America, she was incredibly stubborn, ambitious, and in fierce denial of any wrongdoing. This searing drama captures the controversy surrounding Mary and her steadfast conviction in her beliefs. Master storyteller Mark St. Germain (Freud's Last Session and Dancing Lessons) has brilliantly captured the woman behind the myths while exploring the battle between science and religion.
Ticket information: https://barringtonstageco.org/season-shows/typhoid-mary
The Royal Family of Broadway
A Production of the Musical Theatre Lab
Musical Theatre Lab Producers Sydelle and Lee Blatt
June 7th through July 7th on the Boyd-Quinson Mainstage (30 Union Street)
Book by Rachel Sheinkin
Music & Lyrics by William Finn
Based on the original play by George S. Kaufman & Edna Ferber and an original adaptation by Richard Greenberg
Choreographed by Joshua Bergasse
Directed by John Rando
A brilliant musical comedy, The Royal Family of Broadway is a masterful love letter to the Great White Way. Set in the 1920's and loosely based on the legendary Barrymores, it centers around the Cavendish family of actors: an aging imperious grande dame, a Broadway star looking for love, a self-centered boozy leading man who has fled to Hollywood, and a promising ingénue – each having to make pivotal choices in their lives. A brand new musical from the creators of The 25th Annual Putnam County Spelling Bee and the team that brought you On the Town and The Pirates of Penzance.
Ticket information: https://barringtonstageco.org/season-shows/royal-family-of-broadway
The Cake
By Bekah Brunstetter
Directed by Jennifer Chambers
June 21st through July 15th on the St. Germain Stage at the Sydelle and Lee Blatt Performing Arts Center (36 Linden Street)
Faith, family and frosting collide in this touching and timely new comic drama starring Debra Jo Rupp (winner of LA Stage Alliance Ovation and Drama Critics Circle Awards for her performance) and written by Bekah Brunstetter, writer/producer for NBC's This Is Us. Della makes cakes, not judgment calls — those she leaves to her husband, Tim. But when her best friend's daughter comes home to North Carolina to get married, Della's life gets turned upside down when she realizes there's not just one bride, but two. She can't really make a cake for such a wedding, can she? For the first time in her life Della has to think for herself, forcing her to re-examine some her deeply-held beliefs, as well as her own marriage. *Contains adult content.
Ticket information: https://barringtonstageco.org/season-shows/the-cake
The Great Berkshire Baker Judging Event and Cake Party!
Sunday June 10th at 4 pm at the Wolfson Center (122 North Street)
This event, sponsored by Barrington Stage Company and The Berkshire Eagle, is in recognition of BSC's production of "The Cake".
Come and enjoy family and frosting as they collide in this interactive, fun, and tasty event, and help determine The Great Berkshire Baker! Along with the esteemed panel of judges, including Debra Jo Rupp and Mary McGinnis, you will be part of determining the winner. Come enjoy cake and ice cream provided by SoCo Creamery!
More information: https://barringtonstageco.org/great-berkshire-bake-off/
The Berkshire Athenaeum, Pittsfield's Public Library (1 Wendell Avenue)
Weekly Lego Club in the Children's Library!
Thursdays: June 7th, 14th, & 21st, 3:30 to 4:30 pm
Lego Club is open to children of all ages and no registration is required. Children under 10 years old may not be left unattended in the Library.
Mayor's Fitness Challenge: Monday Night Wellness Talks
Just in time for the Mayor's Fitness Challenge, join us on Monday nights at 7 pm in the Berkshire Athenaeum's Auditorium for weekly talks about wellness and health!
June 4: "How to Stay Young" presented by New Life Chiropractic
June 11: "Develop Your Personal Fitness Plan" by Shannon Ashcroft
June 18: "100 Second Meditation for People Who Don't Have Time to Manage Stress" by Lawrence Carroll
June 25: "Simple and Delicious Ways with Produce in Season" by Anna Gershenson
Please register for each individual talk at the Reference Desk (413-499-9480 ext 202) or by using the following link: http://www.eventkeeper.com/mars/xpages/P/PITTSFLD/EKP.cfm?zeeOrg=PITTSFLD
Tuesdays on The Terrace, June: Celebrating Performing Arts
Join us at 6 pm on Tuesdays for special performances on the Library Terrace! Throughout June, we will be highlighting local Performing Arts Groups! 
The lineup includes:
June 5: Berkshire Theatre Group
Join the conversation with artistic members of the Berkshire Theatre Group, including Charlotte Cohn, director of Church & State (previews start June 14) for an overview of the BTG season and an engaging discussion of how a play goes from the writer's idea to the page to a staged reading to a full production.
June 12: Jacob's Pillow
Jacob's Pillow Director Pamela Tatge visits the Terrace to give an overview of the Festival line-up followed by a conversation about translating ideas into choreography and Vision '22, a blueprint for the Pillow's transition into a year-round center for dance research and development.
June 19: Williamstown Theatre Festival
"Creating a World Premiere": Williamstown Theatre Festival Artistic Director Mandy Greenfield talks with WTF creative team members about the generative process behind some of the world premiere work at the Festival this summer. This exciting discussion offers a rare glimpse into how critically acclaimed, new theatre is made!
Space is limited so please reserve a spot today at the Reference Desk (413-499-9480 ext 202) or by using the following link for each performance you are attending: http://www.eventkeeper.com/mars/xpages/P/PITTSFLD/EKP.cfm?zeeOrg=PITTSFLD
The Berkshire Athenaeum also offers Museum passes year-round which provide free or reduced general admission to museums and other sites through funding by The Friends of the Berkshire Athenaeum. Library patrons must have a CWMARS library card. Visit their website for more information. Sites include Arrowhead, the Berkshire Museum, Hancock Shaker Village, and many more!
Berkshire Craft Beer Festival and 2018 Charity Chug Run 5K
Saturday, June 9th, 12 to 5 pm on the First Street Common
The 4th annual Berkshire Craft Beer Festival will feature over 200 craft beers, a great 5K, awesome music and local food trucks! As always, 100% of the proceeds benefit Pittsfield area charities!
Special early bird ticket prices, available online only.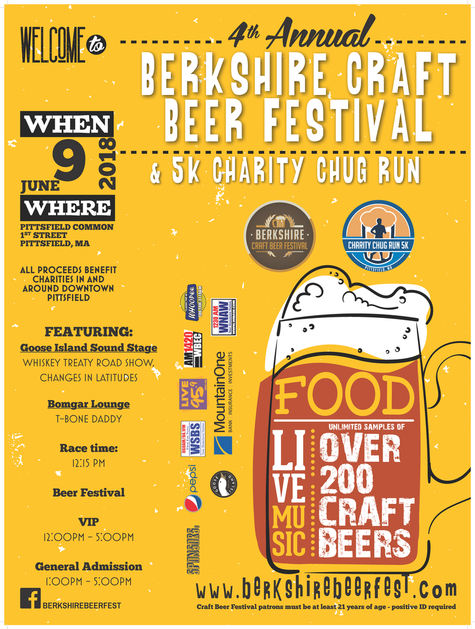 Berkshire Immigrant Stories Exhibit
On display in June 2018 at the Lichtenstein Center for the Arts (28 Renne Avenue)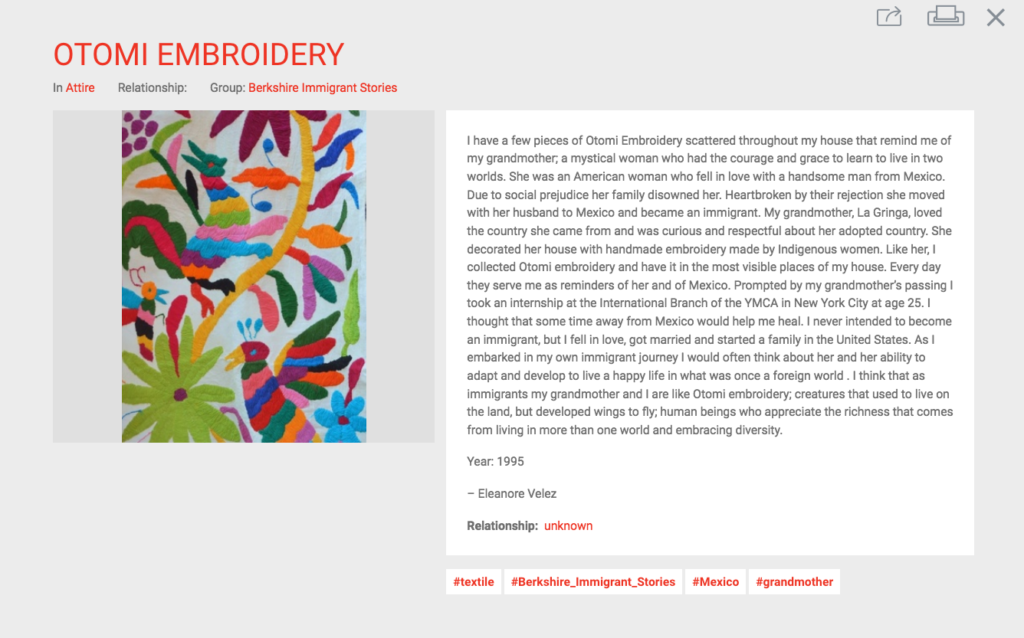 The Berkshire Immigrant Stories highlight immigration and migration stories of the past and the present. Each story reveals one person's family experience. Collectively, the stories tell America's story and highlight the patterns that bind us together, no matter where we came from or how long we've been there.
This exhibit will show all collected Berkshire Immigrant Stories with the photos of each immigrant's chosen object. Come together and explore the various reasons, circumstances and experiences each person or family has to overcome to start a new life in a new country.
The exhibit will host various FREE events throughout the month of June, including collaborations with Jacob's Pillow, Drew Herzig, Music in Common, Kamea Quetti Hall, Olivia Nda, Ryan Bazinet and more.
– June 2, 5-7pm: Berkshire Immigrant Story Exhibit Opening – with spoken word artist Grace Rossman and Syrian finger food from The Pita Bite
– June 5, 5-7pm: One City, One County, One World – Students' social perspectives
– June 17, 2-4pm: Finding Home – Memory sharing, movement, & more with Drew Herzig in collaboration with Jacob's Pillow
– June 24, 4-6pm: Music in Common – JAMMS workshop performance
– June 28, 6-8pm: Closing Event: The Rada Feast: 160 Years of Cultural Heritage in Trinidad – Dr. Ryan Bazinet & Henry Antoine, film screening & talk
Berkshire Museum (39 South Street)
Art of the Hills: A Juried Exhibition of Berkshire-Based Artists
On view June 2nd to September 3rd, 2018
Opening Reception and Awards Ceremony
Saturday, June 2nd, 5:30 to 7:30 pm
Art of the Hills continues a long Berkshire Museum tradition of exhibiting the work of accomplished local artists. Celebrating the rich, creative culture of the region, Art of the Hills highlights the works of both emerging and established Berkshire-based artists working in all styles and genres. Forty-two works of art by 36 artists were chosen by juror/curator Ryan Seslow through a blind jurying process; the exhibition includes painting, drawing, mixed media, printmaking, photography, and sculpture.
Awards for Best in Show, Second Place, and Third Place, as well as two Honorable Mentions, will be presented in an awards ceremony held during the Opening Reception the evening of June 2.
Artists living within a 60-mile radius of the Museum were invited to submit their recent work, and in total, 230 artists submitted their work for consideration, numbering 627 individual works of art evaluated.
The artists chosen to exhibit their work in this summer's Art of the Hillsare Tracy Baker-White, Madeline Bohrer, Michael Boroniec, Michael Bufis, William Casper, John Clarke, Laurie May Coyle, Laura Didyk, Julia Dixon, Helen Evans Febbo, Jacob Fossum, Joe Goodwin, Robert Hill, Patricia Hogan, Crystalle Lacouture, JD Logan, John MacDonald, Ben Mancino, Jesse Tobin McCauley, Scott R. McClintock, Sean McCusker, Robert Morgan, Lynne O'Connell, Bruce Panock, Bryan Powers, James Singelis, Anne W. Smith, Nelena Soro, Ilene Spiewak, Paula Stern, Rose Tannenbaum, Barbara Shea Tracy, Joseph Tracy, Margot Trout, Katherine Ryan Waiveris, and Rachael Warnock. Art of the Hills is generously sponsored by Berkshire Magazine.
Pop-Up Play Day
June 9th, 10 am to 12 pm
Pop-Up Play Day – where children can build and rebuild with the big, blue blocks of Imagination Playground™, the innovative play equipment that encourages creativity and collaboration, and colorful Bilderhoos architectural building components. Imagination Playground™ is generously provided by Dr Pepper Snapple (DPS) and national non-profit KaBOOM! Included with regular Museum admission.
OLLI – Paul Lennard, Ph.D. : The Musical Brain: The Neuroscience of Music
June 9th, 3 to 4 pm
The Osher Lifelong Learning Institute (OLLI) Distinguished Speaker Series presents Paul Lennard, Ph.D. : The Musical Brain: The Neuroscience of Music
Dr. Lennard has been the Director of the Neuroscience and Behavioral Biology (NBB) Program since its inception at Emory University in 1997. Dr. Lennard has previously served as the Associate Director of the Emory University Graduate Program in Neuroscience and has been the Co-Director of the Center for Behavioral Neuroscience, a National Science Foundation Science Technology Center. He has also traveled to India as a Sager Foundation Fellow to teach neuroscience to Tibetan Monks. Dr. Lennard currently serves as Co-Chair of the Emory University-Wide Neuroscience Initiative Education Committee. He is a recipient of the Emory Williams Distinguished Teaching Award for Natural Sciences.
$15 general admission, Berkshire Museum and OLLI members $10
OLLI – Jeremy Yudkin, Ph.D. : Leonard Bernstein at 100
June 30th, 3 to 4 pm
The Osher Lifelong Learning Institute (OLLI) Distinguished Speaker Series presents Jeremy Yudkin, Ph.D. : Leonard Bernstein at 100
Jeremy Yudkin is Professor of Music and Chair of the Department of Musicology and Ethnomusicology at Boston University, and his interests are wide and varied, including everything from medieval music to the music of the Beatles. Jeremy has written 8 books: on medieval music and manuscripts, on a sixteenth-century music primer, and on jazz. His most recent publications include The Lenox School of Jazz and Miles Smiles, Miles Davis, and the Invention of Post Bop. He is also the author of one of the most successful music-appreciation textbooks. It is entitled simply Understanding Music.
$15 general admission, Berkshire Museum and OLLI members $10
Berkshire Theatre Group at The Colonial Theatre (111 South Street)
Third Annual Berkshire Dance Party and Cabaret at the Colonial Theatre!
Saturday, June 9th at 7 pm
Presented by Only In My Dreams Events LLC
General Admission Tickets: $35
VIP Pageant Tickets: $50 (includes early admission special entrance, meet and greet & reserved seating)
Strictly 21+ (ID Required for Admission)
Celebrate LGBTQ Pride Month at the Third Annual Berkshire Dance Party and Cabaret at the Colonial Theatre!
Walk the Pink Carpet, then break in your dancing shoes with DJ BFG for an unforgettable evening.
Featuring a Drag Pageant hosted by Fuse's Shade: Queens of NYC star BRITA FILTER! Queens will compete for an amazing prize package worth over $2,000 and the title! There will also be special guest performers! There will entertainment on every stage…a party for all that celebrate diversity!
Ticket information: https://www.berkshiretheatregroup.org/on-our-stages/special-events/761-3rd-dance-party-and-cabaret
$5 Comedy Garage: Jourdain Fisher
with Special Guest, Ryan Shea
at the Garage (in the Colonial Lobby)
Thursday, June 21st at 7:30 pm
Tickets: $5
*Please note, to avoid a $6 order fee, please call the Box Office at 413-997-4444 or purchase your tickets in person at The Colonial, 111 South Street, Pittsfield, MA.*
Jourdain Fisher is a New York based comedian who was born and raised in North Carolina. Jourdain has been a part of various festivals, including The New York Comedy Festival, Laughing Skull Festival and Laugh Your Asheville Off. Jourdain was also a back-to-back winner of The Ultimate Comic Challenge, a finalist in The Carolina's Funniest Competition and a finalist at this year's NBC Stand Up Showcase. Jourdain is currently a writer and actor on BET's sketch comedy show, 50 Central.
The Comedy Garage is hosted by Madelyn Gardner. After the show, head down the street to Methuselah Bar & Lounge and show your Comedy Garage ticket for a $5 beverage.
Ticket information: https://www.berkshiretheatregroup.org/on-our-stages/comedy/811-5-comedy-garage-jourdain-fisher
"Summertime" Art Exhibition at The Colonial!
On view June 21st through September 3rd, 2018
Opening Reception on Friday, June 22nd from 5 to 7 pm
This art exhibition will feature the work of 11 artists from the Berkshire area.  A portion of the proceeds from all sales will be donated to both Construct, Inc., an organization that assists with affordable housing in Great Barrington, and to BTG PLAYS!- Berkshire Theatre Group's Year Round Education Program.  "Summertime" features the diverse work of the following artists: Judy Bates, Laurel Chen, Laura Didyk, Susan Geller, Amy Inglis, Nicole Irene, Caroline Kelley, Reuben Lara, Leo Mazzeo, Marilyn Orner and Diane Wespiser. All artwork is for sale for the duration of the Exhibition.
You're A Good Man, Charlie Brown (Revised)
Acting Intern Performance at the Colonial Theatre
Friday, June 29th at 2 pm
Tickets: FREE! (Tickets will be on sale starting at 10 am on 6/29)
This event is sponsored by Highland Street Foundation's Free Fun Friday
Based on the beloved comic strip by Charles Schultz, the Peanuts gang are brought to life in "You're A Good Man, Charlie Brown (Revised)"! Charlie Brown, Sally Brown, Linus, Lucy, Schroeder, and Snoopy display their wit and charm in the heartwarming revue of vignettes and songs, including: "My New Philosophy," "My Blanket and Me," "The Baseball Game," "Little Known Facts," "Suppertime," and "Happiness."
This FREE production is sponsored by Highland Street Foundation's Free Fun Friday, and is performed by Berkshire Theatre Group's 2018 Acting Interns.
Starting at 10 am on Friday, June 29th, please call BTG Ticket Office at 413-997-4444 to reserve your FREE tickets or visit us in person at our BTG Ticket Office at The Colonial Theatre, located at 111 South Street in Pittsfield, MA, to reserve tickets in person. Ticket reservations are on a first come, first serve basis. Four tickets per household, please. All tickets are assigned seating.
Ticket information: https://www.berkshiretheatregroup.org/on-our-stages/theatre/814-you-re-a-good-man-charlie-brown-revised
Dottie's Coffee Lounge (444 North Street)
Domingo Brunch every Sunday at Dottie's!
Domingo Brunch with Melissa Brinton!
Sunday, June 3rd, 10 am to 12 pm
Melissa, a native of Pittsfield, Massachusetts, is a singer, songwriter and multi-instrumentalist. As a solo performing musician she sings and plays finger-style acoustic guitar and piano. Her solo performances include a blend of originals and cover songs. She has a particular interest in Irish ballads and jigs. Her musical inspirations include Joni Mitchell, Tori Amos, Jewel and The Beatles, among many others.
Domingo Brunch with Oakes and Smith!
Sunday, June 10th, 10 am to 12 pm
Oakes and Smith are a musical match made in heaven. The harmonious blend of their voices creates an ethereal sound and unique quality not often heard in today's popular music. Combining this with soulful songs that they call 'lyrical and inspirational meditations,' Oakes and Smith bring forth a sense of wonder, expressing themes of love, creativity, mystery and an appreciation of natural beauty.
The duo has performed at The Guthrie Center in Great Barrington, MA; the NJ Folk Projectin Morristown, NJ; Infinity Music Hall in Norfolk, CT; FloydFest in Floyd, VA; Andrea Clearfield's Salon in Philadelphia; The Kripalu Center for Yoga & Health in Stockbridge, MA; and has appeared weekly at Canyon Ranch in Lenox, MA since March 2014, among many other appearances near their home in Western Massachusetts and beyond.
Joining them for this performance are Justin Green on piano/percussion/vocals and Kalidasa Joseph Getter on flute and clarinet.
Domingo Brunch with the Ryan Leddick Trio!
Sunday, June 17th, 10 am to 12 pm
Rooted in soulful vocal nuances and rhythmic acoustic rock; The Ryan Leddick Trio showcases numerous foot tapping fusions that peak ears and turn heads with their new age power trio set up.
Formed in the fall of 2015 as a side project of Ryan Leddick, the acoustic power trio has grown into a well-established group in Upstate New York.  Having played many stages, most notable LarkFest, and Move Music Festival –  the group is growing followers left and right all over New York State.  Not your average power trio set up, pulling from a Dave Matthews style of guitar playing, Ryan Leddick heads the group with his vocal prowess which is echoed with the swooping sound of the Trombone played by Dave Paul.  Together both are bound by the momentum and driving nature of the hand drumming of Ryan Szablewski.
As a group, they pull from the eclectic to the rock sides of history to create a sound unlike any. Whether recording or performing at favorite venues across the capital district and beyond, their acoustic live sound is always in the forefront and evident. Pulling from the likes of Dave Matthews, The Police, Bernhoft, Trevor Hall, John Mayer, Bob Marley, Damien Rice, Blink 182, and Martin Sextion, the trio's sound is new and refreshing.  They are an act you do not want to miss.
Downtown Pittsfield Farmers Market (The Common, First Street)
Every Saturday 9 am to 1 pm
Through October. Rain or shine.
Come stock up on local meats, eggs, cheese, vegetables, baked goods, coffee, art, and more! Come meet your neighbors and build a stronger, healthier community!
First Fridays Artswalk, Artscape, and Downtown Loop
Walk Pittsfield's Downtown Loop as a family! Our Downtown walking loop starts at the Colonial Theatre on South Street and continues North to Berkshire Medical Center where it reverses direction heading back to the Colonial. Look for Downtown Loop signage which will guide you throughout the 2-mile walk. Make it a challenge and see how fast you can walk the entire 2 miles or stroll leisurely and take in the Downtown sites along the way!
These Downtown sites include our Artscape pieces. Pick up an Artscape map or explore on your own the two dozen outdoor sculptures and paintboxes created by accomplished artists. How many Artscape pieces can you find?
Also, along our Downtown Loop, you will find over a dozen Artswalk venues. Enjoy free art shows in galleries and businesses along North and South Street featuring work by accomplished regional artists. Meet the artists on a free Guided Walking Tour on the First Friday of every month beginning at 5 pm at the Intermodal Center at BRTA, 1 Columbus Ave. If you can't make the tour, pick up an Artswalk map in local businesses along the Downtown Loop or view the map online. Shows will remain up for the month following Artswalk.
Artscape Fine Art Auction!
Thursday, June 14th
Whitney Center for the Arts (42 Wendell Avenue)
Please join us for a lovely evening and an exclusive opportunity to own original art by some of the area's most coveted and talented artists!
5:30 pm- Preview & Silent Auction – Live Music – Hors d'oeuvres – Cash Bar
6:30 pm- Live Auction with auctioneer Andy Kelly.
Featured artists include: Michael Boroniec, Diane Firtell, Sean McCusker, Ivor Parry, Allan Seppa, Sally Tiska Rice, and many more!
Tickets are $10 in advance or $15 at the door.
Advance tickets available here: https://www.facebook.com/events/605331789817986/
All proceeds to benefit Artscape, the volunteer committee dedicated to bringing public art to downtown Pittsfield.
Methuselah Bar and Lounge (391 North Street)
Saturday, June 2nd, 8 pm
Thursday, June 7th, 9 pm
Friday, June 15th at 8 pm
Mission Bar + Tapas (438 North Street)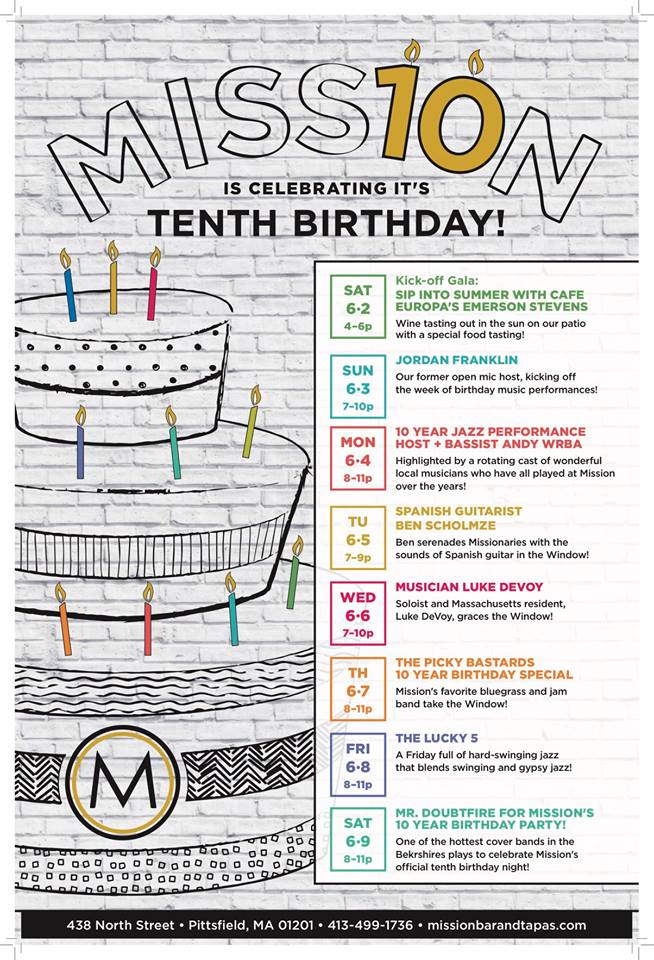 Every Monday from 7 to 10 pm
Pittsfield's bassist Andy Wrba has scheduled an amazing rotating Jazz Ensemble with local musicians and bands for your liking!
Thursdays from 8 to 11 pm
Chris Merenda's and Rob Sanzone's Picky Bastards grace the window with great covers and classic bluegrass tunes!
Pittsfield Suns at Wahconah Park (105 Wahconah Street)
Wahconah Park is an atmospheric minor league ballpark, recently added to the National Register of Historic Places. One of the last remaining ballparks in the United States with a wooden grandstand, it was constructed in 1919 and seats 4,500. Wahconah Park's classic and intimate design offers fans a ballpark experience that harkens back to the early decades of attending a ballgame. The stadium is currently home to the Pittsfield Suns of the Futures Collegiate Baseball League of New England.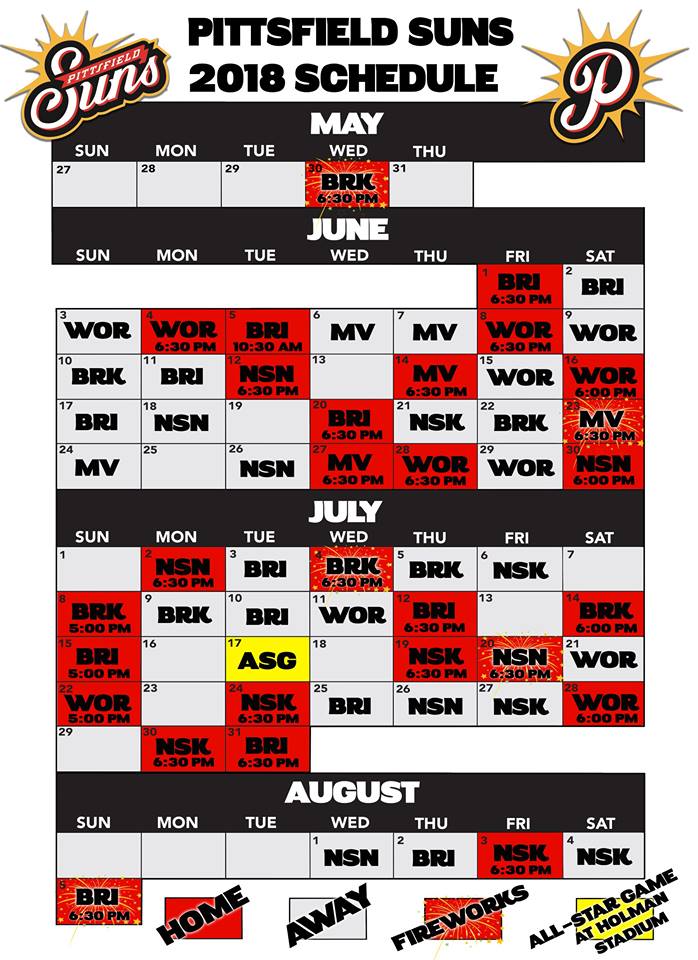 Rainbow Restaurant (109 First Street)
Luke DeRoy Live!
Saturday, June 9th, 7 to 10 pm
Luke DeRoy performs his original music at the Rainbow Restaurant on the final night of his NY leg.
Shire City Sessions
At Hotel on North (297 North Street)
"Members of the Whiskey Treaty Roadshow: Billy Keane, Tory Hanna & Chris Merenda"
Thursday, June 7th from 5 to 6:30 pm
Ben Jaffe of Honeyhoney with Conor Meehan
Thursday, June 21st from 5 to 6:30 pm
These are FREE concerts at Hotel on North!  Please arrive early as seating is limited.
About Shire City Sessions 2018:
In 2015 a group of local business owners joined forces to share their love of music with the community. In 2018 they are getting to the root of the series – connecting the community to the music. By moving it to Hotel on North, they hope to provide special and unique opportunities for audiences and artists to come together in a powerful and memorable way.
There's a need for live music in Pittsfield and there's a home for Shire City Sessions at Hotel on North. Acoustic, intimate, and original. Lean in and listen to the music of the Berkshires.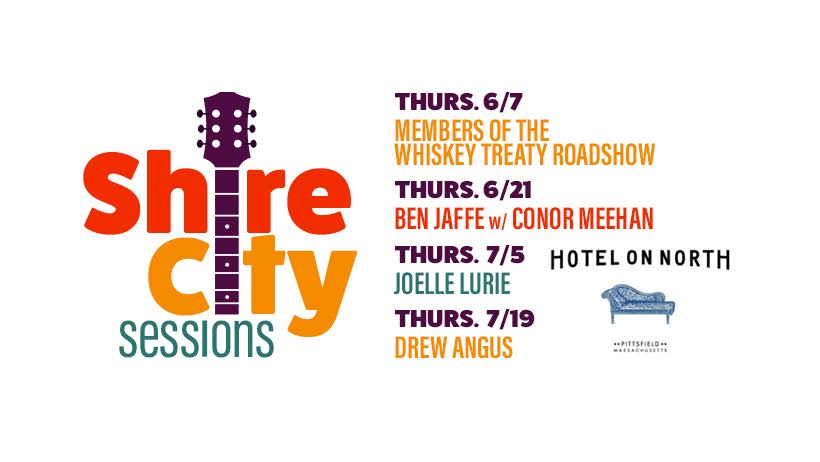 Third Thursday Healthy Pittsfield, June 21st, 5 to 8 pm
Upstreet Pittsfield's award-winning street festival, Third Thursdays, returns on Thursday, June 21st with the Health theme. The event celebrates health with a massive dance party with Jacob's Pillow; a road race; free zumba and fitness classes for families and more. The largest free outdoor event series in the Berkshires, Third Thursdays are family friendly and open to all. North Street will be closed to vehicular traffic from West Street to Linden Street and will be filled with music, performance, food and community activities.
The Berkshire Running Center Green Mile Road Race, sponsored by Berkshire Bank, starts at 5:30 pm at Park Square (no race day registration).  Race proceeds will benefit Operation Copsicle, a Pittsfield Police Department initiative to buy an ice cream truck and distribute free ice cream to neighborhoods across Pittsfield. Anyone 18 and younger can run for free. Please register ahead of time.  Click here for more information.
The main stage at Persip Park will feature taekwondo, a demonstration from Southeast Kettlebell and an excerpt from Berkshire Theatre Group's Tarzan.  You'll also see performances from Berkshire Rhythm Keepers at Palace Park and Rock On on the Street Stage at School and North Streets.
Third Thursday welcomes back the Jacob's Pillow Dance Zone Pop-Up performance series. This month – Janis Claxton Dance presents POP-UP Duets (fragments of love). This multi-site-specific work draws on the theme of love through elegant and dynamic contemporary movement that evolves from simple everyday interactions.  Click here for more information.
The Jacob's Pillow Dance Zone will also feature performances from the All Berkshire Dance/Terpsichore Dance Center, Zumba from Berkshire Yoga Dance & Fitness, and interactive demos from Berkshire Salsa.
General Dynamics Mission Systems will be doing an interactive engineering demonstration every month all season long near the intersection of North and Eagle Streets.
The Lichtenstein Center for the Arts will remain open for its Berkshire Immigrant Stories exhibit.  Berkshire Concert Choir will also be performing a concert at the Lichtenstein Center for the Arts at 7 pm.
Text courtesy of featured venues.
Header Images (left to right): Downtown Pittsfield Farmers Market –  Photo by Emma K. Rothenberg-Ware, Oakes and Smith at Dottie's Coffee Lounge – Photo by TW Collins, Ilene Richard art at Mary's Carrot Cake as part of First Fridays Artswalk