CozQuest Small Business Saturday Treasure Hunt: Saturday, November 28
CozQuest.com is the ultimate adventure for those who want to support local businesses, save a few bucks, and win some prizes! This year, Small Business Saturday in downtown Pittsfield will feature a CozQuest Treasure Hunt that will take you to local gems you might have missed. By solving puzzles, following clues, and making the most of the map on your smartphone, CozQuest.com will lead you to coupons, prizes, and possibly a $100 GIFT CARD! Mask up, head out and enjoy our beautiful Downtown Pittsfield! Click here to play! More details below!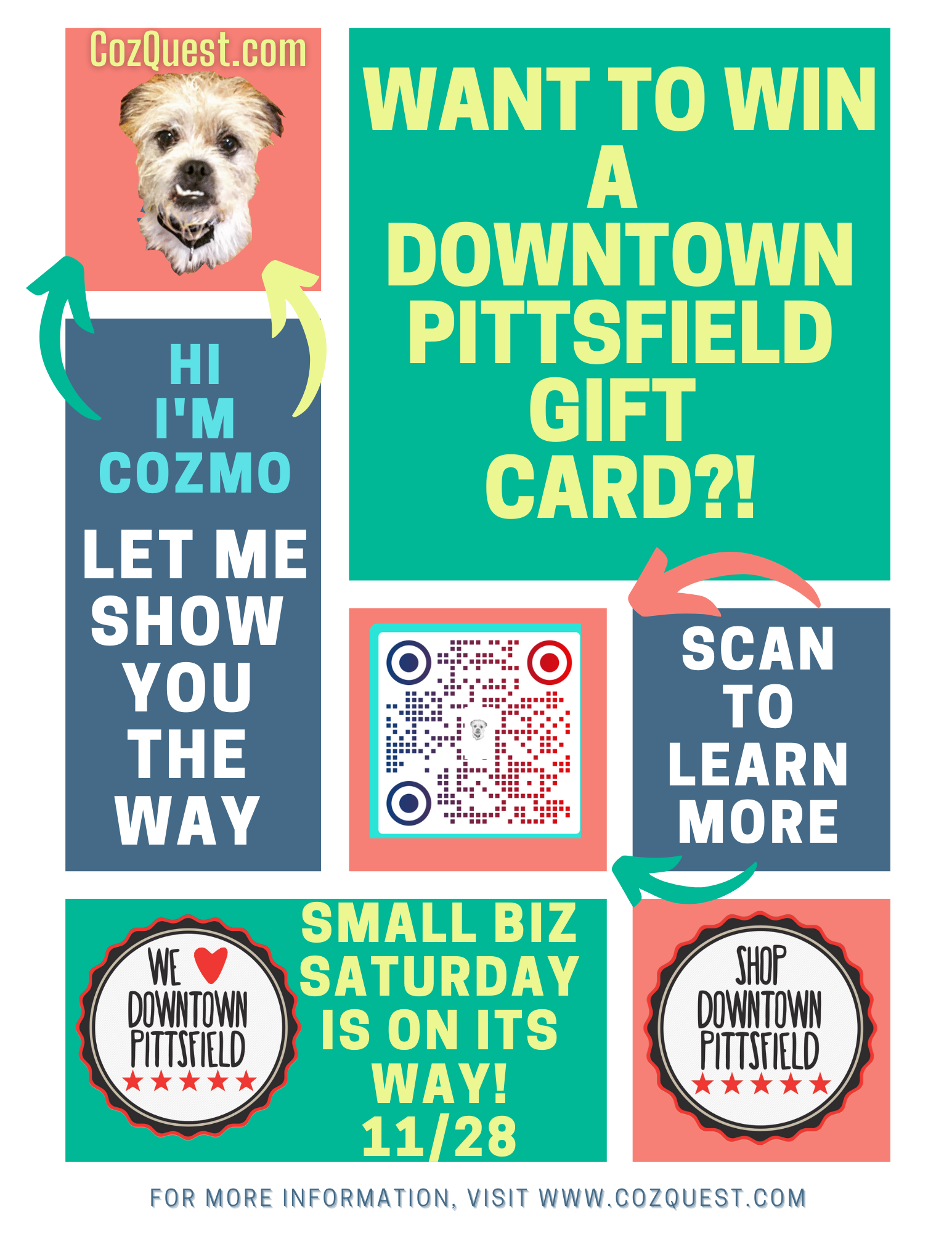 Join CozQuest on Saturday, November 28 for a downtown treasure hunt to earn discounts and prizes. Cozquest is the ultimate urban adventure, leading people on a treasure hunt to rediscover local gems, win prizes and support small businesses. By signing up Saturday morning at cozquest.com (from your GPS enabled smartphone) you will open up a world of games, maps and prizes. You will be required to solve a puzzle to unlock a map which will lead to a location on or near North Street where you will have to find and scan a hidden Cozquest QR code. That QR code will unlock a prize courtesy of one of our local businesses. Once that prize is collected, you can continue on your adventure by solving the next puzzle, following the next map and scanning the next code. Once all the puzzles are solved and all of the QR codes are collected, you will be presented with a final puzzle, that once solved, will enter you into the $100 Gift Card raffle.
In addition, for parents with young children, there is also a short hunt for the little ones – easier games, easier maps and ice cream! All of the games begin at 10 am on November 28 and run throughout the day until the shops close.