Meeting Recap and Video: Downtown Pittsfield, Inc. (DPI) Annual Meeting 2021
The Downtown Pittsfield, Inc. (DPI) Annual Meeting occurred virtually via Zoom on Thursday, May 13, 2021 at 12:00 pm. At this meeting, Pittsfield's downtown association elected its corporators and directors, and representatives from downtown Pittsfield businesses and organizations spoke about successes and challenges in wake of the pandemic.
Mayor Linda Tyer began the meeting with remarks. She talked about how the partnership between Downtown Pittsfield, Inc. and the City of Pittsfield has benefited our community, highlighting successes such as DPI's gift card program. Tyer quoted public health data, taking pride in the fact that the city was on track to see 50% of its population fully vaccinated by May 18.
Tyer also talked about the successes of the City of Pittsfield's Covid-19 Economic Relief and Recovery Fund, with $682,000 going to 90 small businesses during the first round of funding. A second round of funding opened in March 2021 and the city is currently still accepting applications through their website.
(Video: 1:05 Remarks from Mayor Linda Tyer)
Samir Abdallah, founder and president of Hot Harry's Fresh Burritos, spoke next. Abdallah and his wife opened the restaurant's North Street location in 2006, and he remarked that although he has felt fortunate with the level of success he has still had throughout the pandemic, this past year has been the hardest year yet. Like most businesses, Abdallah has had to navigate federal and state protocols, pandemic exhaustion, inconsistent pricing on all goods, and staffing issues.
"We've had help wanted ads out for several months now. We rarely get an applicant over 18 years old. I know from talking with many of you, we're not the only ones with this issue," Abdallah explained. "Many of our core employees have been with us for five to 15 years and have worked tirelessly alongside us during these unprecedented times. They are tired. We are tired, and we're trying to hire more staff to help them so we do not continue to overextend ourselves. If we don't find a solution soon, we may be forced to reduce our hours and/or days of operation."
(Video: 8:04 Remarks from Samir Abdallah)
Jessica Vecchia, Co-Founder and Co-Director of Roots Rising, spoke about Roots Risings' two main initiatives: their Youth Crews and the Pittsfield Farmers Market. "Roots Rising is an award-winning nonprofit organization whose mission is to empower youth and build community through food and farming. [Their] vision is to lift up teens as community changemakers and to strengthen the local food system through the transformational power of meaningful work."
The Pittsfield Farmers Market proudly offers two Food Justice Programs: Market Match and Summer Eats. When the pandemic forced the shutdown of the outdoor market and the Youth Crews, Vecchia was concerned about the economic ramifications on farmers and the community's access to fresh and healthy food, especially those individuals who rely on the Food Justice Programs. Within a week, Roots Rising had created the Virtual Pittsfield Farmers Market. Vecchia gave a shout out to the incredible partnership between Barrington Stage Company (BSC) and the market, as BSC allowed the market to use their 5000 square foot production center as a distribution center.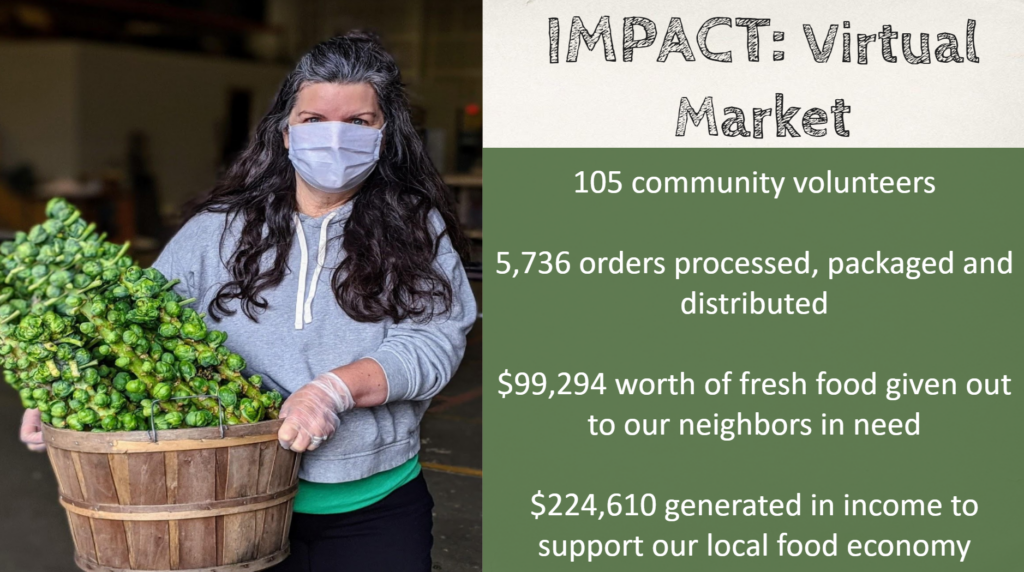 Roots Rising is currently running a Spring Farm Crew, the Pittsfield Farmers Market is back in the Common, and they are laying the groundwork for a new urban youth farm, which will be a worksite for teens and a vendor at the Farmers Market.
(Video: 11:12 Remarks from Jessica Vecchia)
The next remarks came from Auric Enchill, Sales Manager of Elegant Stitches, his family's custom embroidery and screen-printing company. Enchill talked about the successful implementation of a PERC (Pittsfield Economic Revitalization Corporation) grant before the pandemic to create a new interactive website featuring an online shop and branded online stores for clients. He also talked about the importance of obtaining the Minority-Owned Certification for his family's business.
When the pandemic hit, Elegant Stitches made a pivot to sell PPE equipment and branded PPE equipment which helped them and other businesses get back to work. Enchill says Elegant Stitches took advantage of numerous grant opportunities to keep their business operating. Enchill said, "we are better and stronger when we come together" and offered to meet up with other local business owners to brainstorm ideas to work together and support downtown businesses.
(Video: 17:03 Remarks from Auric Enchill)
Next, we heard from Branden Huldeen, Downtown Pittsfield, Inc. Board President. Huldeen is proud of the number of businesses that have been able to push through so far and recognized our membership's ability to pivot and change. He is thankful for the grant opportunities at the state and federal level, but also wanted to give a special thank you to the City of Pittsfield for investing city dollars into downtown businesses to keep them afloat.
Huldeen talked about the Strategic Planning Process that Downtown Pittsfield, Inc. (DPI) is entering into and invited all members and stakeholders to think about what DPI can be and how downtown Pittsfield can be a thriving place for all members of our community. He highlighted three ways to move forward together: moving forward through innovation, collaboration, and the work in equity, diversity, inclusion, and access. He posed questions to our membership such as: 'How can we expand our businesses into the sidewalk?' 'What if every new employee received a $50 Heart of the Berkshires gift card to explore the downtown?' and 'How do we work together to keep businesses and business dollars downtown?'
(Video: 22:55 Remarks from Branden Huldeen)
(Video 28:34 Nomination and election of corporators and directors)
(Video 30:17 Meeting of the Board of Directors for the election of officers and amending of bylaws)
Elected Officers of the Board of Directors
President: Branden Huldeen, Barrington Stage Company 
Chair: Gary Levante, Berkshire Bank
First Vice President: Michele Butler, David J. Tierney, Jr., Inc.
VP Administration: Timothy O'Donnell, Guardian Life Insurance Company of America 
Treasurer: David Irwin, Adelson & Co.
Clerk: Lindsey Schmid, 1Berkshire
Foot Traffic Committee Chair: Karen Pelto, Downtown Pittsfield, Inc.
Marketing Committee Chair: Lindsey Schmid, 1Berkshire
Quality of Life Committee Co-Chairs:
Allison Egan, Berkshire Regional Planning Commission
Kathie Penna, Mill Town Capital
The final remarks were made by Cheryl Mirer of Downtown Pittsfield, Inc. in her Executive Director's Report. Mirer talked about the results of a business survey that was circulated in November of 2020 to evaluate the effects of the pandemic on the local business community. "Businesses are seeing decreased revenue, reduced sales, canceled events, reduced hours, added expenses, and a significant negative impact on employment," said Mirer. "Many businesses were able to secure PPP [Paycheck Protection Program] loans and/or grants from the city and others. Our hope is that these services keep businesses afloat until we see the city open up again."
Mirer praised local businesses that were able to successfully pivot during the pandemic. Township Four created an online store and ordering system and identified products they could ship such as DIY Kits. Thistle & Mirth, a bar forced to close for the span of the pandemic, expanded into a neighboring space and reopened as a bar/Ramen restaurant. Thistle & Mirth's owners will be opening a restaurant and performance space called The Flatburger Society in the former Flavours of Malaysia space this summer.
Mirer highlighted upcoming DPI events and initiatives such as the new Love Pittsfield Downtown & Beyond guide, the Downtown Pittsfield Spring Cleanup on May 21, and the Downtown Pittsfield Ambassador Program.
Downtown Pittsfield, Inc. and the City of Pittsfield, thanks to the support of the Massachusetts Downtown Initiative (MDI), are working with Hodge Economic Consulting to develop a local rapid recovery plan which will identify up to ten activities and projects that will position downtown for funding opportunities and help bring downtown back stronger than ever. Phase 1, data collection, is wrapping up, and Phase 2, which will include interviews and focus groups with businesses, organizations, and residents, will begin soon. If interested in participating in Phase 2, please email Cheryl Mirer at [email protected].
(Video: 33:49 Executive Director's Report, Cheryl Mirer)
Blog recap by Kimberly Gritman, Downtown Pittsfield, Inc.