August 6 First Fridays Artswalk: Live Parklet Painting, CozQuest Treasure Hunt ($250 gift card up for grabs), & Virtual Walking Tour
Enjoy brand new indoor art shows, murals, and Artscape's Pittsfield Paintboxes during the First Fridays Artswalk on Friday, August 6, 5 to 8 pm, and all month long. You can view all locations at www.FirstFridaysArtswalk.com, and new this year, you can download the PocketSights app to follow a virtual walking tour on your cell phone.
Downtown Pittsfield, Inc., as part of a new program called Indoors Out!, will be sponsoring two special events during the August 6 First Fridays Artswalk: a CozQuest Treasure Hunt (with a chance to win a $250 gift card) and live painting of the parklet in front of The Marketplace Cafe. Funding for Indoors Out! has been provided by the Commonwealth Places Program created by MassDevelopment.
CozQuest Treasure Hunts have become a new fixture of downtown Pittsfield, connecting consumers and small businesses through their love of treasure, competition, and community. Downtown Pittsfield, Inc. and First Fridays Artswalk are excited to partner with CozQuest for a Treasure Hunt along the Artswalk route during the First Fridays Artswalk on August 6 from 5 to 8 pm.
To hunt while on the Artswalk is simple: visit www.cozquest.com/artswalk to find the location of the first treasure. Follow the map, find and scan the hidden QR code, and enjoy your prize. Each found treasure will lead to the next QR code AND unlock more treasure at more local businesses – gift cards, discounts, freebies – bringing you to the hidden gems in Pittsfield. Find all of the QR codes and you'll be entered to win a $250 Heart of the Berkshires gift card from Downtown Pittsfield, Inc. and a $50 gift card from Soma's Aromas. Play and learn more at www.cozquest.com.
For the August Artswalk, Downtown Pittsfield, Inc. will also present live painting of the concrete barriers that make up the parklet in front of The Marketplace Cafe at 53 North Street. The public is invited to join local artist Stephanie (Stef) Quetti from 5 to 8 pm on Friday, August 6 during First Fridays Artswalk as she begins to paint the parklet barriers with a design inspired by the flowers around us. There will be opportunities for everyone in our community to assist Stephanie with her design during Artswalk, no painting experience required. Masks are optional, and hats and water are recommended to protect from the sun.
The Berkshire Art Association (BAA) is hosting "Everyone Is a Hero: A Comic and Cartoon Art Tribute to Our Local Heroes" at the Lichtenstein Center for the Arts, 28 Renne Avenue, August 6 – 28, featuring original artwork and signed auction items created by popular Marvel, DC, and The Simpsons comic book artists: Luke McDonnell, Penim Loureiro, and Bill Morrison.
The show is curated by BAA board member and Pittsfield resident Lawrence Klein, founder of the Museum of Comic and Cartoon Art in New York City. "I came up with a few themes, and my idea was to ask American comic book artist Luke McDonnell and Portuguese comic book artist Penim Loureiro to create unique drawings from the same list of subjects," says Klein. "How do two artists from different parts of the world view the same subject matter? They took up the challenge of creating their own visions and the results are amazing." The show also features sketches and autographed items for auction by Bill Morrison, creative director of The Simpsons and Futurama, and Patrick McDonnell, creator of MUTTS. Local Berkshire artists will also show their illustration work. "The show brings together an impressive group of artists and the result is great fun," says BAA member Liz Bevilacqua. "You'll see familiar heroes and heroines like Batman, Iron Man, and Harley Quinn in new and creative ways."
There will be a sneak peek of the exhibit on Friday, August 6, 5 to 8 pm, during the First Fridays Artswalk, and the opening party is Saturday, August 7 from 3 to 6 pm.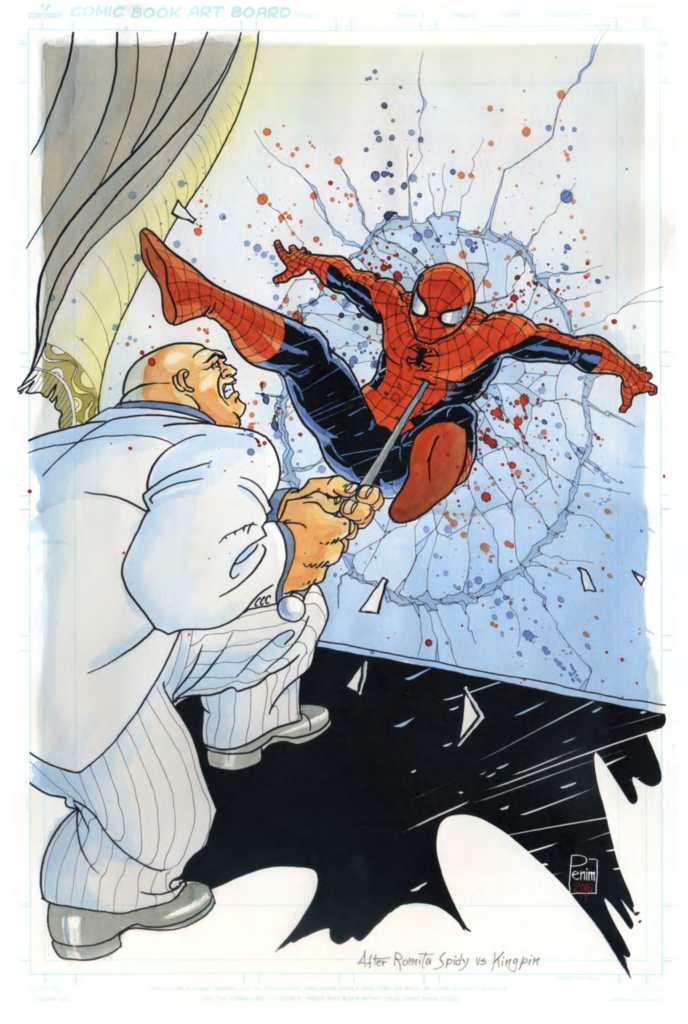 Join artists and musicians, Dave Brown, Kathy Gideon, Caroline Kelley, Martha Peskin, Ilene Richard, Marney Schorr, and Sally Tiska Rice, for the summer reopening of Open Studios at NUarts, 311 North Street, during the First Fridays Artswalk on August 6 from 5 to 8 pm. Art will also be on view in their window display at 305 North Street. Enjoy music with Dave Brown – learn about his lessons or even bring an instrument to play a tune or two! Bring the family to make drip pour paintings in the new Art Therapy Studio. View new works by 20+ artists in the long halls of NUarts' gallery space and get a behind-the-scenes look at works in progress inside the artists' studios.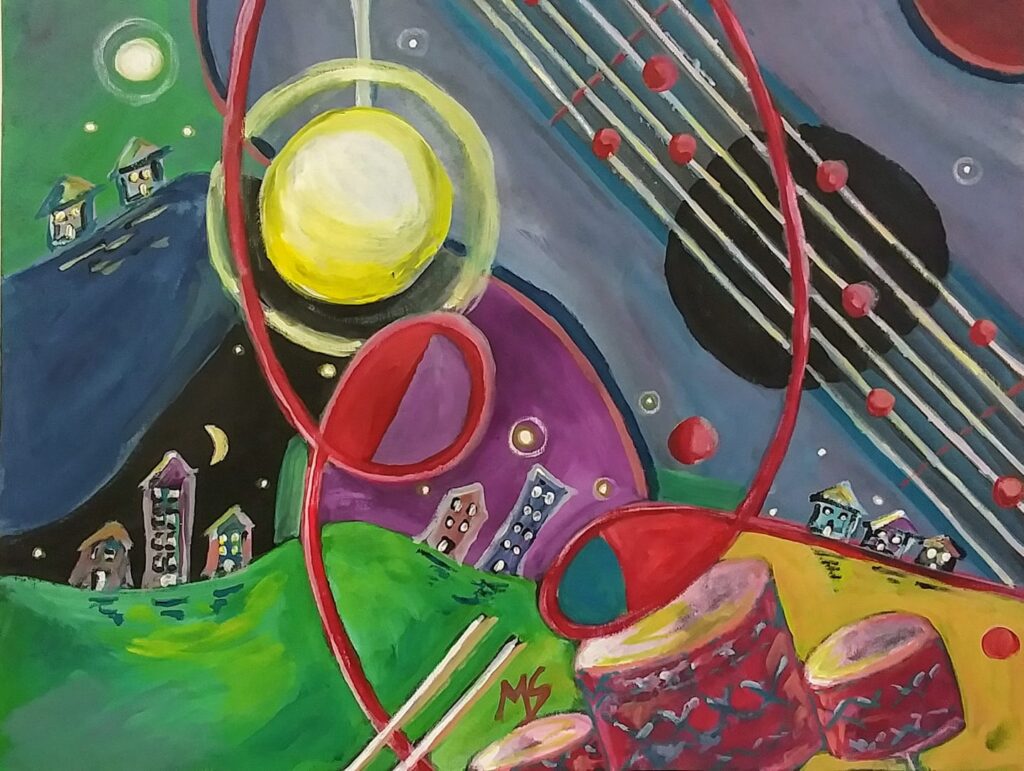 For the month of August, The Marketplace Café, 53 North Street, will feature Finding Our Way Creations by Jess Frey. There will be an opening reception on Friday, August 6, 5 to 8 pm, as part of First Fridays Artswalk.
This series of art is an expression of the transformational process of getting lost, finding the way, forgetting the way, becoming the way, and being the way. Each painting is accompanied by a poem, telling a story, sharing an experience, and connecting written word to visual art. Through the relationship between written and visual art, Frey's hope is to support all of us together in the continued journey of finding our way.
During the First Fridays Artswalk on August 6, 5 to 8 pm, check out the Studio of Dr. Mark Mellinger in the Agricultural Bank Building, 100 North Street. In the '60s, Mark studied at Cooper Union Art School, and later studied biology and psychology. While continuing his psychoanalytic practice, Mark paints, does collage, and makes constructions of found objects in his Pittsfield studio.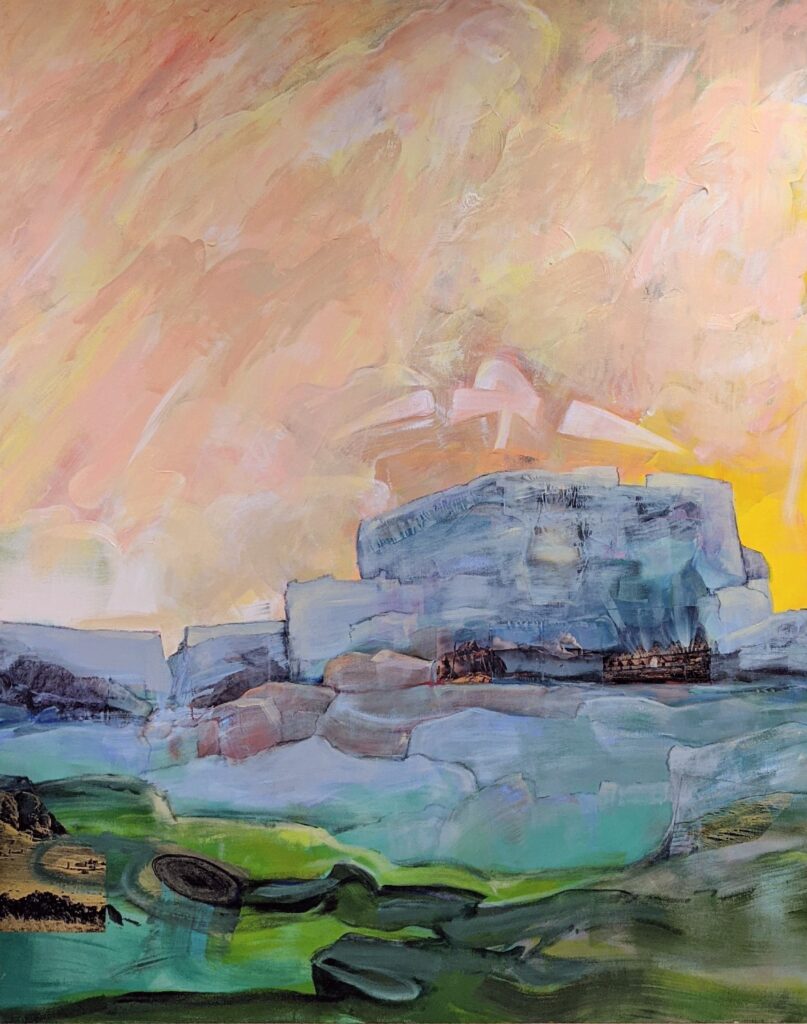 Hotel on North, 297 North Street, will feature Electric Color by Jesse Tobin McCauley for the August Artswalk. There will be a reception with the artist on Friday, August 6, 5 to 8 pm, as part of First Fridays Artswalk.
McCauley's paintings are mixed media on canvas and paper – bursts of bold, bright, saturated color. They evoke a feeling of happiness through the flood of interacting abstract color.
The Brothership Building Window at 141 North Street, curated by IS183 Art School of the Berkshires, will feature "Postapocalypsse and Calculation" by Rosemary Lamiacea for the month of August.
Rosemary is an apprentice weaver interested in emergence, rhythm, and functional textiles. The textiles on view are selections from their first two years of exploring how to make new surfaces and what they can do. They were handwoven with wool, cotton, and linen on, and in collaboration with, centuries-old looms. Covering a range of familiar structures, including plain weave, twill, M's & O's, waffle weave, and lace, they try to take these techniques in new directions through juxtaposition, color, and construction.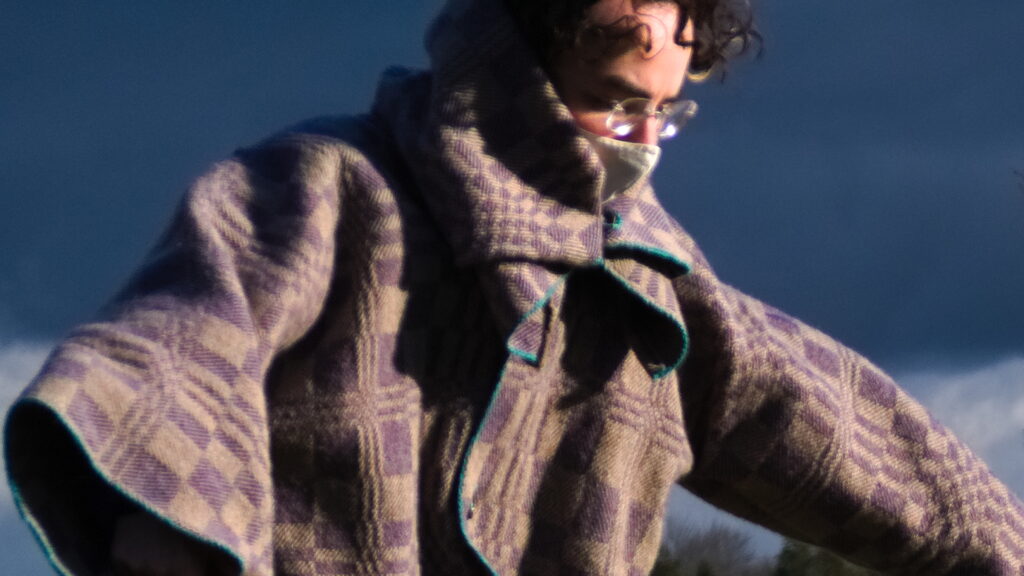 The Unitarian Universalist Church of Pittsfield, 175 Wendell Avenue, will feature new photographs by Linda Merry in a show entitled The Superflight Exhibit: Finch Irruption 2020 for the month of August. This exhibit highlights a mere sampling of an incredible irruption of northern finches that inundated not only New England, but also places as far south as Alabama.
There will be framed photographic prints on exhibit as well as a digital exhibition showcasing additional works. There will be an opening reception on Friday, August 6, 5 to 8 pm, as part of First Fridays Artswalk.
Artists in the Guild of Berkshire Artists will show their work in a show entitled Plein Air in the Berkshires during the month of August at TKG Real Estate, 137 North Street. There will be a reception as part of First Friday Artswalk on Friday, August 6, 5 to 8 pm. The work will be up during the month of August and can be viewed when TKG is open. Featured artists are Amy Pressman (watercolor and encaustic), Joan Gluck (oil), Rose Tannenbaum (acrylic), Theresa Terry (watercolor), and Doane Perry (photographer).
The August Artswalk will also highlight murals downtown including: The Sun Will Rise by Jesse Tobin McCauley, Jay Tobin and Stephanie Quetti at 443 North Street and Gaia on Melville Street by Mike Carty. Also highlighted will be all of Artscape's Pittsfield Paintboxes.
All art exhibits are on display in participating venues throughout the month. For more information on First Fridays Artswalk and to view a listing and map of all participating artists and locations, visit www.FirstFridaysArtswalk.com.
This program is supported in part by a grant from the Pittsfield Cultural Council, a local agency which is supported by the Mass Cultural Council, a state agency.