Enjoy a dozen art shows and exhibits during the First Fridays Artswalk on Friday, October 7, 5 to 8 pm. Explore art and meet artists during opening receptions on the first Friday of the month from 5 to 8 pm, with most art on display all month long. Download the Downtown Pittsfield app in the App Store or on Google Play to follow a virtual walking tour of art on your cell phone.
The Lichtenstein Center for the Arts, 28 Renne Avenue, and the Berkshire Art Association will present RE*Fresh, a Juried Biennial Show, for the month of October. The exhibit will be on view October 7 through November 26, and there will be an opening reception for the public during the First Fridays Artswalk on October 7 from 5 to 8 pm.
RE*Fresh speaks of the challenges, inspirations, and new possibilities presented to all of us over the past two years. These dynamic issues are expressed and explored by 33 artists from the Northeast United States. In this juried show, 44 works, including paintings, drawings, sculpture, photography, and graphic design are represented, offering wide ranging interpretations of the theme.
Berkshire County artists included in RE*Fresh are Carolyn Abrams, Karen Bognar-Khan, Marguerite Bride, Joan Burkhard, Kasha Cooper, Kit Curry, Margaret Dotchin, Patricia Frik, Adrian Holmes, Marion Grant, Sarah Horne, Karen Kane, Ronald Maitland, John Mancia, Mark Mellinger, Alan Papscun, Ivor Parry, Barbara Patton, Janet Pumphrey, Ilene Richards, William Riley, Stacey Silkey Schultze, Ilene Spiewak, Kyle Strack, Scott Taylor, Jay Tobin, Jesse Tobin McCauley, Diane Wespiser, and Terri Wise.
Artists from the greater Northeast region include Evelyn Addante, Carrie Crane, Lydia Kinney, Julie Eisen-Lester, Joan Lengel, Kristina McComb, Janell O'Rourke, and Meg Rogers Eldredge.
RE*Fresh opens on Friday, October 7, and there will be an awards reception on Saturday, October 8 from 3 to 5 pm. Gallery hours during the 6 weeks of the show are by appointment. Admission is free. To view this show virtually or in person after October 8, call 413-499-9348 to schedule an appointment.
Hotel on North, 297 North Street, will feature Puzzle Pieces by J J Tobin for the October Artswalk. There will be an opening reception with the artist on Friday, October 7, 5 to 8 pm, and the show will be on view through November 30.
Tobin's paintings have been influenced by Asian art, in particular calligraphy and folding screen painting. Puzzle pieces are used as an abstract design element or a kind of calligraphy. The work on display dates from 2018 to 2022, and features acrylic, collage, and polyurethane on canvas or wood.
Join Berkshire Art Center (BAC) at their new Pittsfield location at 141 North Street for creative family fun! Each month, BAC will offer Free Family Drop-Ins on the First Friday (5:30 to 7:30 pm) and Third Saturday (10 am to 12 pm) of every month. There will be a rotating set of projects for families to participate in at their own pace, with the guidance and support of a Faculty Artist, during this ART-tastic drop-in event. Free Family Drop-Ins are open to the public and all children must be accompanied by an adult. No registration is required.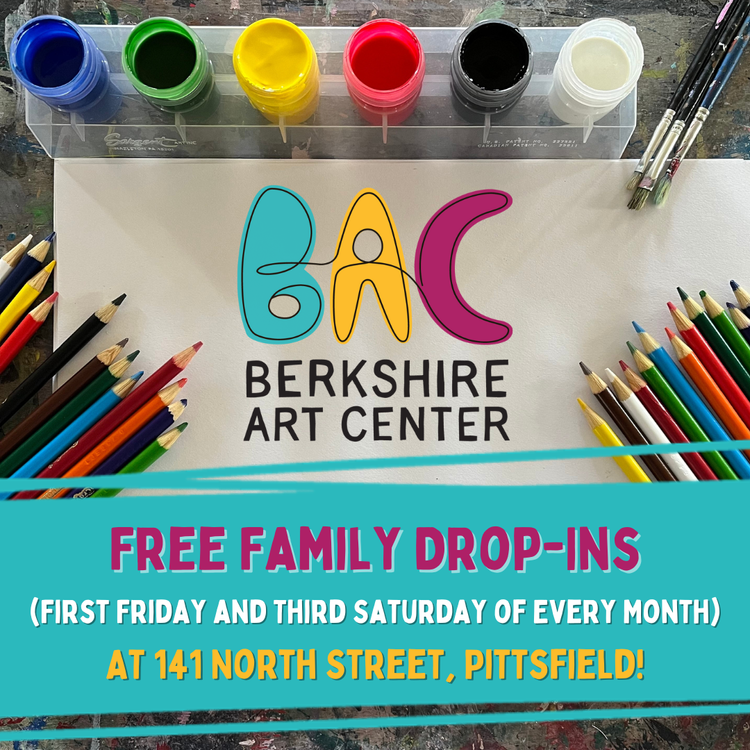 For the month of October, TKG Real Estate, 137 North Street, will present Looking at Favorite Places Through Different Eyes. In this show, plein air artists from The Guild of Berkshire Artists have painted Berkshire landmarks in new and different ways. These artists see different perspectives, colors, and images: a novel view of familiar sights.
Presenting artists are Emily Bunnell, Kinney Freylinghuysen, Joan Gluck, Jenny Hensell, Caroline Medina, Walt Pasko, Susan Sabino, Sharon Stanfield, and Joan Stark.
There will be a reception as part of First Fridays Artswalk on Friday, October 7, 5 to 8 pm. The work will be up during the month of October and can be viewed when TKG Real Estate is open.
The Marketplace Cafe, 53 North Street, will present Fine Art Photographer and Digital Artist, Nicole March, for the month of October. There will be a reception with the artist on Friday, October 7 from 5 to 7 pm, and the work will be on view throughout the month.
Nicole March is an emerging artist born and raised in the Berkshires. "Creation begins with shooting pictures, often nature-related on a macro level, emphasizing fine details easily overlooked," says March. "I then digitally adjust components of the image including hues and layers… and the unconventional result is paired with an equally unique medium, metallic printing."
The Artists at the historic Clock Tower will host an open studios event on Friday, October 7, 5 to 8 pm, on the third floor of the Clock Tower at 75 South Church Street. Five established, visual artists are settling into their new studio spaces and have been joyfully working on new projects. Stop in to share their art and provide insight into their creative processes.
The artists hosting open studios at the Clock Tower during the First Fridays Artswalk are Marion Grant, Caroline Kelley, Mark Mellinger, Ilene Richard, and Sally Tiska-Rice. For more information, visit https://clocktowerartists.gator.site.
The Unitarian Universalist Church of Pittsfield, 175 Wendell Avenue, will present PHOTOGRAPHIC VIEWS by W Katherine Hoak for the month of October. There will be an opening reception with the artist on Friday, October 7, 5 to 8 pm, as part of First Fridays Artswalk, and the art will be on display through October 23.
"The photographs being presented in this show indicate what I have always been drawn to, a love of animals, wildlife, and the beauty of nature," says Katherine. "My longing to see wild-life spurred my husband and I to go where we could see it. Wanting to hold on to those experiences led me to a deep involvement with photography."
Lee Bank, 75 North Street, will present paintings by Sally Tiska Rice for the month of October. This will be a window display on view throughout the month. Select paintings will also be on view inside the bank during normal bank hours.
Sally uses spontaneity to compose artwork. She focuses on blending and layering to achieve depth and dimension. She also experiments with light and color to create a piece that will be enjoyed. Sally employs many different techniques into her paintings, using acrylic, watercolor, pastels, and oils. She also creates many beautiful commission pieces for customers internationally.
There will be drop-in art activities at ReDefine, 5 Melville Street, during the First Fridays Artswalk on October 7 from 5 to 8 pm. Their Endless Possibilities Pop Up Market will have a variety of artists and vendors, and there will be free community paint and creativity activities available.
Other participating venues are the Brothership Building Window (141 North Street) curated by Berkshire Art Center, The Funky Phoenix (441 North Street), Mission Gastropub (438 North Street), The Beacon Cinema (57 North Street), and Soma's Aromas (81 East Street).
For more information on First Fridays Artswalk, visit firstfridaysartswalk.com or call 413-443-6501.
Event Highlights (South to North):
Unitarian Universalist Church of Pittsfield
175 Wendell Avenue
PHOTOGRAPHIC VIEWS by W Katherine Hoak
Opening Reception: October 7, 5 to 8 pm
Artists at the Clock Tower
75 South Church Street, Third Floor
Marion Grant, Caroline Kelley, Mark Mellinger, Ilene Richard, and Sally Tiska-Rice
Open Studios: October 7, 5 to 8 pm
Soma's Aromas
81 East Street
Art and Photography
Store Hours: October 7, 12 to 8 pm
The Marketplace Cafe
53 North Street
Nicole March
Fine Art Photography and Digital Art
Opening Reception: October 7, 5 to 7 pm
The Beacon Cinema
57 North Street
Richard Britell
On View: October 7, 5 to 8 pm
Lee Bank
75 North Street
Paintings by Sally Tiska Rice
Window Display
Lichtenstein Center for the Arts
28 Renne Avenue
RE*Fresh, a Juried Biennial Show presented by the Berkshire Art Association
Opening Reception: October 7, 5 to 8 pm
TKG Real Estate
137 North Street
Looking at Favorite Places Through Different Eyes
Emily Bunnell, Kinney Freylinghuysen, Joan Gluck, Jenny Hensell, Caroline Medina, Walt Pasko, Susan Sabino, Sharon Stanfield, and Joan Stark
Opening Reception: October 7, 5 to 8 pm
Berkshire Art Center/Brothership Building Window
141 North Street
Free Family Drop-in: October 7, 5:30 to 7:30 pm
Window Display
Hotel on North
297 North Street
Puzzle Pieces by J J Tobin
Opening Reception: October 7, 5 to 8 pm
ReDefine
5 Melville Street
Drop-in community art activities and pop-up vendors/artists
October 7, 5 to 8 pm
The Funky Phoenix
441 North Street
Live Music
October 7, 6 to 8 pm
Mission Gastropub
438 North Street
Dennis Fougere
On View: October 7, 5 to 8 pm
Thrive Diner
145 Wahconah Street
Mural "Thrive Blooms"
Diane Firtell
Featured images in header (left to right): Caroline Medina and Nicole March