Downtown Pittsfield's Halloween Festival! One Night Only! Friday, October 21, 4 to 8 pm! With an after-hours Zombie Pub Crawl!
Need help navigating the event?
Download the Downtown Pittsfield app in the App Store or on Google Play to get directions on your cell phone. Or download a map here!
Also look for It's Alive volunteers who will be handing out maps! Or grab one from the Downtown Pittsfield, Inc. table at Persip Park!
4 to 6 pm: Kids' Fun Zone on the St. Joe Lawn (414 North Street) – All activities are FREE!
Games and Face Painting!
Bouncy House (Thank you Carr Hardware!)
Build your own test dummy to ride the Berkshire Museum Zipline!
Visit the Berkshire Athenaeum's Book Bike to check out Halloween books and visit their table for fun giveaways and a craft opportunity!
Take part in an Ozobot activity with the Flying Cloud Institute to learn about robotics and coding!
Paint a Halloween canvas with Downtown Pittsfield, Inc.!
Stop by the Pittsfield Police Department's Operation Copsicle for a sweet treat!
And visit Slater from Live 95.9 who will be broadcasting live!
The Kids' Fun Zone is sponsored and led by volunteers from the Gladys Allen Brigham Community Center.
Thank you to the Center, Downtown Pittsfield, Inc., Berkshire Running Center, and St. Joseph's Church!
4 to 8 pm: Kids' Monster Hunt: Downtown Pittsfield Treasure and Candy Hunt!  – FREE!
A few friendly monsters have decided to haunt downtown during the Downtown Pittsfield… It's Alive! event on October 21st! Try to track them down and their treasures could be yours! All you need to do is follow a map on a smartphone to see where each monster was last spotted. Once you've found the monster, use your phone to scan the QR code hidden along with them, and follow the instructions to "check-in" and collect your prize! Find all of the hidden monsters and you have a chance to win Beacon Cinema movie tickets and a glow in the dark Downtown Pittsfield… It's Alive! T-shirt!
The Monster Hunt is open to ages 1-15. Treasures include candy and Halloween toys. Dressing in costume is encouraged but not required! To play, visit CozQuest.com. Grab a Halloween Bag at Stop #1, the Kids' Fun Zone, to begin your quest!
Sponsored by CozQuest 
4 to 8 pm: Night Market and Jack Waldheim on Dunham Mall (100 North Street)
Shop 20+ local vendors offering jewelry, clothing, candles, art, Halloween gifts, and more! Enjoy live music by Jack Waldheim on the steps of 100 North Street as you shop!
Vendors:
413Shirts – Pre-order your Glow in the Dark It's Alive t-shirt now by clicking here!
Auntie Janet's Gifts (Crochet Wearables & Collectables)
Bear Butter
BerkshireSci Biscuit Co.
Berkshire Candle
Berkshire Pride
Duncan St Design Co
Fandom Forge by Sean Spring
Kenzie's Essentials
Let Your Soul Shine
Made by Sarah Rose
PLUSH Pals
Righteous Rags
Shire Fire Candles
THANKYOUSEAN
The Abundant Witch
The Berkshire Pine
The Blog Bus
Unabinner
Additional Vendors at Witch Slapped (78 North Street):
Elevate & Infuse
Frost Road Organics (Brooms)
Kim Auge from Moonwater & Myrrh will be offering Reiki in the healing room from 6 to 8 pm.
4 to 8 pm: Soma's Aromas (81 East Street) will be passing out candy with a 15% off spooky sale! 
4 to 8 pm: Live Performances at Persip Park (175 North Street) – FREE!
4 pm: The Funk Box Dance StudioOpal Raven Cirque is a circus and sideshow performer based in Pittsfield. She's known across New England and the Tri-state area for her 'Danger Dame of the Flame' one-woman variety show. Also known as the 'Sword Queen of Gypsy Layne', Opal will be bringing her weapon and light variety show to Pittsfield showcasing daring sword tricks and mesmerizing LED props. Welcome to the one-woman circus!
4:45 pm: Opal Raven Cirque 5 pm: Sample the Cat 6 pm: The Funk Box Dance Studio 6:45 pm: Opal Raven Cirque 7 pm: Sample The Cat
Sample The Cat is a rising local original group that blends the genres of Soul, Rock, and Jazz. This performance will be one of their last in Pittsfield for the year so don't miss it!
Stop by Berkshire Theatre Group's table for sweet treats and a chance to WIN two free tickets to see a screening of The Rocky Horror Picture Show on October 29 hosted by Drag Queen Nancy Nogood.
Stop by Downtown Pittsfield, Inc.'s table for maps of the entire event!
The Persip Park performances are sponsored by Berkshire Bank.
4 to 8 pm: Witch Slapped Craft Pop-Up at Framework (437 North Street)  – Reservations strongly recommended! $10-$20
The Potions Lab will be creating liquid based magic potions that shimmer, change color, or cause gazing inside mini corked jars.
Create Witch Balls – decorative hanging ornaments or terrariums filled with crystals, herbs, flowers, moss, glitter, and other ingredients to create a magic spell.
The Mystical Bubble Bath workshop will have you choosing colors, scents, and special ingredients to create your mystical designs in a plastic capped bottle.
Create Spell Jars by adding dry ingredients like dried herbs, flowers, salts, sand, crystals, paper, glitter, confetti and more to create your own magic spell in a mini corked jar.
Make a reservation to participate in any of the workshops here: witch-slapped.com/reservations
Sponsored by Framework and Witch Slapped
4 to 8 pm: Live Music with LI, Performances by The Funk Box Dance Studio, and Mask Making at Dottie's Coffee Lounge (444 North Street) – FREE!
Make your own mask at Dottie's with artist Diane Firtell (free, donations are accepted). Dottie's coffee bar will be open and sweet treats will be available for purchase. Musician LI will perform live on the outdoor patio. LI is a New York-based artist and performer whose original music combines storytelling elements of Americana and rhythmic stylings of Funk to create a gritty-sweet sensation that can only be described as Urban Folk. There will also be pop-up performances from The Funk Box Dance Studio.
Performance Schedule4 pm: LI 5 pm: The Funk Box Dance Studio 6 pm: LI 7 pm: The Funk Box Dance Studio
4 to 8 pm: Hot Plate Brewing Co. Pop-Up Tasting at the Boyd-Quinson Stage (30 Union Street)
Hot Plate will be pouring free samples of two beers for those 21+!
It's Alive Pale Ale: 5.3% ABV; An autumn-inspired pale ale brewed with rye and red wheat.
Spooky SZN Saison: 6% ABV; Celebrating the fall harvest with a classic beer developed by farmers in Belgium and Northern France.
Merch will be available to purchase. Cash + Venmo accepted.
Sponsored by Barrington Stage Company
4 to 8 pm: "Tattoo", Face Paint, and Tarot Parlor at the Hot Harry's Outdoor Patio (37 North Street) – FREE! – Recommended for teens and adults. Children welcome.
What tricks or treats does your future hold?  Will this season ahead be full of treats? Tricks? Or a little bit of both? Jennifer Belanger and Melissa Gigliotti will be combining their tarot and oracle card reading skills to give you the answers you seek! Stop by for some ghoulish fun and wicked insights with a double dose of Tarotrific. Two readers, one question, one spooktacular night of fun! (Tarot will be from 4 to 7 pm; and is free. Donations are accepted.)
Sponsored by Jennifer Belanger 3 Charms Intuitive Practices and The Shipton Building at 150 North Street
4 to 8 pm: Pumpkin Splash at the Berkshire Family YMCA (292 North Street) – $0-$5
Register at the Welcome Center. BFYMCA Members are FREE; Non-Members are $5.
Did you know pumpkins float?! Join the Berkshire Family YMCA for a unique and fun way to pick a pumpkin … in their pool! Pumpkins will be floating in the pool for youth to jump in and swim to pick their favorite pumpkin to take home. Swim time is 20 minutes per group. A lifeguard will be on duty, but an adult must be in the water for non-swimmer children. Registration is required for each child participating. Pre-registration is encouraged but not required. Walk-ins first come first served based on available time slots. Click here to register!
4:30 to 7:30 pm: Mana Crypt Gaming at 33 Dunham Mall – FREE!
Stop by every half hour for a quick lesson on how to play and then jump right in!
4:30 pm              MonsDRAWsity
5:00 pm              Witch Slapped!
5:30 pm              Zombie Dice
6:00 pm              MonsDRAWsity
6:30 pm              Witch Slapped!
7:00 pm              Zombie Dice
Play a game and be entered to win a copy!
Sponsored by Mana Crypt Gaming Center
5 to 7 pm: Photo Ops for the Public and Costume Contest Entry (All Ages!) at the Wright Building (247 North Street) – FREE!
Have a professional photographer take your picture in front of one of our spooky backdrops – no costume required! If you are in costume and would like to be entered into our online costume contest, you must have your picture taken here! Online Voting for best costumes will begin October 25 and will run through October 31. A best costume winner will be chosen in 3 age categories: Child (age 1-12 years), teen (age 13-19 years), and adult (20 years and older). All winners will receive a Glow in the Dark Downtown Pittsfield… It's Alive! t-shirt, 4 movie passes for The Beacon Cinema, and a $25 Downtown Pittsfield Gift Card.
The Costume Contest is sponsored by Jodi and Paul Tartell
6:15 pm: Outdoor Movie – Watch Beetlejuice under the stars at Palace Park (122 North Street) – FREE!
Bring your own chairs! Free popcorn for all thanks to our sponsor Guardian Life! Snacks and drinks will be available for purchase from Crosswalk Coffee, Shire Donuts, Bliss Cookie Shop, and the Egremont PTO!
Beetlejuice is sponsored by Jodi and Paul Tartell and The Guardian Life Insurance Company of America
5:15 to 6:15 pm: Visit the Hissing Booth by Opal Raven Cirque at the Intermodal Center/BRTA (1 Columbus Avenue) – FREE!
See a 30-pound boa constrictor in person! The Hissing Booth is a unique educational experience where the veil of old myths are lifted, replaced by fun (real) facts and mutual respect between human and serpent. For those looking for more adventure, the Hissing Booth offers a photo op station for you to hold one of their ambassador animals and take a photo with them!
5:30 to 7:30 pm: Halloween-themed Drop-In Art Making at Berkshire Art Center, 141 North Street – FREE!
As part of It's Alive!, there will also be free art making opportunities for all ages at the BAC!
7 pm to midnight: Zombie Pub Crawl – FREE!
PARTICIPATING LOCATIONS:
7 to 8 pm: Flat Burger Society • Cim's Tavern • Zen's Pub
8 to 9 pm: Methuselah Bar and Lounge • Thistle & Mirth
9 to 10 pm: Berkshire Palate / Hotel on North • Patrick's Pub
10 to 11 pm: 101 Restaurant & Bar
10 pm to 12 am: Madison Cafe (CASH ONLY, ATM ON SITE • COSTUME PRIZES!!)
Please Bring Cash!
DIY Make Up Kits will be available for purchase for $5 each starting at 5:30 pm at the Hot Plate Brewing Co. Tasting at Barrington Stage Company (30 Union Street), or grab one at Flat Burger Society at 7 pm!
There will also be merch for sale with proceeds to go to the Berkshire Dream Center. (www.berkshiredreamcenter.org)
*21+ FREE event. BE SAFE! Plan to have a DD, Taxi, Uber/Lyft Driver, or walk. Bird Scooters will be accessible, however we ask that you DO NOT ride these intoxicated. Bring CASH for the Makeup Kits and Fundraiser.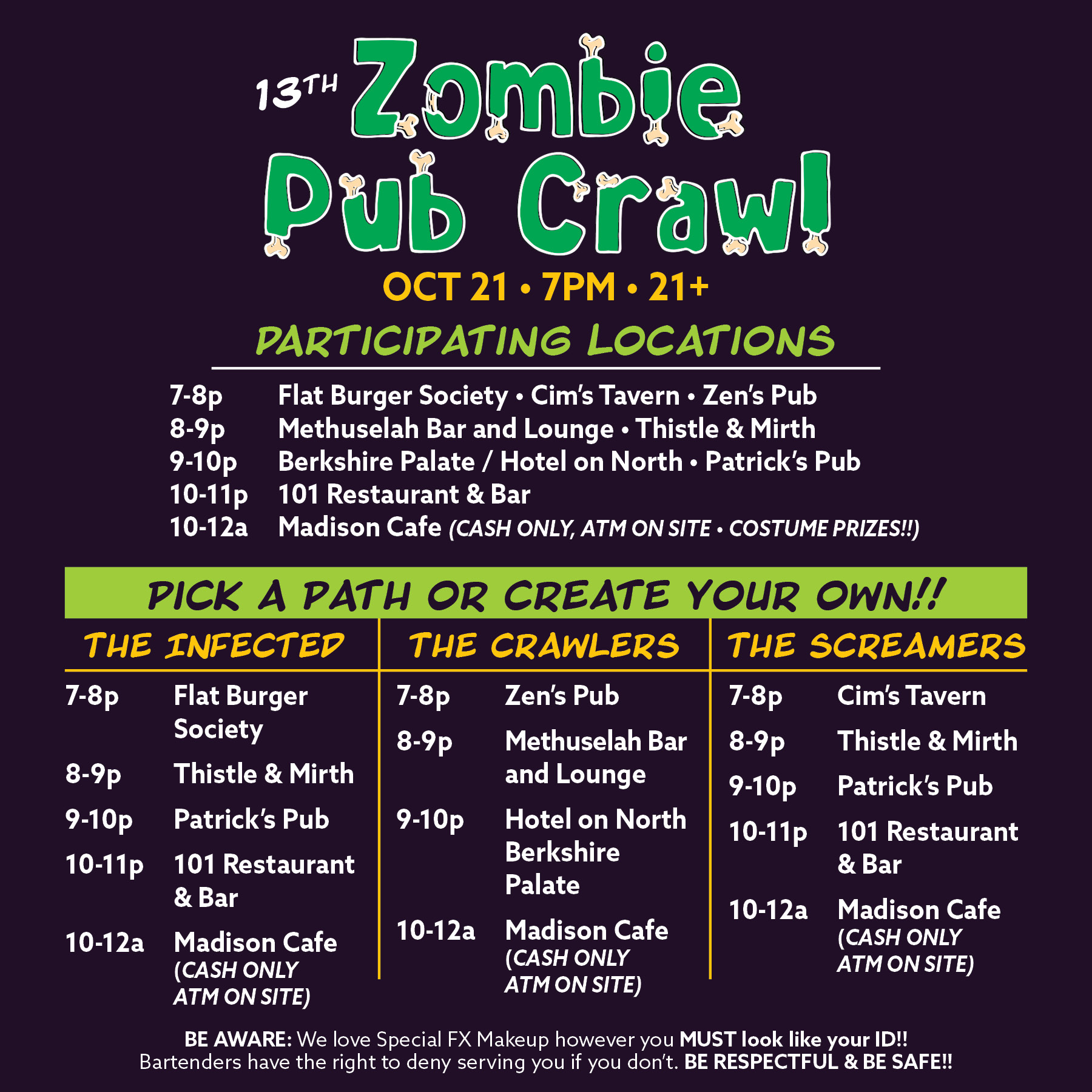 October 21-31: Check out the Pittsfield High School Art Department's Halloween Art in the windows of Berkshire Juvenile Court (190 North Street)
Oct. 21-31: We need your votes!
As part of It's Alive!, there will also be online voting for best decorated windows in downtown from October 21 to October 31. Vote for Best Overall Decorations, Scariest Decorations, and Most Creative Decorations in downtown Pittsfield at tinyurl.com/itsalivepittsfield.
It's Alive brought to you by MassDevelopment's Transformative Development Initiative and Downtown Pittsfield TDI Partners: Allegrone Companies, Berkshire Bank, Barrington Stage Company, Berkshire Black Economic Council, Berkshire Regional Transit Authority, Berkshire Theatre Group, City of Pittsfield, Downtown Pittsfield, Inc., Lee Bank, MassDevelopment, and Thistle & Mirth
Thank you to the Downtown Pittsfield It's Alive planning group: Berkshire Black Economic Council, CozQuest, Downtown Pittsfield, Inc., Lee Bank, and Witch Slapped