There is something for everyone in Downtown Pittsfield this August!
Theatre, Music, Visual Arts, Performance, and Family-Fun in the #HeartOfTheBerkshires!
Barrington Stage Company
Roald Dahl's James And The Giant Peach
Words and Music by Benj Pasek & Justin PaulBook by Timothy Allen McDonald
Based on the book James and the Giant Peach by Roald Dahl
Choreographed by Steven Dean Moore
Directed by Sarah Jane Schostack
Now through August 12th at the Berkshire Museum (39 South Street)
Roald Dahl's James and the Giant Peach is a brand new take on this "masterpeach" of a tale. Featuring a wickedly tuneful score and a witty and charming book, this is an adventurous musical about courage and self-discovery.
When James is sent by his conniving aunts to chop down their old fruit tree, he discovers a magic potion that grows a tremendous peach, rolls into the ocean and launches a journey of enormous proportions. James befriends a collection of singing insects that ride the giant piece of fruit across the ocean, facing hunger, sharks and plenty of disagreements along the way. Written by the Academy and Tony Award-winning team that created the music for Dear Evan Hansen, LaLa Land, and Christmas Story.
Ticket information: https://barringtonstageco.org/james-giant-peach
The Chinese Lady
By LLOYD SUH
Directed by RALPH B. PEÑA
Co-Production with MA-YI THEATER COMPANY
Now through August 11th on the St. Germain Stage at the Sydelle and Lee Blatt Performing Arts Center (36 Linden Street)
In 1834, Afong Moy is brought to the United States from Beijing and put on display for the American public as the "Chinese Lady." For many years, she performs in a side show that both defines and challenges her own view of herself. Inspired by the true story of America's first female Chinese immigrant, playwright Lloyd Suh spins a tale of dark poetic whimsy in this piercing  portrait of America as seen through the eyes of a young Chinese woman.
Ticket information: https://barringtonstageco.org/season-shows/the-chinese-lady
West Side Story
Based on conception of Jerome Robbins
Book by ARTHUR LAURENTS
Music by LEONARD BERNSTEIN
Lyrics by STEPHEN SONDHEIM
Original Choreography reproduced by ROBERT LA FOSSE
Directed by JULIANNE BOYD
Entire original production directed and choreographed by Jerome Robbins
Originally produced on Broadway by Robert E. Griffith and Harold S. Prince by Arrangement with Roger L. Stevens
August 3rd through September 1st on the Boyd-Quinson Mainstage (30 Union Street)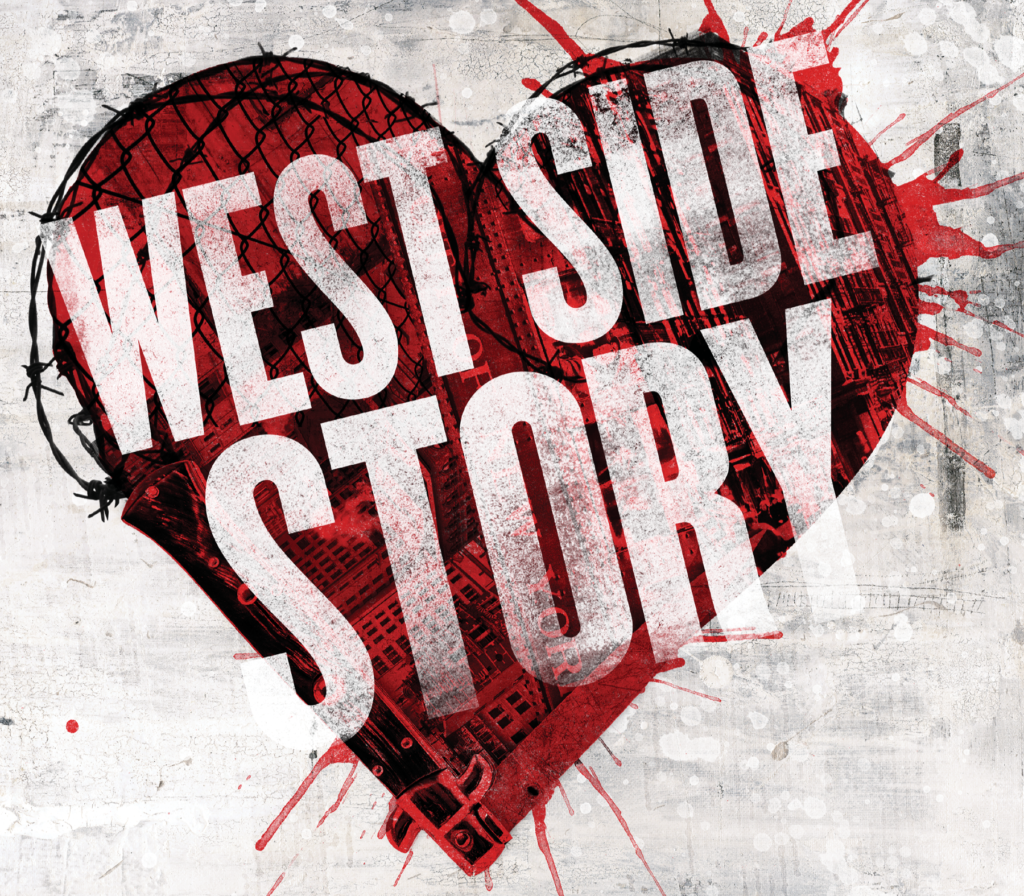 The world's greatest love story takes to the streets in this landmark Broadway musical. Shakespeare's Romeo and Juliet is transported to modern day New York City as two young lovers find themselves caught between warring street gangs. Their struggle to survive in a world of hate, violence and prejudice is one of the most innovative, relevant and deeply moving musicals of our time.  Honoring the 100th birthdays of Leonard Bernstein and Jerome Robbins.
*Children under 5 will not be admitted into the theatre.
Ticket information: https://barringtonstageco.org/season-shows/west-side-story
Well Intentioned White People
By RACHEL LYNETT
Directed by TIFFANY NICHOLE GREENE
August 16th through September 8th on the St. Germain Stage at the Sydelle and Lee Blatt Performing Arts Center (36 Linden Street)
After a racial incident she would rather forget, Cass is forced into "making an example of it" by her well intentioned roommate and the dean of her  "hip" and liberal university. Looking to make tenure and not wanting to ruffle any feathers, Cass is pushed by her community to lead a diversity day on her own behalf and is asked to be the face of her race. This world premiere play is a poignant and surprisingly, funny look at race, friendship, and how in the pursuit of real change, "well intentions" are not always enough.
*Contains strong language.
Ticket information: https://barringtonstageco.org/season-shows/well-intentioned-white-people
The Berkshire Athenaeum, Pittsfield's Public Library (1 Wendell Avenue)
Ongoing: Youth Summer Reading Program!
Visit the Children's Library and pick up your BragTag® and Chain when you register for our "Libraries Rock!" Summer Reading Program! Collect Brag Beads for every 15 minutes you read. Read longer and collect rarer beads. Reading includes: audio-books, reading aloud, being read to, even reading the back of your cereal box!
Receive a ticket for our end of summer Pick -a -Prize raffle for every weekly check in and event attended! Prizes will be drawn during the End of Summer Celebration on 8/17!
Call the Children's Library for more information or to register: 413 499 9480 x111
For all events, visit: the Berkshire Athenaeum's website.
Ology Workshop Series!
Each week we will explore a different -ology topic; from Aliens to Egypt with a brief presentation and activities!
Where: Berkshire Athenaeum, Auditorium
When: Wednesdays 1 to 3 pm
What: Presentation and activities
Who: 3rd-7th grade-aged youth
8/1 – Monsterology
8/8 – Mythology
8/15 – Vampireology
8/22 – Egyptology
Weekly Lego Club in the Children's Library!
Thursdays: August 2nd, 9th, & 16th, 3 to 5 pm
Lego Club gets an overhaul for summer reading!
Put together a team or work independently to compete in our weekly challenge!
Lego Club is open to children of all ages and no registration is required. Children under 10 years old may not be left unattended in the Library.
Berkshire Museum (39 South Street)
Josh Simpson: Galactic Landscapes
On view now through January 6th, 2019
This solo show of innovative works by renowned glass artist Josh Simpson reflects his fascination with astrophysics, deep space, and the cosmos. Exemplifying the intersection of art and science, Simpson's continued experimentation with technique and materials results in extraordinary art glass.
Galactic Landscapes features 30 of Simpson's imaginative Planets – solid glass spheres that suggest distant worlds and landscapes, ranging in size from that of a golf ball to a basketball. There are also 14 large-diameter discs, 14 to 18 inches across, full of swirling textures and colors that evoke nebulae, colliding stars, and other astronomical events. There are two platters or disks that incorporate a Saturn-like sphere in the center.
The centerpiece of the gallery is an original Orrery, a moving, mechanical model of the solar system, made in collaboration with artist Erik Van Cort, that incorporates Simpson's glass spheres as the sun, the planets, and their moons. This exhibit also features three of Simpson's inventive Portals, sculptural objects inspired by meteorites and geodes. A video showing Josh Simpson and his crew making one of the megaplanets is part of the exhibition as well.
Art of the Hills: A Juried Exhibition of Berkshire-Based Artists
On view now through September 3rd, 2018
Art of the Hills continues a long Berkshire Museum tradition of exhibiting the work of accomplished local artists. Celebrating the rich, creative culture of the region, Art of the Hills highlights the works of both emerging and established Berkshire-based artists working in all styles and genres. Forty-two works of art by 36 artists were chosen by juror/curator Ryan Seslow through a blind jurying process; the exhibition includes painting, drawing, mixed media, printmaking, photography, and sculpture.
Artists living within a 60-mile radius of the Museum were invited to submit their recent work, and in total, 230 artists submitted their work for consideration, numbering 627 individual works of art evaluated.
The artists chosen to exhibit their work in this summer's Art of the Hillsare Tracy Baker-White, Madeline Bohrer, Michael Boroniec, Michael Bufis, William Casper, John Clarke, Laurie May Coyle, Laura Didyk, Julia Dixon, Helen Evans Febbo, Jacob Fossum, Joe Goodwin, Robert Hill, Patricia Hogan, Crystalle Lacouture, JD Logan, John MacDonald, Ben Mancino, Jesse Tobin McCauley, Scott R. McClintock, Sean McCusker, Robert Morgan, Lynne O'Connell, Bruce Panock, Bryan Powers, James Singelis, Anne W. Smith, Nelena Soro, Ilene Spiewak, Paula Stern, Rose Tannenbaum, Barbara Shea Tracy, Joseph Tracy, Margot Trout, Katherine Ryan Waiveris, and Rachael Warnock. Art of the Hills is generously sponsored by Berkshire Magazine.
Creative Healing Workshop with the Funky Phoenix
Mondays through August 27th, 11 am to 1 pm
Join Tina Cardot from The Funky Phoenix and learn how you can turn junk into amazing art! If you were a fan of our Tinker Lab during Ten Days of Play, this is another opportunity to deconstruct objects and recombine them into a product of your imagination! Included with regular museum admission. 
Pop-Up Play Day
August 11th, 10 am to 12 pm
Pop-Up Play Day – where children can build and rebuild with the big, blue blocks of Imagination Playground™, the innovative play equipment that encourages creativity and collaboration, and colorful Bilderhoos architectural building components. Imagination Playground™ is generously provided by Dr Pepper Snapple (DPS) and national non-profit KaBOOM! Included with regular museum admission.
Visit the
Berkshire Museum
for FREE on Friday, August 17th!
For the tenth consecutive year, the Highland Street Foundation's "Free Fun Fridays", a summer program that provides no cost admission to many of the treasured cultural institutions throughout Massachusetts, will take place at the Berkshire Museum.
Berkshire Children's Theater: Once on This Island Jr.
Performances at the Berkshire Museum, 39 South Street
Thursday, August 16th, 11 am
Friday, August 17th, 11 am and 2 pm
Once on This Island Jr. is a highly original theatrical adaptation of Hans Christian Andersen's popular fairy tale, The Little Mermaid, and the Tony-nominated Broadway musical by the legendary writing team, Lynn Ahrens and Stephen Flaherty (Seussical, Ragtime). Through almost non-stop song and dance, this full-hearted musical tells the story of Ti Moune, a peasant girl who rescues and falls in love with Daniel, a wealthy boy from the other side of her island. When Daniel is returned to his people, the fantastical gods who rule the island guide Ti Moune on a quest that will test the strength of her love against the powerful forces of prejudice and hatred.
TICKETS: $15 adult, $8 child or museum member
Berkshire Opera Festival Presents, "Rigoletto"
The Colonial Theatre, 111 South Street.
Saturday, August 25th at 1 pm
Tuesday, August 28th at 7:30 pm
Friday, August 31st at 7:30 pm
When his daughter is seduced and abducted, a devoted father is driven to murder in this devastating story of love, betrayal, and vengeance. Verdi's brilliant setting of this riveting tale features some of opera's most immediately recognizable music. Berkshire Opera Festival is proud to present this masterpiece with an outstanding cast of international renown.
Join us at the Colonial one hour before Saturday's matinee for a lively and informative discussion of Verdi's Rigoletto with Cori Ellison, dramaturg of Glyndebourne Festival Opera, on Saturday, August 25, 12 pm, free for all ticket holders.
Approximate running time:  2 hours, 30 minutes with one intermission. Sung in Italian with projected English translations
Tickets:  A: $99 B: $64 C: $39 D: $20
Ticket information: https://www.berkshiretheatregroup.org/on-our-stages/music/766-berkshire-opera-festival-presents-rigoletto
Berkshire Theatre Group at The Colonial Theatre (111 South Street)
Tarzan
Now through August 16th
Book by David Henry Hwang
Music and lyrics by Phil Collins
Based on the story, Tarzan of the Apes by Edgar Rice Burroughs
and the Disney film, Tarzan 
Directed by Travis Daly
Music direction by Mark Gionfriddo
Choreography by Avital Asuleen
Featuring hit music by rock legend, Phil Collins, such as the Academy Award-winning "You'll Be in My Heart," as well as "Two Worlds," Tarzan swings and sings onto the Colonial stage. A magical and memorable theatrical experience for the whole family, Tarzan follows the story of an orphaned boy, raised by gorillas in the jungle. Struggling to find balance between his human instinct and animalistic education, Tarzan's life is altered forever when he encounters his first human, the curious and wonderful, Jane. Directed by Travis Daly (The Music Man, Beauty and the Beast, Mary Poppins), with music direction by Mark Gionfriddo (The Music Man, Beauty and the Beast, Mary Poppins) and choreography by Avital Asuleen (The Music Man), this adored musical features over 100 talented Berkshire youth.
Tickets: Adult A: $45; Adult B: $35 • Child A: $30; Child B: $25
Golden Circle Tickets: Adult: $55 • Child: $40
Ticket information: https://www.berkshiretheatregroup.org/on-our-stages/theatre/789-tarzan
$5 Comedy Garage: Luke Mones
with Special Guest, Seth Brown
at the Garage (in the Colonial Lobby)
Thursday, August 30th at 7:30 pm
Tickets: $5
*Please note, to avoid a $6 order fee, please call the Box Office at 413-997-4444 or purchase your tickets in person at The Colonial, 111 South Street, Pittsfield, MA.*
Luke Mones is a New York based comedian, writer and actor. Luke has written material and made videos for the Howard Stern Show, and is frequently featured in videos on FunnyOrDie and Elite Daily.
Luke has performed in many festivals, including the New York Comedy Festival and the Laughing Devil Festival, where he won 1st Place in 2017. He regularly plays clubs like Carolines, New York Comedy Club and Stand Up New York, as well as the best alternative shows in the city. He recently headlined New York's Carolines Comedy Club as part of their Breakout Artist series.
Luke's sketch group, Skootch Comedy, has had videos featured on the front pages of FunnyOrDie, CollegeHumor and The Huffington Post. His short "Early Decision" screened at the 2015 Cannes Film Festival. He recently won "Impressionist of the Year" from the Keith and the Girl Podcast.
As a stand-up comedian, Seth Brown has performed around the Berkshires, and at comedy festivals including the Gloversville Comedy Festival and the High Mud Comedy Festival. As a sit-down comedian, Seth writes his award-winning humor column "The Pun Also Rises" for the Berkshire Eagle and Bennington Banner. He is the author of six books, co-writer of two musicals, and owner of many boardgames. His website is RisingPun.com.
The Comedy Garage is hosted by Madelyn Gardner. After the show, head down the street to Methuselah Bar & Lounge and show your Comedy Garage ticket for a $5 beverage.
Ticket information: https://www.berkshiretheatregroup.org/on-our-stages/comedy/813-5-comedy-garage-luke-mones
Dottie's Coffee Lounge! (444 North Street)
Domingo Brunch every Sunday!
Domingo Brunch with Randy Cormier
Sunday, August 5th, 10 am
Domingo Brunch with the Wintergreen Trio
Sunday, August 12th, 10 am
Wintergreen plays traditional and contemporary folk music, and songs of their own composition. Carrying on in the tradition of the Weavers and Peter, Paul and Mary, with intricate three-part vocal harmonies, they are accompanied by guitar, hammered dulcimer, bass, mandolin and bowed psaltery. The members are Jared Polens of North Adams and Larry and Alice Spatz of Lanesborough. Wintergreen has performed at coffeehouses, schools, folk festivals and concerts throughout the Northeast and have concertized in Germany.
Domingo Brunch with Jason Ennis & Natalia Bernal
Sunday, August 19th, 10 am
Stop by for the magical and soothing sounds of Latin Jazz Duo Jason Ennis and Natalia Bernal (Voice and Guitar).
Domingo Brunch with Tumo-Kohrs
Sunday, August 26th, 10 am
Tumo-Kohrs is a musical duo that performs Sarah Kohrs's original songs to Mark Tuomenoksa's original arrangements. The two meld the harmonies of jazz music with the lyrics and rhythmic drive of roots music to create a sound that is all their own.
Robbins-Zust Family Marionette Company!
Saturdays at Dottie's from 11 to 11:30 am! Free and open to all!
Meet up at Dottie's every Saturday morning in August as the Robbins-Zust Family Marionette Company presents their classic fairy-tale puppet shows!
August 4th: Beauty and the Beast
August: 11th: Little Red Riding Hood
August 18th: Sleeping Beauty
August 25th: Alladin
Downtown Pittsfield Farmers Market (The Common, First Street)
Every Saturday 9 am to 1 pm
Through October. Rain or shine.
Come stock up on local meats, eggs, cheese, vegetables, baked goods, coffee, art, and more! Come meet your neighbors and build a stronger, healthier community!
www.farmersmarketpittsfield.org
First Fridays Artswalk, Artscape, and Downtown Loop
Walk Pittsfield's Downtown Loop as a family! Our Downtown walking loop starts at the Colonial Theatre on South Street and continues North to Berkshire Medical Center where it reverses direction heading back to the Colonial. Look for Downtown Loop signage which will guide you throughout the 2-mile walk. Make it a challenge and see how fast you can walk the entire 2 miles or stroll leisurely and take in the Downtown sites along the way!
These Downtown sites include our Artscape pieces. Pick up an Artscape map or explore on your own the two dozen outdoor sculptures and paintboxes created by accomplished artists. How many Artscape pieces can you find?
Also, along our Downtown Loop, you will find over a dozen Artswalk venues. Enjoy free art shows in galleries and businesses along North and South Street featuring work by accomplished regional artists. Meet the artists on a free Guided Walking Tour on the First Friday of August beginning at 5 pm at the Intermodal Center at BRTA, 1 Columbus Ave. If you can't make the tour, pick up an Artswalk map in local businesses along the Downtown Loop or view the map online. Shows will remain up for the month following Artswalk.
Hotel on North (297 North Street)
Live on North – Always a fun time and never a cover!
Grahm Sturz – Live on North
Friday, August 3rd, 8 to 11 pm
Performing "Inspired and Uplifting Originals and Covers across Genres and Decades…" – The Folk Times
Tantrum! – Live on North
Friday, August 10th, 8 to 11 pm
Tantrum! is a cover band from the Berkshires-playing alternative tunes spanning the decades.
Band members include:
Jim Harwood-drums
Chris Hennessey-guitar
Matt Mozian-guitar, vocals
Jedd Hall-bass
Lisa Nelson-keyboard, vocals
Emma Weiskopf-vocals
After Hours Duo – Live on North
Friday, August 17th, 8 to 11 pm
Bonnie and Mark Parsons formed "After Ours Duo" in 2014. Their passion of music inspired the two to collaborate with original compositions and covers of their favorite artists such as Jason Mraz, Bruno Mars, Stevie Nicks, Train, Beatles and The Eagles and many more! They met in 2012 when they started the rock band "Colour 9″ with other band members.
Both natives of Berkshire County, they perform at venues in and around the Berkshires. After Ours Duo have a contemporary flare that is uniquely their own, adding tantalizing twists and an intimate energy that draws the audience into their orbit!
Brian Benlein – Live on North
Friday, August 24th, 8 to 11 pm
Playing music everyone knows and loves with an "Acoustic" vibe, from old to new! Audience participation is welcomed! If you know it, feel free to sing along!
Tom Savoy – Live on North
Friday, August 31st, 8 to 11 pm
Tom Savoy is a multi-instrumentalist singer songwriter residing in Western Massachusetts.
Methuselah Bar and Lounge (391 North Street)
The River Sisters
Friday, August 19th, 7 pm
The River Sisters are an indie-folk singer-songwriter band from Portsmouth, NH.
"A marvel with respect to vocal harmonies… a fresh cathartic addition to the indie folk canon…" with "vocal harmonies that'll make you blush with a rhythm section that adds a moving, colorful crush." ~EDGE magazine
Luke DeRoy trio, ethereal pop at Methuselah!
Thursday, August 23rd, 7 pm
Luke DeRoy, Ian Haas, and Josh Hirst throw down at Methuselah on Thursday, August 23rd.
"The Luke DeRoy Trio calls what they do ethereal pop, but when I clicked on their bandcamp page, I immediately found myself out on The Road floating through an intricate jazz tapestry, not simply an outer long and winding voyage, but one layered with deeply textured interior landscapes … a small town street wet with fine mist, a reflective, early fall mood, a scattering of leaves on the passing lawns. A gentle guitar hook and Luke DeRoy's soulful voice that slowly intertwines with Mtali Bandi's saxaphone in an almost dream-like sprial …" ~Jody Jenkins
Mission Bar + Tapas (438 North Street)
Every Monday from 7 to 10 pm
Pittsfield's bassist Andy Wrba has scheduled an amazing rotating Jazz Ensemble with local musicians and bands for your liking!
Thursdays from 8 to 11 pm
Chris Merenda's and Rob Sanzone's Picky Bastards grace the window with great covers and classic bluegrass tunes!
First Wednesdays from 7 to 9 pm – Spanish Guitar w/ Ben Schmolze
Fri/Sat, 8 pm – Schedule Varies (check Facebook for up-to-date events)
Saturday, August 4th, 8 pm:
The Rejuvenators Rock the Window!
New Orleans Style Funk and Jazz group, The Rejuvenators, take the Window for what is sure to be a rocking Saturday night! This funky, gifted quartet is made up of Tom Major, John Caban, Ben Kohn, and Fran Tokarz!
Sunday, August 5th. 7 pm:
Charming Disaster
Brooklyn, NY based musical duo Charming Disaster was formed in 2012 by singer/songwriters Ellia Bisker and Jeff Morris. Inspired by the gothic humor of Edward Gorey and Tim Burton, the noir storytelling of Raymond Chandler, the murder ballads of the Americana tradition, and the dramatic flair of the cabaret, they write songs that tell stories, combining vocal harmonies and clever lyrics with ukulele, guitar, and virtuosic foot percussion to explore dark narratives and characters with a playful sensibility. In their critically acclaimed albums Love, Crime & Other Trouble (2015) and Cautionary Tales (2017), they have explored themes like love, death, crime, ancient mythology, and the paranormal. Their song "Ghost Story" was featured on the hit podcast Welcome to Night Vale, and they have toured around the United States, playing bars, clubs, museums, and the occasional historic cemetery.
Friday, August 10th, 8 pm:
The Lucky 5
One of Mission's favorite jazz groups, The Lucky 5 are sure to bring in a large crowd in for swinging jazz music of the highest quality!
Wednesday, August 22nd, 7 pm:
Luke DeRoy
Luke DeRoy returns to Mission Bar and Tapas Lounge with Ian Haas and loads of original music.
Saturday, August 25th, 8 pm:
Mary Ann Palermo
One of Mission's favorites, Mary Ann Palermo & Co. is taking the Window on August 25th!
Friday, August 31st, 8 pm:
Misty Blues
The increasingly popular and dynamic musical unit, the Misty Blues, are sure to send off summer in fantastic style from Mission's Window!
Pittsfield Suns at Wahconah Park (105 Wahconah Street)
Wahconah Park is an atmospheric minor league ballpark, recently added to the National Register of Historic Places. One of the last remaining ballparks in the United States with a wooden grandstand, it was constructed in 1919 and seats 4,500. Wahconah Park's classic and intimate design offers fans a ballpark experience that harkens back to the early decades of attending a ballgame. The stadium is currently home to the Pittsfield Suns of the Futures Collegiate Baseball League of New England.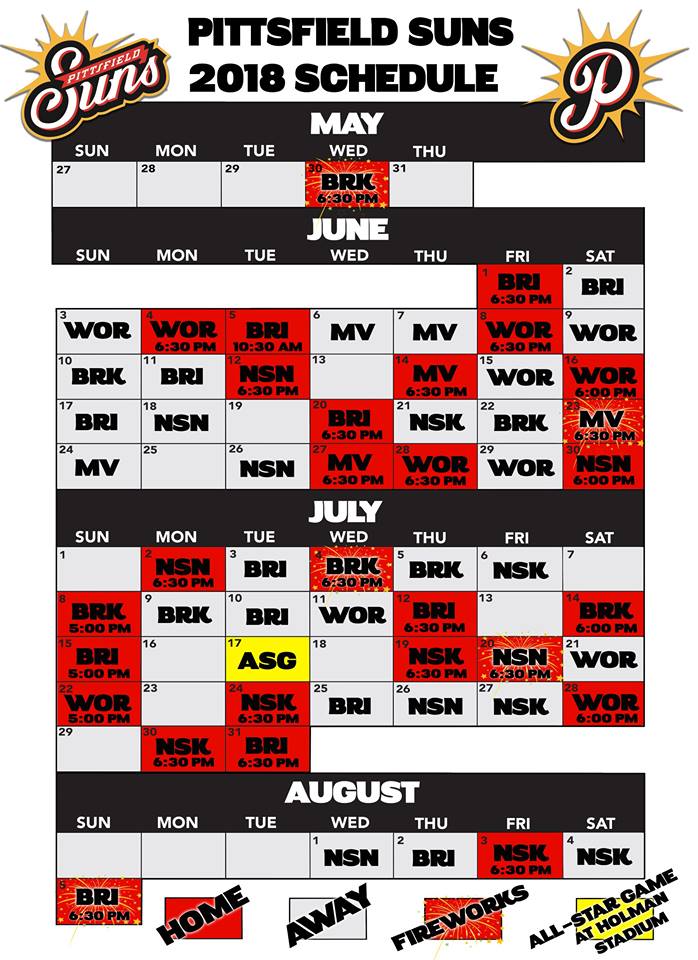 Go Outdoors!
There are so many places in Pittsfield to spend quality time outdoors! Lakes, parks, and so much more!
Follow the link to learn more: https://downtownpittsfield.com/2018/04/outdoor-pittsfield/
Outdoor movies at Clapp Park (233 West Housatonic Street)
Family friendly movies are shown at Clapp Park on select Friday nights during the summer and begin at dusk (around 8:30 pm). Rain cancels the movie.
August 3rd: Muppets Most Wanted
August 10th: Zootopia
Painted Piano Project
There are 4
Painted Pianos
in Pittsfield brought to you by Berkshire Music School and Pittsfield's Artscape. All 16 pianos in Berkshire County will be on view to the public for approximately six weeks, before the Berkshire Music School holds a live auction of panels from these pianos on August 26th, 5 to 7 pm.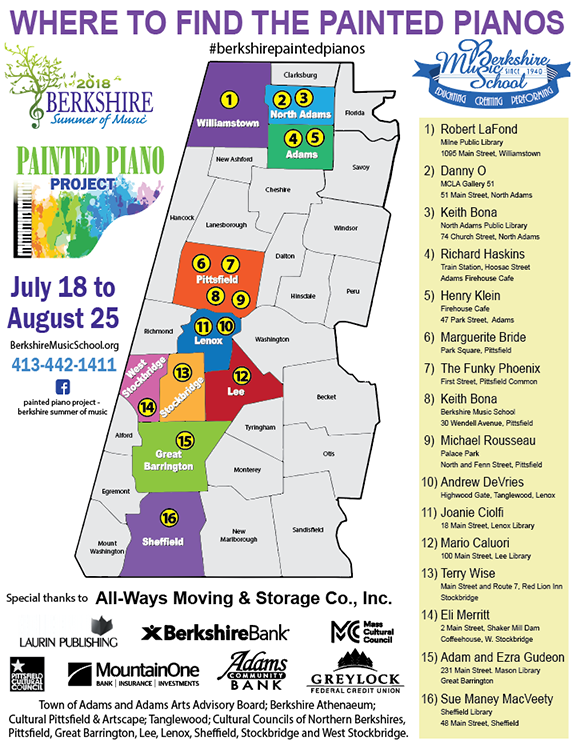 Rainbow Restaurant (109 First Street)
Every Wednesday, 7:30 pm – GRUPPO MONDO
Often talked about as the "Best Jazz in the Berkshires", Gruppo Mondo gives a night of spectacular Jazz Fusion with special guests.
Every Friday, 7:30 pm – BLUE LIGHT TRIO
This Berkshire County based trio will play classic Jazz favorites along with some fresh original Jazz.
Saturday, August 4th, 7pm – Kyle Murray TRIO
Saturday, August 11th, 7 pm – Fran Tokarz & Co
Saturday, August 18th, 7 pm – Fran Tokarz & Co (Joni Mitchell night)
Saturday, August 25th, 7 pm – Warren Sieme
Third Thursday August 16th, 5 to 8 pm
Upstreet Pittsfield's award-winning street festival, Third Thursdays, returns on Thursday, August 16th. Third Thursdays are family friendly and open to all. North Street will be closed to vehicular traffic from West Street to Linden Street and will be filled with music, performance, food and community activities!
There will be an opportunity for kids (and adults) to "Touch a Truck"! See, touch, and learn about dozens of cool vehicles parked on North Street. See fire trucks, motorcycles, cement trucks, police cars, and airport vehicles. The National Guard and the Sheriff will also have vehicles downtown as well as Pittsfield Lawn and Tractor and Republic Services.
The Whiskey Treaty Roadshow will be the Main Act on the street from 5:30 to 7:30 pm. Wandering Star Beer Garden will be open in the Palace Park lot across from the WTRS stage. The Matchstick Architects and Rock On will perform on the street stage.
The Jacob's Pillow Dance Zone will feature a headline Pillow Pop-Up Performance by Hood Nation, along with regional dance groups.
5:30 pm: To be announced
6 pm: Pillow Pop-Up | Hood Nation
6:40 pm: Breffny Irish Dancers
7 pm: Berkshire Salsa
The Dance Zone is located near the corner of Bradford and North Streets in front of St. Joseph Church.
The Berkshire Museum will have a family-friendly activity on the Museum's front lawn (at 39 South Street) and special extended hours from 5 to 8 pm on Thursday, August 16th! All Berkshire county residents are invited to visit the Museum free of charge during Third Thursday!
Whitney Center for the Arts (42 Wendell Ave.)
The Fabulous Lipitones
by John Markus and Mark St. Germain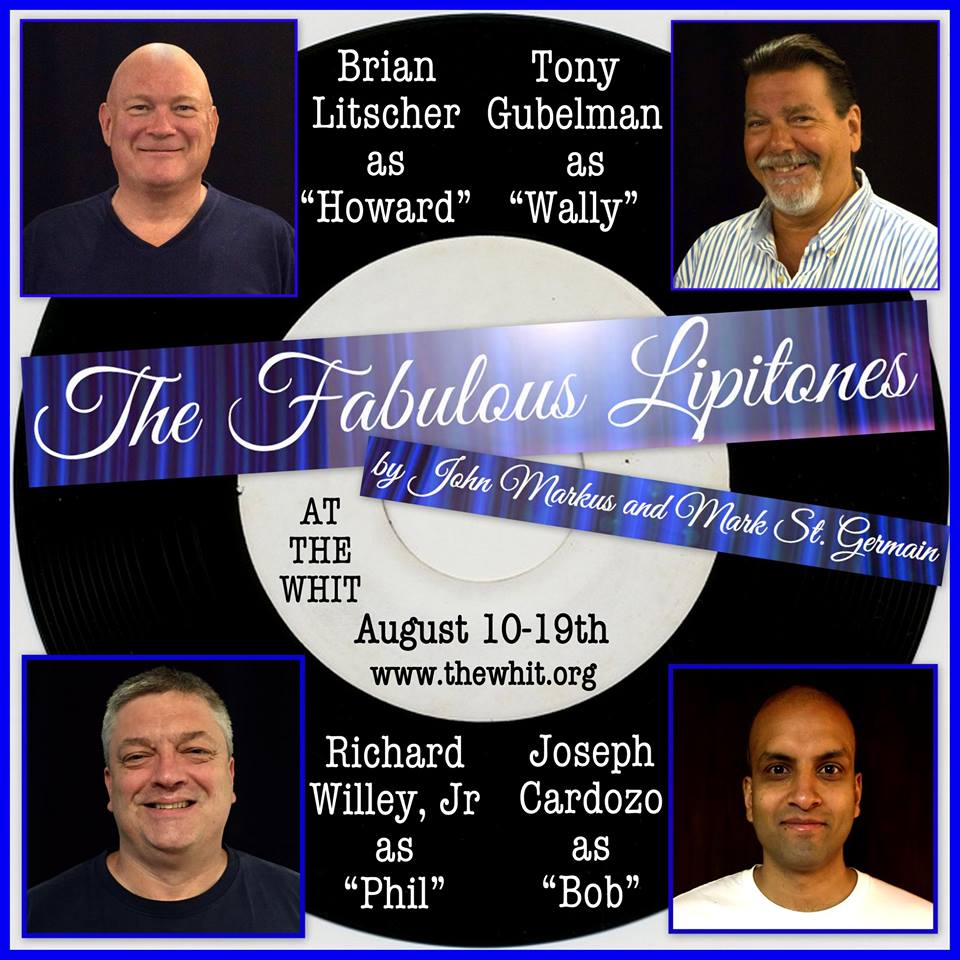 Friday, August 10th at 8 pm
Saturday, August 11th at 8 pm
Sunday, August 12th at 2 pm
Tuesday, August 14th at 7 pm
Friday, August 17th at 8 pm
Sunday, August 19th at 2 pm
Choreographer: Ruslan Sprague
Musical Director: Jeff Hunt
Director: Monica Bliss
What happens when a barbershop quartet loses a key member to a heart-stopping high "B flat?" The three surviving members suddenly find themselves scrambling to find a tenor before the national competition. When the golden tones of "Bob" are heard through the phone the Lipitones are all ears… but when they meet him in person, he's not quite what they expected. An uproarious comedy of misunderstanding, stereotypes and the path to perfect harmony.
"Barbershop goes Bollywood, a song stuffed comedy" – NY TIMES
Tickets are $20 General Admission/$17 for seniors, students & groups*. Tickets may be purchased online at 
www.thewhit.org
 or reserved by calling 413-443-0279. *Please call 413-443-0279 for discounted rates.
The Whitney Center for the Arts presents Isabel Costa & Emma Foley
with Catherine Schane-Lydon, Pianist
Thursday, August 23rd, 7 pm
Enjoy an evening of Broadway favorites in the Whit's Candlelit Bistro Cabaret. Beer, Wine & light Bistro menu available.
Tickets may be purchased online at www.thewhit.org or reserved by calling 413-443-0279.
Pirates & Popsicles Party
Tuesday, August 28th, 1 pm
Enjoy popsicles while our Pirates delight you in song! Dance and sing and after the show, get your photo taken with a Pirate!
Only $10 per person – all inclusive!!
The all-inclusive ticket price includes Pirate Show and Popsicles.
*Parents/Guardians must take photos.
Adults and Children are required to buy tickets for this event. Infants under the age of 12 months do not require a ticket.
Tickets may be purchased online at www.thewhit.org or reserved by calling 413-443-0279.
WordxWord Festival 2018

Poetry Takes a Walk – Poetry Crawl
August 1st, 6 pm, Free
Starts at Dottie's Coffee Lounge, 444 North Street
Wear your walking shoes as poetry takes a walk uptown with stops along the way for poetry al fresco. Followed by a reception and more poetry at the Lichtenstein Center for the Arts, 28 Renne Ave.
Lenny Turns 100 – Poets Crash and Bernstein
August 2nd, 7 pm, Free
Berkshire Athenaeum, 1 Wendell Ave.
To celebrate Leonard Bernstein's 100th birthday, WXW has challenged poets to not 'crash and Bernstein' in response to poetry used by the maestro in his American bicentennial tribute.
Short Form Slam – Head-To-Head Haiku
August 3rd, 6 pm, Free
Dottie's Coffee Lounge, 444 North Street
Poets compete one-on-one armed with only 17 syllables.
Poetry Slam & Open Mic – Outspoken Youth
August 4th, 1:30 pm, Free
Lichtenstein Center for the Arts, 28 Renne Ave
Outspoken youth are rephrasing our world! Poets 12 – 20 share their work (open to the public).
Indie Poets Lay It On The Line – Poetry Slam Finals
August 4th, 7 pm, Free
Berkshire Museum, 39 South Street
Poets throw down in this mind boggling, word tossing, eye gouging – friendly – competition.
Text courtesy of featured venues.
Header Images (left to right): The Chinese Lady. BSC. Photo by Eloy Garcia.; Misty Blues; Tarzan®, 2018. Photo by Emma K. Rothenberg-Ware.